his month's journal spotlight is run by a mother-daughter team and publishes work written by people in their 20s. Sofía is the editor of the magazine and her mother, Lulu, serves as production assistant. The intergenerational creative team has been running Mag 20/20 together for three years. Originally founded in 2020, the meaning behind the magazine's name is threefold, referencing both the age range of the journal's authors and the year in which it was conceived, and playing on the term "20/20 vision." The journal is a welcoming platform, celebrating self-discovery for people in their 20s—in all its complexity—as explained in their mission statement:
"...[Y]ou'll notice we are also an ode to the 90s, the decade in which we were born and yet few of us remember. Because being in our twenties is constantly residing in the in-between. We're not teenagers anymore but most of us still aren't full adults with careers or mortgage bills. We're not Millennials and we're not Gen Z either, and ties to multiple intersectional identities make us wonder, even more confused about who we are, [...] where we most belong on one side or another or the other, ad infinitum... But at Mag 20/20 we embrace that unknowingness, that uncertainty, that beautiful in-between. This is a safe space and welcome community to embrace your creativity in whatever way that means to you through poetry, prose, songs, art, photos, playlists—anything goes! Your voice is wanted here."
Mag 20/20 is accepting submissions currently, closing July 15th. Pieces are published digitally, accompanied by customized work from a graphic designer. Writers are also invited to share a recording of a reading of their piece.

Part One: Sofía Aquilar and Lulu Lerma-Aquilar
WOW: Hello Sofía and Lulu; thank you so much for agreeing to speak with me! To get started, could you each tell me a little bit about how Mag 20/20 started? By which I mean, what inspired you to start a journal together? Is this the first time that you've done a long-term creative project as a mother-daughter duo?
SOFÍA: I'd been submitting my work to literary magazines seriously for several years prior to 2020. To me, there were few greater thrills than having my work published and seeing it in print. The summer of 2020 had been a hard one thanks to COVID, isolation, and uncertainty, which affected my creativity. One afternoon, I was searching for literary magazines to submit to, hoping to be inspired to write again, when I stumbled upon a new magazine, complete with gorgeous graphics, an admirable mission, and submission guidelines I agreed with until I saw it: only writers under 19 could submit, which meant that I'd just missed the window to have my work uplifted in this teens-only magazine. Feeling discouraged, I suddenly got the idea to have a magazine targeted at people my age. People in their 20s who were feeling as lost as I was, not only because of COVID, but also because of what comes with the natural territory of being in our 20s, especially in a world that always feels on fire. That time of our lives when we're entering the workforce, dating, trying to find ourselves and identities, living with our parents or caregivers, or living on our own with rising rent and several roommates, not really knowing who we are. I wanted to shine the spotlight on us because even though we're young, we've earned it.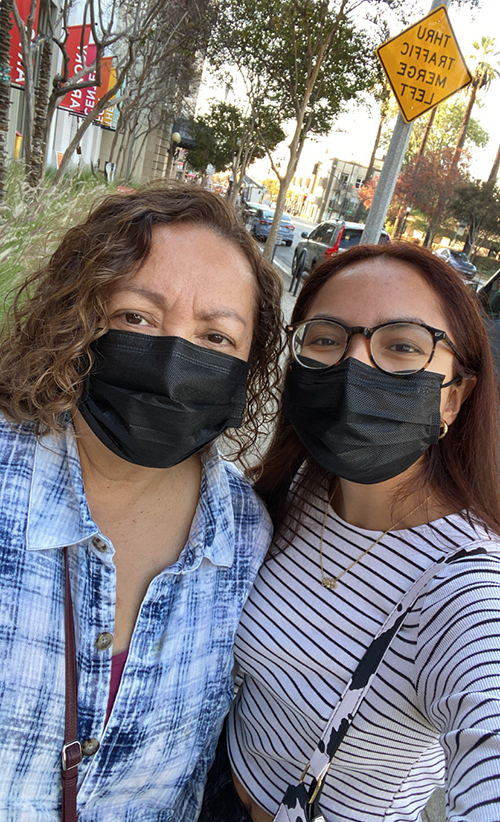 In that way, it was my idea, but I recruited my mom, the only other creative person in the house, to help as my soundboard and support. As an art enthusiast, she and I have collaborated on handmade books, painting, crocheting, flower pressing, sewing, and more. We still freak out and fangirl when we go to the craft store and even right now, we're working on hand-making an apron together. So in many ways, I inherited my creativity and love for artistic expression from my mom, though she's not a writer, and it was a no-brainer that she could help me with this too, even with a project of this scale. Because of her, I've learned that things become more beautiful and interesting when I have other people and opinions around me, not just my own.
LULU: I remember she asked for advice on the colors for the website and my opinions on certain pieces. I also helped her with editing the first issue, like making sure the page numbers were correct. And because we're not a for-profit, we use this as a way to promote artists and as an avenue to showcase their work. Doing it this way gives them an opportunity to get published. As the publication gets more readers, so do the number of people who see their work.
WOW: It's really exciting to me to see intergenerational creativity and inspiration, thank you for sharing. You spoke a little bit about the inspiration for creating a magazine for writers in their 20s, could you talk a little bit more about the concept behind Mag 20/20?
SOFÍA: Besides the age range, 20/20 also refers to our vision as a magazine. As people who both need glasses to live and only had 20/20 vision for a brief time, it's important for us to keep a crystal-clear idea of where we're going, what we want to do, and why we're doing it. To have a space run by someone in their 20s who loves all forms of creative expression, with the purpose of uplifting people in their 20s, with no interest in leaving out a genre or form, is a space with an all-encompassing, inclusive vision that we hope we offer to readers and contributors in each and every issue.
"... I suddenly got the idea to have a magazine targeted at people my age. People in their 20s who were feeling as lost as I was, not only because of COVID, but also because of what comes with the natural territory of being in our 20s, especially in a world that always feels on fire."
WOW: That's fantastic. As someone who's published work with you, I felt your intention to be inclusive and supportive of writers starting out. Would you be willing to share a little bit about the editorial process? Also, do you find yourself connecting with pieces on the basis of form or content?
LULU: We're really lucky to now have an editorial team to help us pick and choose pieces because we value collaboration and teamwork. When we get a new submission, we drop it into a spreadsheet shared with the editors, who then provide their feedback and recommendation of whether or not they believe it should be published in the magazine. As the editor-in-chief, Sofía ultimately makes the final decision based on their comments, her own impressions of the piece, and how it will fit in with the overall issue. Both form and content play an important role in that process, especially if it might include triggering or troubling subject matter. In those cases, we have to make a community-led assessment to make sure it doesn't break our general guidelines of respect and inclusion. Ultimately, however, we look for work that moves us, that is beautiful, that has something new and different to say and that needs to be heard.
WOW: It's exciting that you've brought a larger editorial team onboard. In light of that growth, where would you like to see the magazine going in the future?
SOFÍA: I think in the future it'd be great to do print editions of the magazine alongside the digital issues we already do, to host online events, and to compensate all writers for their work, time, patience, and energy, not just our cover artists. But in general, I just hope we continue to change and grow, to support and uplift artists in any way we can, listen to community feedback, and ultimately be better than the issue before.
LULU: I hope that it continues even after Sofía hits 30! And that she still will be able to work with young staff.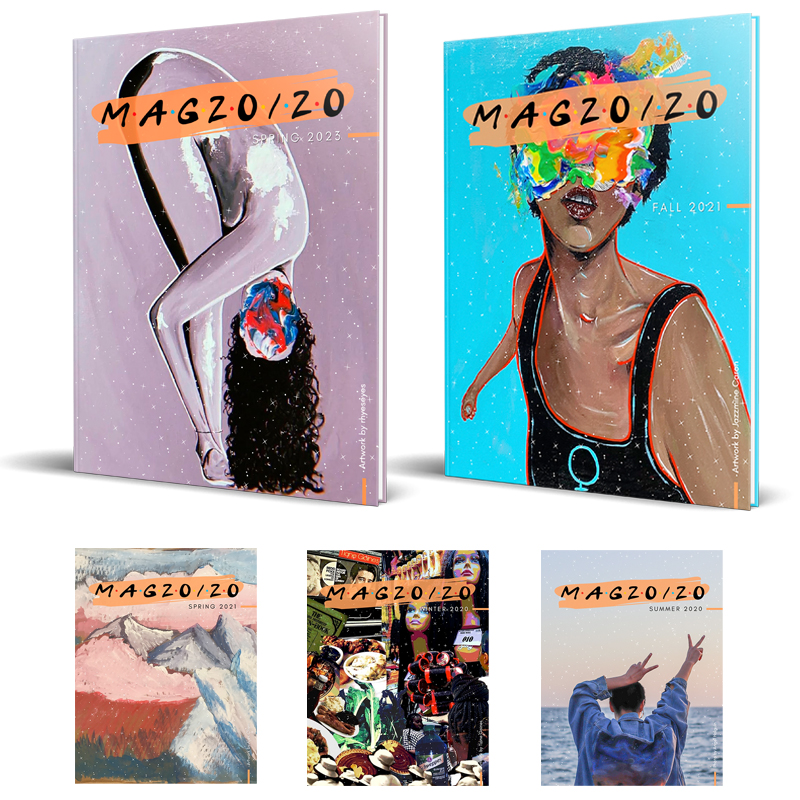 WOW: Good luck! I'm excited to see your progress. I'm also curious what inspired you to include an audible component in Mag 20/20—is it to improve accessibility, give writers a chance to polish their reading skills, something else?
SOFÍA: It was definitely both! When you look at a lot of established journals, you'll notice that audio accompaniments are rarely included alongside the written piece, which excludes a whole group of potential readers and submitters. For us, not only does it make our site more accessible to a wider audience, but it provides a unique multimedia experience. Of course, not every writer is comfortable reading their work aloud, so we don't add audio to those pieces out of respect for their wishes. But the folks who do often get back to us saying how much they enjoyed and learned from the process, which makes our choice to include it that much more rewarding.
WOW: Your magazine is the only place that I've come across an audio component. It felt very innovative. Finally, to wrap up the mother-daughter portion of the interview, do either of you have any advice for anyone looking to launch their own magazine?
SOFÍA: Just do it! For a long time, people told me to start a literary magazine but I was always too shy, too scared that I hadn't been published enough or knew enough to do it. At one point, I even convinced myself that there were already so many other magazines out there and that no one would want one more magazine to submit to or care about my vision. I discouraged myself before I even started! But once I dove in, it was hard to stop in all the best ways: coming up with a name, creating a website and logo, choosing the colors, etc. It became clear to me that every magazine is unique and offers up something different, and what you have to offer matters because it likely hasn't been done yet. And even if it has, you will do it differently by the nature of you being different, with different hopes and ambitions and goals for your magazine. We need your voice. We need new safe spaces for our work to make a home.
LULU: After the first issue, Sofía came to realize that it's a lot of work doing it on our own. Opening up positions was the best idea, that way we could get input not just from us, but also from others to make it more well-rounded. They don't always stay from issue to issue but it also gives some experience to young people out there who might want to do something like this.
Part Two: Sofía Aquilar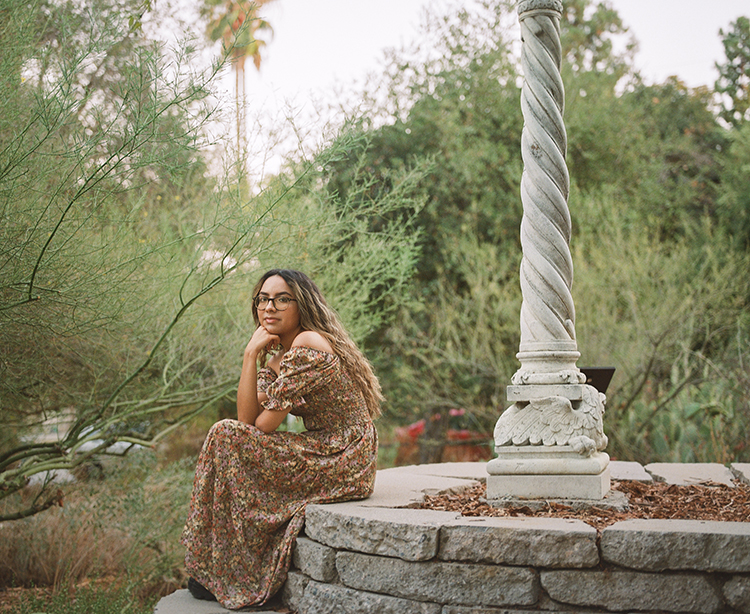 WOW: Now, Sofía, I'd love for the readers to get a chance to know you better as a writer, as well as an editor. Congratulations on publishing two poetry collections! Can you tell me a little more about the Streaming Service sequence?
SOFÍA: My two poetry chapbooks began as a meditation on the golden shovel poetry form. Invented by poet Terrance Hayes, the golden shovel asks that you take a line from another poem, a book, film, TV show, or even a song, separate each word on its own line, then fill in each line with your own language to create something entirely new, like a shared conversation.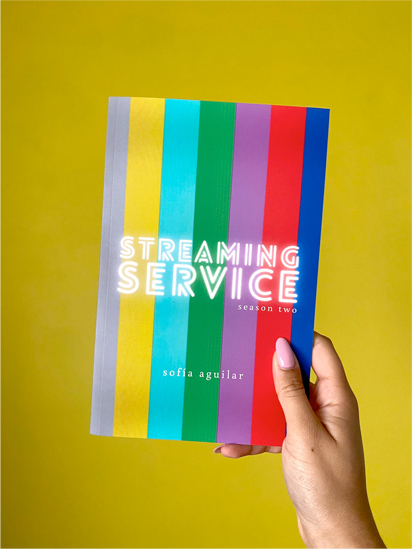 For Streaming Service seasons one and two, I chose to use dialogue from TV shows I loved, beginning with Midnight Mass for a themed anthology that I was later published in. From there, I became hooked, pulling quotes, both personal favorites and cultural favorites, from shows I love like Stranger Things, New Girl, and Fresh Prince, making sure that I was spanning decades and demographics. Sometimes, my poems matched the mood and theme of the original quote and other times, I challenged myself to be completely different. I love both seasons so dearly and learned a lot about self-publishing, self-promotion, marketing, confidence, and poetry itself. My goal is to have a third and final season out by the end of the year so fingers crossed!
WOW: That's fantastic. I am always impressed by work that incorporates and converses with pop culture. Beyond your own writing, I also really admire how deeply involved you are in the writing community: publishing a newsletter full of helpful advice, guest judging competitions, recording a podcast, co-founding a writing collective for women of color, to name just a few of your activities. Is there anything from this area of your career of which you are particularly proud? More broadly, is there any accomplishment associated with any aspect of your writing that you'd like to celebrate here?
SOFÍA: Thank you so much! What's interesting about my accomplishments is that at any given time, the one that has happened most recently is the one I'm most proud of because it always feels like it just gets better all the time. I'm extremely grateful to people who have offered me opportunities or encouraged me to go after my own dreams and carve out space for myself. But either way, everything I do is centered in community building, advocacy, and activism, not just centering myself, which makes my efforts that much more rewarding. Whether it's my newsletter or podcast or poetry collective co-founded with four other brilliant writers of color, I do everything with the intention of breaking down capitalist systems upon which much of our understanding of creativity is built. When I offer my writing expertise and knowledge in my newsletter, it's an effort to break down traditions of gatekeeping knowledge in the publishing and literary landscape. When I do anything community-oriented that uplifts the brilliant creatives I'm surrounded by, I'm resisting the capitalistic instinct to keep the spotlight on myself and be the sole person who benefits. It's often said that writing is a solitary act but I've found that I've only become a stronger writer when I celebrate and learn from others. I'm most proud when the people I love get the love and support from others I know they deserve.
That said, I also need to celebrate myself more—both things can be true! I'd say that one of my proudest professional moments was when I performed at the Poetry Stage at the L.A. Times Festival of Books, where I sold out all of the copies of the first season of Streaming Service that I brought with me. That was one of my first major readings I'd done and the first time I ever sold my books to the public in person! I even took photos and chatted with people, and truly felt like a semi-celebrity. That, combined with the day that one of my poems was published in the actual Los Angeles Times two months later, remains one of the best moments in my career that I still cherish today.
WOW: That's amazing, congratulations on your brilliant work. I think that creativity and activism have always shared a certain interconnectedness, because both require imagination and commitment. You're obviously committed to uplifting other young writers. Do you yourself have any peers or mentor figures who have been a positive force? If so, how did you meet them?
SOFÍA: I am continuously grateful to my writing supporters, teachers, and mentors that I've met since taking my writing seriously. Throughout my life, I was supported and valued by teachers but it wasn't until college that I truly found teachers and professors who acted as my mentors. Who took me seriously, understood my work and wanted to cultivate it, had high hopes for me, helped in any way they could, offered advice, advocated for me, wrote letters of recommendations to writing workshops, programs, and retreats, and knew I was going to do extraordinary things in my career despite my frequent cloud of uncertainty and self-doubt. I am endlessly grateful to my two mentors Mary Morris, Victoria Redel, and most recently, my writing mentor Melissa Rivero who I'm currently working on my debut novel with thanks to the organization Latinx in Publishing.
"It's often said that writing is a solitary act but I've found that I've only become a stronger writer when I celebrate and learn from others. I'm most proud when the people I love get the love and support from others I know they deserve."
WOW: I'm so glad that you have such a supportive community. Returning to the idea of activism and art—your work celebrates and interrogates your heritage, your Chicana identity, your queerness. What does it mean to make art as a member of marginalized communities?
SOFÍA: Making art is a form of creative expression and a means of saving my life. It really did save my life. Because without writing, it would've taken me much longer to love, accept, understand, know, and celebrate myself in everything that I am. It's a source of power and confidence, a way to document my joys as well as my struggles because being marginalized doesn't mean we have to suffer all the time. It's a way to keep memories (because I am so often forgetful) and capture the person I was at a point in time when I wrote something that stays true even as I change, grow older, and move away from that person. It means peeling back the layers of myself, all the parts of my intersecting identities, and making art out of beauty, and encouraging others to do the same. Writing is and will always be my greatest love.
WOW: Thank you so much, I'm sure a lot of people reading can relate. Now, circling back to Mag 20/20, is there anything else you'd like WOW readers to know?
SOFÍA: Mag 20/20 is officially open for submissions for Issue 06 this spring and we consider any form of writing, art, music, photography, and any other genre you may think of! We can be found at @magtwentytwenty on Instagram and Twitter, and you can learn more about me and my work @sofiaxaguilar on Instagram and Twitter as well.

My thanks to Sofía Aquilar and Lula Lerma-Aquilar for chatting with me. Mag 20/20 is currently reading all genres from writers and artists in their 20s. The reading period will last for three months, with acceptances being sent out on a rolling basis. Each piece is published on the blog and promoted on social media and then compiled into a digital issue. Currently, Mag 20/20 publishes one issue per year.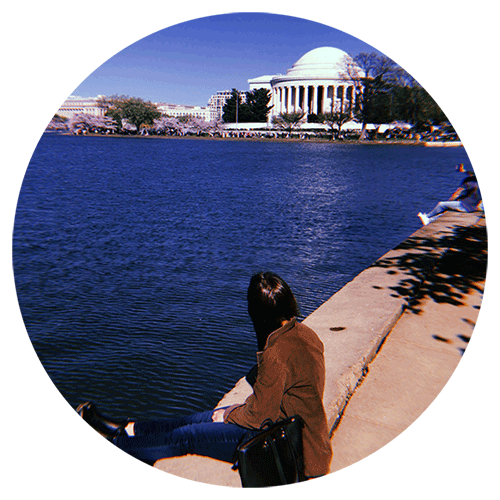 K.T. Mills is a writer living in Washington D.C.