"Fierce" is a word that springs to mind when describing American Seoul. Helena Rho does not back down when faced with daunting situations, which includes telling readers how those events felt impossible to confront in the moment. This memoir seethes with determination, yet also glows with tenderness when Helena writes about how to mother her children, or the affection she shares with her Korean aunt despite many years where they lost communication. One of the memoir's most inspiring qualities is that it grew from Helena's decision to leave a successful career as a pediatrician to write, which we chat about below. Her two children were in elementary school at the time, and her future ex-husband bitterly opposed her career change, but though she had the skills and work ethic, she writes that becoming a physician was her parents' dream for her, not her own. American Seoul is the product of a certain creative freedom that living in this country offers. Readers are rewarded with Helena's unflinching gaze at her struggles and mistakes, delivered with her gift for evocative details and narrative pacing.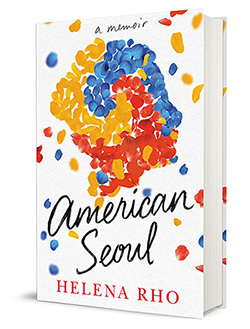 WOW: Welcome, Helena! We're excited to chat with you today about your recently released debut memoir, American Seoul (Little A, May 2022). You cover so much territory in your memoir, from your medical career to your mother's personal struggles, a legacy of abuse in your family, reconnecting with relatives in Korea, Korean language as part of your identity, and so much more. What did the process of including some events and memories and not others entail? How did you decide what to include?
Helena: Thank you for having me! I'm truly honored. My memoir began as an essay collection—seven chapters had already been published as stand-alone essays. But when my book proposal sold to Little A, my editor changed the arc of my story and it became a more continuous narrative. In the service of my book becoming a memoir, most of the seven published essays changed dramatically, and I also wrote eight new chapters, including "Blood Flamingos in Uganda," which was a difficult chapter about what happened to me as a child in Kampala. Unfortunately, some doctor essays were cut from the final manuscript, but "The Korean Woman," one of my favorite chapters, stayed because my encounter with a Korean woman in a grocery store was seminal in my journey back to becoming Korean again.
WOW: The stark contrast between the kind Korean woman and the monstrous math tutor of your Kampala childhood is one of many scenes in the memoir that show how complicated people can be. Alongside that complexity of human nature are the many layers of language and communicating. "The Korean Woman" and "Mother Tongue" ask what fluency in a language look like. As a Japanese speaker who learned my mother's language as an adult, I only realized years later that psychological and emotional baggage attach themselves to the process. Language study is much more than just an intellectual pursuit when it's part of your heritage. Just as you envied your classmate's relationship with her Korean mother, I envied you for your children's experiences in Korean dance and taekwondo! These scenes made me want to know more about Korean identity and language in your life: Did you journal or draft a lot about your trips to see Korean relatives—and travel to Cuba for Spanish!—that didn't make it in the final cut of American Seoul? I would love to read more about your adventures in world languages in a future essay or memoir of yours.
Helena: Yes, I kept a journal when I was in Korea in 2006, the first time I'd gone back to the country of my birth since I'd left at the age of six. My journal was invaluable in the writing of my memoir. The chapter "Parallel Universe" about my return to Seoul in 2006 poured out of me in only a few days—I'm an excruciatingly slow writer so this was highly unusual. And the chapter changed very little from first draft to publication. But the chapter about Cuba, "In Havana with Hemingway," was slashed in half by my editor at Little A Books—I'm still mad about that! Thank you for saying that you'd read more about my adventures in world languages—I have an essay about a writer's residency I did in France and my love of the French language that I'm still trying to place. Sometimes I wish I were a travel writer so I can go to any place I want and learn more about its culture and language and write about it!
WOW: One of my favorite things about your memoir is your adventurous nature, even beyond travel and new languages. You bravely left your longtime career in pediatrics to pursue writing, setting in motion a journey of self-discovery and the birth of your memoir. What advice would you give to writers who are interested in doing the same (leaving their careers to write)? Is there anything you wish you would've known when setting out?
Helena: Thank you for calling me brave! I still can't decide if I was courageous or foolish when I left the practice of medicine. To quote the novelist George Eliot, whose real name was Mary Ann Evans, "It is never too late to be what you might have been." Dare to dream and pursue your dreams! But I do wish I'd known how long it would take for me to write a book and get it out into the world. Ten years.
WOW: Your pediatric patients and colleagues certainly marked both your life and your memoir with unforgettable lessons. As a true writer though, you've also cultivated a love of reading from very early on, with your secret literature classes and trip to London in college. Tell me about the timeline of your writing career: What did you learn from your MFA program? You started it shortly after you left medicine in 2004, yet say in the Cuba chapter that you weren't yet published by 2018. Is that because of your protracted divorce? Because you were working and raising your children?
Helena: My experience in my MFA program was mixed—I learned a lot about craft and how to write a sentence clearly and eloquently. But I was miserable in writing workshops with people much younger than me, who did not understand the writing of a middle-aged, Asian American woman. I finished my MFA in 2008, but my book was nowhere near completion and I was raising two children and catering to a narcissist of a husband. My divorce started in April 2011 and took most of my emotional energy. I stopped writing creatively for years. But "Parallel Universe," eventually a chapter in my memoir, was accepted for publication by Crab Orchard Review in 2016—that motivated me to finish my book. Finally!
WOW: You are so accomplished in your careers and family life, and write about your divorce that you stayed in your marriage for so long in order to avoid admitting failure. Yet tenacity can carry us through difficulty. When were the times during your divorce that your resilience worked well for you?
Helena: I've often thought that I learned resilience by living through the first eight brutal years of my divorce—I felt pummeled and beaten down, but I got up. I went to court—the Supreme Court of the State of New York, several divisions of Family Court, Bankruptcy Court, which is a federal court, and even the New York Supreme Court Appellate Division—almost fifty times. I wrote about my marriage and divorce in the chapter, "Blue Petals on the Wall," but I avoided talking about SS (what I call my ex-husband) in much of my memoir because my book isn't about him. I'm still mired in litigation right now because of him. But I've become more sanguine that this is my path in life—I still rail against his cruelty but I've come to accept that I have no control over him. I can only change how I react to his manipulations. I've kept moving forward with my life, seeking joy and beauty. And writing more books!
WOW: It's so admirable that you don't shy away from true sorrow—we all need to remember life is always wavering between light and darkness. In an early chapter ("Loss of Breath"), you write about how grief "cannot be deferred or buried without exacting a catastrophic cost." Your parents' outbursts of sorrow, when you are ten years old and when you're a medical student, arise from their shame. You weave these episodes of grief with others, such as the time you broke down crying as a medical student when you failed to insert an IV for an infant. What do you think are the differences between repressed grief and buried shame? And what is one tip you can share with our writers who are writing about hard subjects?
Helena: I think the concept of Han in Korean culture encompasses sorrow, repressed grief, shame, loss, and also a measure of hope and resilience. Han is so complicated, and so difficult to explain. To me, it means the collective sorrow and grief of the Korean people from generations of subjugation and colonization. But that is probably too simplistic because Han can include other emotions. To answer your question, I think repressed grief inevitably leads to shame, whether it's buried or acknowledged. I know my repressed grief led to my feelings of shame and to me making terrible choices because I thought I didn't deserve any better—why I married my ex-husband. Shame is so destructive. As to what one tip I'd like to share with writers writing about difficult subjects? Wine. Drink lots of wine! But seriously? Write like your life depends on it. Because it often does with traumatic subjects and how and what you write will exist long after the haters and naysayers are gone.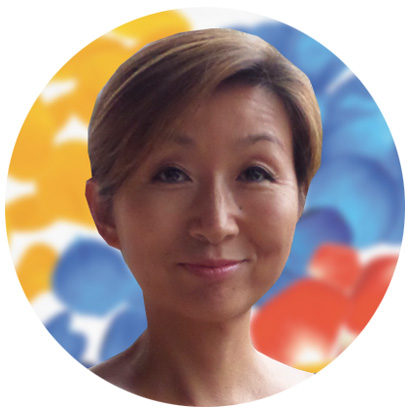 "Write like your life depends on it. Because it often does with traumatic subjects and how and what you write will exist long after the haters and naysayers are gone."
WOW: Yes! Written words don't vanish into the ether as words spoken in the moment do. We can also resurrect and reflect on our memories of those spoken words when we write about them. I happen to know your agent is the fabulous Amy Elizabeth Bishop at DG&B! How many queries did you send out before you got a yes from Amy, and what was the process like working with her and submitting to publishing houses before your book was acquired by Little A (Amazon's literary imprint)?
Helena: My path to finding an agent was a sporadic yet protracted journey—I sent about eighty queries over three different time periods. It was in my last round of querying that I found Amy in the spring of 2020, the middle of the pandemic. And I love her! She worked patiently with me in writing a book proposal for my memoir—I didn't have one because I'd blindly chosen to believe that memoir is sold on the entire manuscript, despite it being nonfiction. This process took a few months. I was grateful Amy didn't want to change my memoir radically in any way because I knew I'd be revising it with an editor. She submitted to publishing houses in September 2020, and quite quickly, to my chagrin, I had 17 rejections! Amy was wonderful and said that I didn't have to change my book proposal and we'd go out on a second round, but I decided to revise based on some editors' feedback. Just two weeks into submissions in February 2021, I had interest from editors and I eventually signed with Little A. My memoir debuted on May 1, 2022.
WOW: Has the publication of American Seoul changed your relationships with your family?
Helena: Emo, my aunt in Korea is so happy for me! She'd been so worried for years while I'd been writing and revising my memoir that I really think she thought I'd never publish it. So when I saw her last year in Seoul, she was practically jumping with joy—that's a serious feat considering she's almost 80 years old. I think one of my cousins in Korea returns my calls faster now? But maybe I'm imagining things! As for my sisters, I haven't heard from any of them, but then, I didn't expect to.
WOW: Thank you so much for chatting with us today, and congratulations again on your breathtaking, brave memoir, American Seoul. Any final tips you'd like to share with our readers/writers?
Helena: Thank you! I love quoting other writers and I hope this from Samuel Beckett is as inspirational to writers and readers as it is to me: "Ever tried. Ever failed. No matter. Try again. Fail again. Fail better."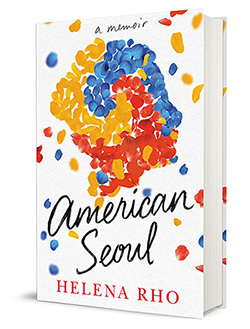 Lucky for us, readers of American Seoul can find more of Helena's writing on her website, including links to published essays based on her memoir and articles based on her experience as a doctor in our healthcare system. Visit helenarho.com to learn more.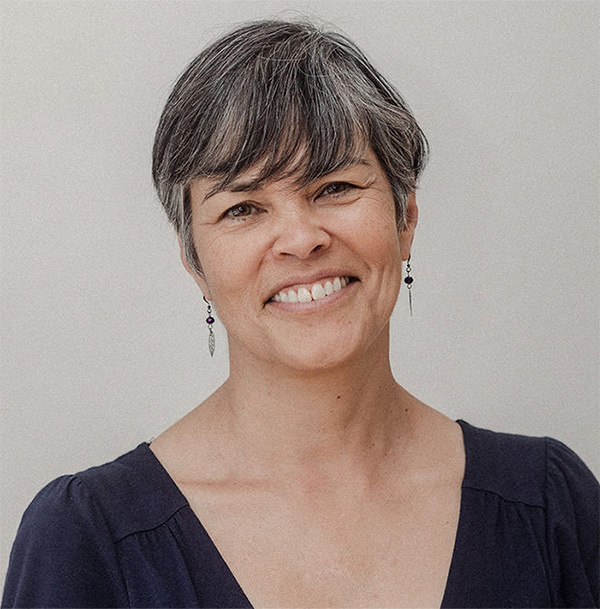 Marilyn Kiku Guggenheim earned a PhD in Japanese literature, then left a 17-year career in academic research to write creative nonfiction and teach. She is at work on her memoir, How To Be Japanese, about her years in Tokyo reconnecting with her mother's sisters, confronting loss, and recovering family stories. WOW's blog The Muffin featured her essay "A Reason To Finish" in May 2021. Connect with her online via Instagram @MarilynKiku and marilynkiku.com.