oday at WOW we welcome Ruth Moose, a celebrated author and teacher with a lifetime of wisdom to share. She lives in Albemarle, North Carolina, the same quintessential Southern small town where she grew up and what serves as the backdrop for so much of her work. She and her beloved artist husband Talmadge, who passed away in 2003, raised two sons in a home they built themselves in the Uwharrie Mountains, yet another setting that inspired her writing.
A three-time Pushcart nominee, Ruth has earned both state and national awards, including the Carl Sandburg Prize from the National Park Service, fellowships from the North Carolina State Arts Council, and the Chapman Fellowship for Excellence in Teaching.
At the age of 75, Ruth won the Malice Domestic 2013 Prize for best first traditional mystery novel for her book, Doing It at the Dixie Dew, which was published by Minotaur Books (St. Martin's Press), the same press that published her follow-up book, Wedding Bell Blues. Writing novels is the crowning touch to a career as a short story writer, poet, newspaper columnist, librarian, editor, and creative writing teacher at the University of North Carolina at Chapel Hill. She's published five collections of short stories, including her latest, The Goings on at Glen Arbor Acres, released in May 2022. She's also written six poetry collections and her work has appeared in commercial magazines such as The Atlantic, Good Housekeeping, and Ellery Queen, and literary magazines such as Alaska Review and North American Review, among many others; and also abroad in the U.K., Holland, Germany, Denmark, and South Africa.
One of Ruth's proudest accomplishments, however, is the success of her many students, some of whom have gone on to esteemed careers such as writing New York Times bestselling novels and screenplays for television shows such as This Is Us.
***
WOW: Ruth, as one of your students and long-time friends, it is a special honor to interview you today for WOW. Your career is proof positive that it's possible to both earn a living from words and make a good life too. Let's start by talking about your "Rule of the 4 P's." What are they and what do they mean?
Ruth: Number one is PASSION. If you don't have this you can possibly (but unlikely) develop it. If you don't, you're better off doing something else with your time and your life. If you do have PASSION, when you are not writing, you will be thinking of writing. Number two is PERSISTENCE. Spell that in all capital letters! Number three is PERSEVERANCE, which also complements PERSISTENCE. Take your rejections and shrug them off. There are a million places to publish. Try again. Then try another. Finally, there's PRACTICE. You don't sit down the first time at a piano and play Chopin. You must PRACTICE.
WOW: You've had great success with the short story, and I've so enjoyed all of your collections, particularly The Wreath Ribbon Quilt, Going to Graceland, and your latest, The Goings on at Glenn Arbor Acres is you at your best. Tell us what the short story means to you.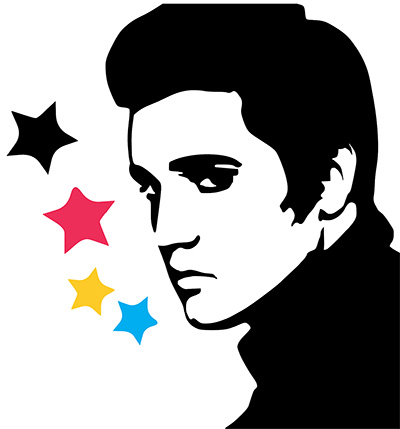 Ruth: Small, overlooked in the long shadows of novels, short stories are the true stepchild of literature. Maybe that's why I'm drawn to them. And yet, a classic short story can live longer than a novel. It can almost be memorized. At least parts of it. One of my problems is tying together short stories written over a period of time. A theme? A location maybe. In Going to Graceland, I turned all my characters into modern day pilgrims and sent them to Graceland to be blessed by the spirit of Elvis.
WOW: With the debut of the new Elvis movie directed by Baz Luhrmann, I expect Going to Graceland will reach an even broader audience than before. By the way, as far as titles go, you've had great luck with the word "Going"!
Ruth: Thank you! The new collection, The Goings on at Glen Arbor Acres, is set in an assisted living facility, which I have so far, at age 83, managed to avoid. Instead I bought a four-bedroom house with dear neighbors and two blocks from my sons and their families. This latest book was written fifteen years ago when I was deep in grief for my husband's death five years before. At that time my mother and my very precious aunt lived in an assisted living facility, so that gave me some background. Also, I got a lot of ideas from odd things and happenings that were in newspapers.
WOW: How long have you been writing?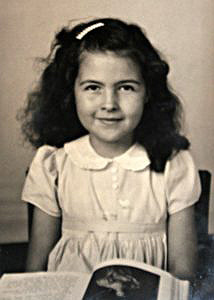 Ruth: Once as an exercise for a Jung Society directive, we were asked to write our first memory. Mine was writing. I was probably three, very young. I had been stationed to a small red rocking chair in the room where my preacher grandfather was writing his sermon. I remember being told to be very quiet. I must have watched him write for a while, and I remember the scritch, scratch sound of his pen on the paper. When he left the room, I climbed up into his chair, picked up his pen and "wrote" with real ink all over his sermon. When he came back, saw what I had done, he must have yelled because my grandmother came running into the room. I was terrified because he was known as a "hellfire and damnation" preacher with a booming voice. I wasn't punished but instead given an old ink pen of his with no ink. I could fill it up with water, but water on paper was invisible. No amount of imagination made ink.
WOW: But that didn't stop you, did it?
Ruth: No! When I was twelve, I earned my first award for an essay contest on "Why I Love America." I won a stereoscope with slides of the national parks!
WOW: I can so easily picture you as a little girl imagining the places you would go one day. Let's talk about the road to your first novel, Doing it at the Dixie Dew, which was a fascinating journey. Is it true that you wrote it on a Kaypro computer?
Ruth: Yes! I wrote my first novel when I was working full time as a Reference Librarian at Pfeiffer University. I wrote one morning a week during the semester on a Kaypro, the original floppy disk machine. My husband converted the disks to a Dell, then again to a Mac, and I didn't lose a word. Later, when I was teaching at UNC-Chapel Hill, I revised the book, which was originally named "Murder on Main Street." I also wrote queries and sent them out but I got no takers. So I moved on to short stories and poetry. During this time the manuscript went from third person to first and other revisions. I also met Molly Weston, now a dear friend, who LOVES/EATS/SLEEPS AND BREATHES mysteries. She encouraged me to enter the Malice Domestic Competition. When I won I discovered I'd written a "cozy"...whatever that was, and I got a contract to write the sequel, Wedding Bell Blues. I have notes for a third, even a few opening chapters, but a recent move, the pandemic, and other distractions have interfered a little bit. But no matter what, I always find time to write poetry.
WOW: I'm so glad you brought up poetry. YourDailyPoem.com just re-published one of my favorites, "Paper Bags." Can you talk a little about how it helps writers of all genres to dabble in poetry?
Ruth: I believe poetry, reading and writing it, are good mental exercises and stimulation. Sometimes a poem will find you just when you need a lift. Poetry makes you aware of the moment, if that helps. It's like a daily vitamin for your soul. It keeps the mind oiled and churning.
WOW: Amen to that! You're also a great reader, and I love trading books with you.
Ruth: Reading, reading, reading has saved my life. As a child, I was read to so often that I taught myself to read! And books have been my life blood. And libraries! Getting a Bachelor's degree in English, then a Master's in Library Science was a natural for me.
WOW: The little girl with the stereoscope has had some extraordinary literary adventures. Tell us about some of them.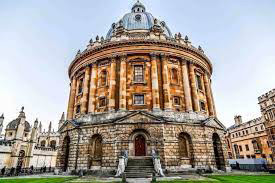 Ruth: I earned a National Endowment of the Arts Writers Fellowship and went to England on a pilgrimage. I made my way to Dicken's House, placed my hand on Jane Austen's desk (which was actually a small writing table in the corner of the living room), and went to the homes of Beatrix Potter and John Keats. One summer I even studied at Oxford, which was a dream come true. There I toured the Bodleian Library...ahh to breathe the rarified air...oh, the perks of a writing life.
WOW: I am so envious! Another perk of the writing life are the little creatures beside us! You have two cats, the regal Mr. Darcy and the spirited Eliza Jane. Have cats always been by your side as you write?
Ruth: I have always had a cat or two. Once when I lived in the wilderness, my orange tabby Miss Kitty, who somehow managed to make the acquaintance of a male orange tabby, gave birth to FIVE orange kittens. I wanted to keep them all, but my husband really objected. So I ran a newspaper ad saying I had miniature Garfields and found homes for all of them.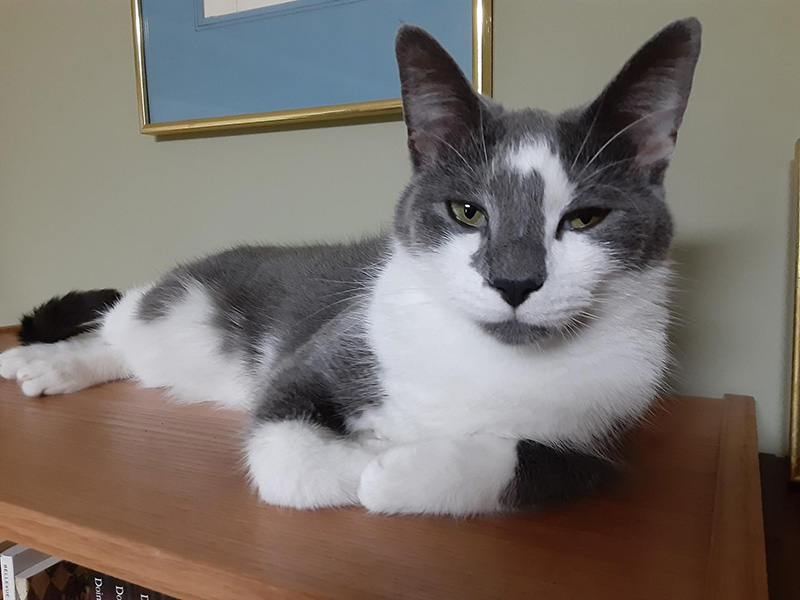 (Mr. Darcy)
WOW: How clever! Animals factor prominently in all of your work, an element that appeals to so many readers, especially me. Who is your favorite nonhuman character?
Ruth: In Doing it at the Dixie Dew there is a turtle, Nadine, who is named for a real turtle who lives with her "sitters" in Fearrington Village, where I used to live. She is my favorite nonhuman and in the third novel, The Daylily Do Off (which I have yet to write). She is such a special and precious turtle, and she is so very intelligent that she makes you look at turtles in a different way.
WOW: One thing that continually amazes me is how you seem to magically generate new work all the time. How do you do it?
Ruth: Writing was actually a matter of necessity! When family finances were down to the bone, and with my oldest son entering college after working his way through high school and community college, I went to Pfeiffer University, called on the PR person, asked if I could write freelance articles. He had no budget but wished me well. I also offered to clean dorms but those jobs were taken, so I came home very discouraged, defeated.
A day later, the PR Director called to say he'd had a call from The Charlotte News, an afternoon daily paper, and they wanted some articles from my area. Was I interested? Was I ever! For two years, I wrote three feature articles or columns a week. Never ran out of ideas. There is a story in everybody.
Unfortunately, all over the country afternoon dailies bit the dust, and The Charlotte News was eventually discontinued. But I never missed a deadline. This was when pieces were sent by postal mail, and I made sure to have my columns banked, two weeks worth in advance. Newspaper writing is good practice for a short story writer because you learn how to get the reader's attention, get into the story and get out. You write fast and tight. No word wasted.
I just love newspapers. The paper and ink kind. Online publications offer only headlines. I used the odd bits and pieces in newspapers for short stories. And of course, obituaries. These are great for finding names. In fact, I used to keep a notebook with odd and unusual names.
WOW: Creativity is more than a habit for you. It's a way of life!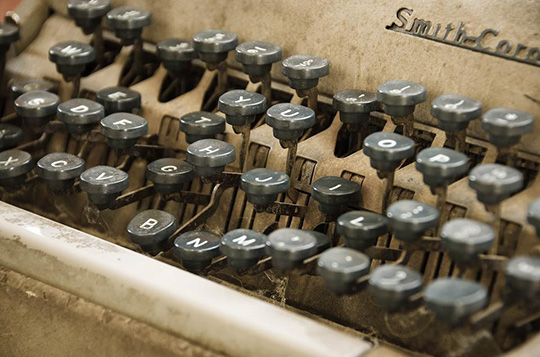 Ruth: When I worked for The Charlotte News, I actually wore out my Smith-Corona typewriter. Honest!
Interestingly, this was the same typewriter that went with me for twelve years as I taught poetry in the schools all over North and South Carolina. I would teach four classes before noon, go back to my hotel room and type up the children's poems, which were then copied and on Friday put together into an anthology. I loved to recite Emily Dickinson and Robert Frost to students. And Nikki Giovanna, Robert Heyden, Lucille Clifton, depending on the age of the students. I taught at every grade level from kindergarten to senior high. It was a wild and crazy experience and exhausting. During the school year I did one week each month. I earned $500, which paid our house payment and electric bill and left some for beans for the slow cooker. Occasionally my husband would sell a small painting or get a portrait commission, and somehow we survived.
WOW: You also still write by hand, correct? What are the benefits of the old-fashioned way?
Ruth: I love to write long hand. Maybe it's being a Luddite! I always started my classes with a prompt and required my students to write this way as a first exercise. I think the mind connects to the hand organically. There's an organic flow not interrupted by something mechanical. I go from a page or two in long hand, with maybe jottings of notes to add later, to the computer and type in the story. At one point I had a file named "Started Stories." A stay against ever having writer's block. "It's a piggy bank," I used to tell my students. I often pulled one up and finished it.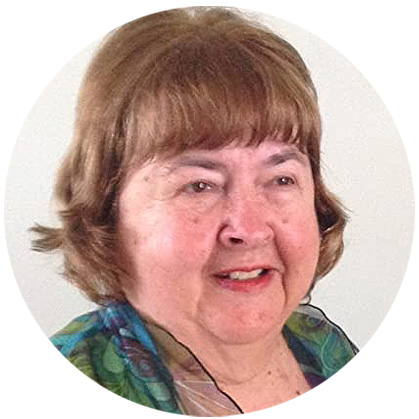 "Sometimes a poem will find you just when you need a lift. Poetry makes you aware of the moment. It's like a daily vitamin for your soul. It keeps the mind oiled and churning."
WOW: It was said of John Updike that he never had an unpublished thought, an observation that can easily be applied to you. To what do you attribute your incredible publishing success?
Ruth: I am good at starting things, and I have a lot of projects going at the same time. Something that works well for a short story writer...but not a novelist. I have a short attention span and am easily distracted.
I just love new beginnings. If I have an opening, I have a story. Openings are holy! But finishing! This is a challenge for me. I don't think it's the letting go business, just impatience. I want to move on to something else. Also it's very hard to publish a book of short stories unless you have an established reputation.
WOW: You've also had an incredible teaching career and helped so many emerging women writers through the years—of all ages! For example, you helped my husband's mother write her first poem in one of your classes, a practice she continued into her 90s and what eventually bloomed into a poetry collection. Tell us about more of your students.
Ruth: I love keeping up with the accomplishments of my former students. Jenny Han, who was one of my Writing Young Adult Literature students has had Netflix series made from two of her novels—For All the Boys I've Loved Before and The Summer I Turned Pretty, which she started in my class! Kristy Woodson Harvey, another creative writing student, is publishing a whole series of books set in a beach town. Another, Joanna Volavka, has published a YA Science Fiction novel, had a baby and working on a second novel. And there are others doing good work.
WOW: Name three writers (living or dead) that you'd most like to invite over for tea.
Ruth: Emily Dickinson, of course. Colette. Barbara Pym. And I could go on. Every day I discover a new writer I like, whose work I admire. Male or female. Woo me with words. My husband was a dedicated reader and our first piece of furniture, even before we married, was a bookcase he designed and built.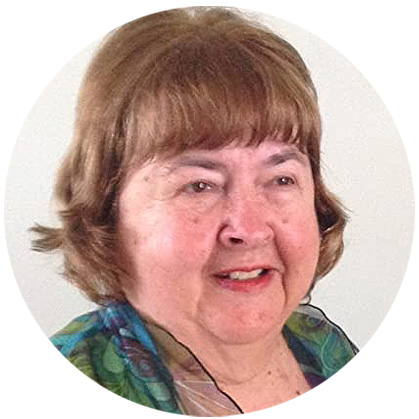 "Take your rejections and shrug them off. There are a million places to publish. Try again. Then try another."
WOW: Are you a morning person or a night owl? Rather, when do you do your best writing?
Ruth: I write in spurts at odd times. Always have. The butt-in-the-chair kind of discipline is for the type of novelist which I am not. When writing novels, I wrote in bits and pieces, short and small amounts of time. I think it goes back to when I began to write and my husband had a graphics business at home. I did all his bookkeeping for his graphic business, answered the phone and moderated the behavior of two boys in addition to handling PTA events, attending book clubs, and taking writing classes. In the days before Zoom, I actually took a correspondence class through the mail!
Since then, I have always been part of a writing group, some of which I started myself. Since I moved back to Albemarle two years ago, I had to reacquaint myself with new places and new people. I've cobbled together a few stories, but my usual output has suffered. You would think the pandemic would be ideal time to craft a novel or longer work, but I found it to be quite the opposite. All I wanted to do was read, read, read! So that's what I did. All sorts of things from Daniel Defoe's Robinson Crusoe to British mysteries to John Grisham books. Three libraries here were open the whole quarantine time—the public one, community college, and Pfeiffer University's library where I worked for nine years in reference. Libraries are holy places, temples alongside churches and cathedrals.
WOW: I completely agree. I have run into you so many times in the library, especially at library book sales, and there is nothing like hearing your laugh coming from the poetry section! So tell us, when you're not in the library, what are you doing? What are you working on now?
Ruth: I'm writing short stories, just trying to catch up! I also have a new essay, "Baking Betty," that just came out in the July issue of Pinestraw magazine, and I'll be reading from The Goings on at Glen Arbor Acres at McIntyre's Bookshop in Pittboro, N.C. on Saturday, October 1 at 2 p.m.
WOW: I loved "Baking Betty," especially the line about how okra in a can is a sacrilege in the South! And I so look forward to seeing you in October and hearing you read your marvelous words in person. Thank you so much for joining us and sharing such valuable lessons.
***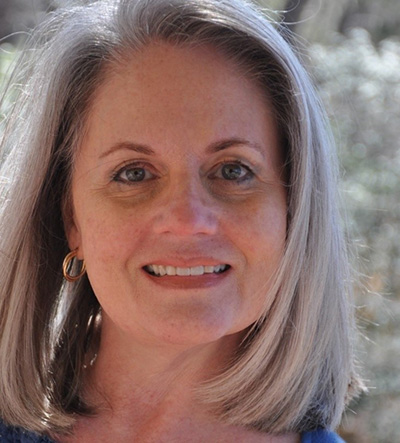 Ashley Memory is a poet, essayist and fiction writer living in southwestern Randolph County, North Carolina. She takes Ruth's mantra about the power of perseverance to heart because after two years of submitting, Carolina Country just published "I Love My 'Teachur'" a short essay about her beloved grandfather. Ashley is a columnist and critique editor for WOW and a regular contributor to Healthline Media. She began two of her forthcoming essays, "Fugitive in the Woods" (Summer 2022 issue of Solstice Literary Magazine) and "My 'Haunted' Lamp" (September, PenDust Radio) last year in a WOW class taught by the talented and compassionate Naomi Kimbell. She has also written for Poets & Writers, NBC THINK, Wired, Carve, and North Carolina Literary Review. For more, see ashley-memory.com.