n this month's newsletter, we're talking about finding the missing piece in our writing life by choosing what we give our attention to. Whether it's a lifelong journey as a writer or a second act, it's never too late to follow your dreams, but it starts by taking control over your time and priorities and committing to daily action. In light of our theme, I can't think of a better person to chat with than Mari L. McCarthy, founder and CEO (Chief Empowerment Officer) of CreateWriteNow.com. Before diving into our Q&A, I'd like to share Mari's story:
Twenty-five years ago, Mari lost feeling and function in the right side of her body due to Multiple Sclerosis. She worked as a business consultant, driving across the country and advising Fortune 1000 companies; but as her disease progressed, she was forced to sell her business. She didn't have the strength to cook a meal without dropping her saucepans, and it took a mammoth effort each day just to coordinate her legs and walk from the bedroom to the bathroom. The cocktail of prescription drugs and specialist visits didn't seem to be helping. She felt diminished by her chronic illness and desperately wanted change.
Then one day, she discovered the missing piece in her life. A friend introduced her to "Morning Pages," a journaling exercise from Julia Cameron's book, The Artist's Way. Morning Pages is a stream-of-conscious writing exercise done first thing in the morning. The idea is to wake up and commit to your journal daily, writing three longhand pages of any thoughts that come into your head. At first, Mari viewed the exercise as physical therapy and a way to learn to write with her left hand, but she soon noticed how journaling eased her bodily symptoms, especially when she focused on them in depth. As she continued her journaling practice, her MS symptoms improved. Before long, she began to explore not only physical issues in her journal, but emotional, mental, and spiritual as well and intentionally set out to create the life she always wanted. This included becoming a professional singer and launching the CreateWriteNow community.
I can't tell you how much I admire Mari for realizing what was missing from her life and then setting a path of intention. As founding editor of WOW! Women on Writing, I understand the courage it takes to leave one job to pursue a business idea that you're not sure will be a success, but one that invigorates your soul.
Today, Mari L. McCarthy teaches health-conscious action-takers how to use Journaling For The Health Of It® to explore, embody, and express their True Self. She is the multi-award-winning author of Journaling Power: How To Create The Happy, Healthy Life You Want To Live; Heal Your Self With Journaling Power; and Mindset Medicine: A Journaling Power Self-Love Book. She's also created 20+ Journaling Power Workbooks including, Who Am I?, Journal Magic For Writers, Take Control of Your Health, and How To Start Journaling For The Health Of It® Write Now.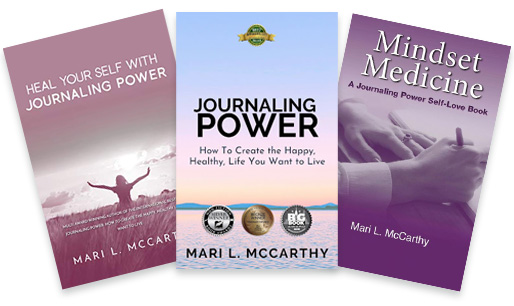 WOW: Mari, welcome! We're thrilled to spotlight you today. You're celebrating 25 years of Journaling For The Health Of It®. I love how journaling opens doorways to new thinking. Do you remember your first journaling aha moment and the path it led you on?
Mari: My first ahas were remembering many, many childhood experiences: being left-handed and Sister Andrea changing me, wanting to be a real singer and getting turned down for the St. Bernard's Choral Group. Journaling helped me heal what I call the "issues in my tissues," and my left-handed writing became legible in a few weeks. As for my singing, I wrote down my goal of becoming a real singer, and a short time later, my local newspaper ran a story about a music school two towns over that worked with students of all ages. So, I started voice lessons there. Today, I have a five-octave range (my voice teacher calls me "Mariah Carey Mari"), and I'm writing songs!
WOW: That's incredible, Mari! How did you make the leap from discovering the value of personal journaling to launching CreateWriteNow?
Mari: My Journal made me do it. Once I realized the holistic health opportunities of journaling, I said to myself that I needed to set up a business and share this awesome self-healing tool with the world. Then one day, Journaling For The Health Of It just showed up on my pages. Then, CreateWriteNow was the answer my Journal gave me when I asked the question, "What do I call my company?" She loves it when I ask for her advice.
WOW: I love how everything starts with journaling, and it can provide all the answers, as we explore what we really want. But sometimes, it can be tough to get started. When I first started journaling, I struggled with negative self-talk, which is the biggest cause of writer's block. What are some tips for quieting our inner critic?
Mari: Creating a healthy, loving relationship with him/her. That means having lots of journaling discussions to get to know him. I asked lots of questions and listened, listened, listened. I discovered he is my traumatized child. I provide the positive parenting he so needs, and he provides all kinds of answers for my healing, growth, and transforming.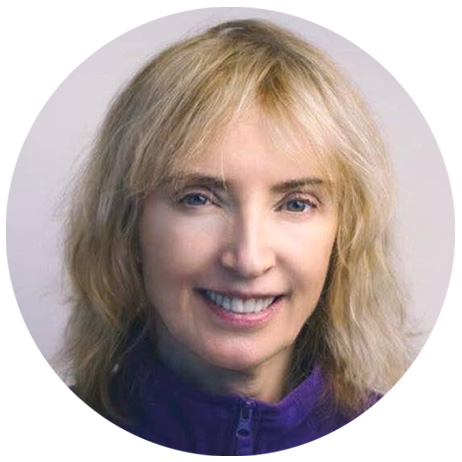 "Once I realized the holistic health opportunities of journaling, I said to myself that I needed to set up a business and share this awesome self-healing tool with the world."
WOW: One of my favorite things is your Journaling Power Workbooks because they help uncover those hidden issues and transform them into something positive. After completing your workbook exercises, I feel like I just got back from a luxurious spa retreat! Your guided prompts are energizing, and an inner journey full of inspiration and personal insights.
A lot of writers are planning their book projects right now, and you've written at least two-dozen workbooks, not to mention your paperback trilogy. When you set out to plan a new book, what is your method for coming up with the theme, topics, and guided exercises? How do you stay on track?
Mari: Once again, it starts with my Journal who gives me words, phrases, and ideas. Once I have the title and subject matter, I create the table of contents and then write, write, write. I use a lot of journals in the process! Thanks to 25 years of daily journaling, I know and love My Self, and my self-compassion is at an all-time high, and that has been the game changer for keeping me on track.
WOW: Your journal is a great accountability partner! Since we're still pretty fresh into the new year, many writers are thinking about goals, and journaling is a powerful way to discover what you truly want out of life and manifest those desires. What advice and/or journaling prompts would you give to someone who is exploring her career goals?
Mari: I have about 380 journaling power prompts; about 10+ years of blog posts; and 20+ workbooks, including one on careers/passion pursing, one on goals, one on recharging & resetting your life, transitions. And there are two freebies: Change Your Life in 15 Days and Discover Your True Self in 23 Days. I'm sure there's one that will speak to them.
WOW: Those are great; thank you! You also offer Journaling Power Sessions, which are 60-minute Zoom consultations. Are these live journaling sessions, and what can participants expect from a session?
Mari: The session is whatever the client wants them to be. Before the session, I have them do a 5-minute free-writing exercise and answer the question that they put at the top of their Journal page, "Who Am I Today?". It helps them to become and stay present. One client said of her session: "Very good and comprehensive ... I learned a lot about myself and how I can better relate to this world."
WOW: I love that free-writing exercise, and your sessions sound personally tailored and helpful. Your Journaling Power blog is also a great resource. I enjoy opening my inbox and reading the latest post from your guest bloggers, who write about everything from personal stories of journaling to fuel writing to relieving anxiety and more. Are you open to guest post submissions, and what are your guidelines? Are there any topics you're looking for, and how can writers submit to you?
Mari: I'd love Journaling Power Journey guest blog posts from WOW members. Guidelines are 1,000 words, links, bio, and a personal pic. I'm looking for anything in the personal development category, their writing life, their journaling power journey. I have lots and lots of Google cred, so it will definitely get WOW members out to the world.
WOW: What a great opportunity! So, what's next for you and CreateWriteNow?
Mari: I'm revisiting and revising the 20+ Journaling Power workbooks in CreateWriteNow's Embodied Journaling Store. If you or any WOW members have suggestions on improvements, consolidation, etc., I'm all ears. If anyone wants a workbook and will do a Journaling Journey guest blog post after using it, I'll send it to them for free.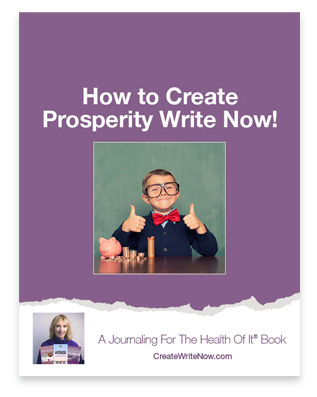 I just published a new Journaling Power workbook, How To Create Prosperity Write Now.
Also, I'm starting to work on the next paperback book in the Journaling Power Revolution Series: Focus To Finish: A Journaling Power Self-Management Book. I'm writing the back cover (what's in it for my readers) and then on to the table of contents. Of course, I just started a new, spiral, one-subject Journal exclusively for this creative endeavor.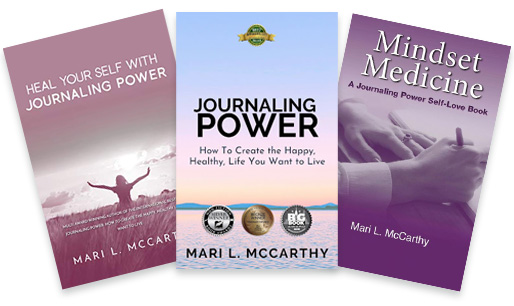 Many thanks to Mari L. McCarthy, founder and Chief Empowerment Officer of CreateWriteNow, for chatting with me. CreateWriteNow's store offers journaling self-healing courses, self-empowerment courses, courses for writers, and self-growth courses. If you'd like to receive a free course workbook and write about your journaling journey for CreateWriteNow's blog, you can contact Mari via email at mari@createwritenow.com. I've completed nearly a dozen of these workbooks—everything from Journaling Magic for Writers to 15 Day Spiritual Journey—and each time I do, I think I've found my new favorite. The fun thing is you can do them over and over at different times in your life to surprising and inspiring results.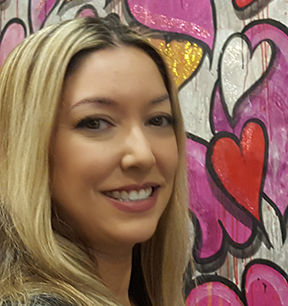 Angela Mackintosh is an editor at WOW! Women on Writing and a graphic designer at Mackintosh Multimedia. A Pushcart Prize and Best of Net nominee, her writing has been published in Writer's Digest, The Nervous Breakdown, io Literary Journal, Awakenings, Eastern Iowa Review, and Exposition Review, among others. She lives in the Los Padres National Forest where she enjoys trail running, off-roading, oil painting, cat rescue, and eating way too many chocolate chip cookies.