Special Note to Contestants:
We want to thank each and every one of you for sharing your wonderful stories with our guest judges this season. We know it takes a lot to hit the send button! While we'd love to give every contestant a prize, just for your writing efforts, that wouldn't be much of a competition! One of the hardest things we do after a contest ends is to confirm that someone didn't place in the winners' circle. But, believe it when we say every one of you is a true winner.
Every writer has been a gracious participant through the whole process, from the beginning of one season to the next. We've written emails to authors, agents, and publicists who have donated books to our contest, and we've shared our delight regarding the true sportsmanship among our contestants. It doesn't matter if it's one writer who placed or another who tried but didn't; all writers are courteous, professional, and wonderful extensions of WOW! Women On Writing's team. Writers' stories and e-mails fill us with enthusiasm.
Kudos to all writers who entered, whether you won or not, you're still a winner for participating.
***
To recap our current process, we have a roundtable of 4-7 judges who blindly score equally formatted submissions based on: Subject, Content, Technical, and Overall Impression (Style). That's the first step of the process. If a contestant scores well on the first round, she (or he) receives an e-mail notification that she passed the initial judging phase. The second round judging averages out scores and narrows down the top 35 entries. From this point, our guest judge helps to determine the First, Second, and Third Place Winners, followed by the Runners Up.
As with any contest, judging so many talented writers is not a simple process. With blind judging, all contestants start from the same point, no matter the skill level, experience, or writing credentials. It's the writer's story and voice that shines through, along with the originality, powerful and clear writing, and the writer's heart.
***
We've enjoyed reading your stories, each and every one of them. The WOW! Women On Writing judges take time to read them all. We recognize names of previous contestants, writers familiar with our style. We enjoy getting to know you through your writing and e-mailing. Remember that each one of you is a champion in our book. We hope that you continue to enter so we can watch you grow as writers and storytellers, because each season is a rebirth of opportunity.
Now on to the winners!
Drum roll please....

1st Place: Natalie Wendt
Spokane, Washington
Congratulations Natalie!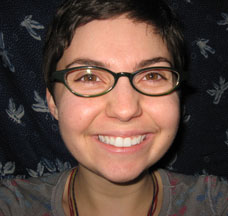 Natalie's Bio:
Natalie Wendt grew up in Idaho, graduated from College of Santa Fe in 2005, and traveled extensively Asia, Europe and North America. A former resident of Sravasti Abbey in Washington state, she now spends her days as a substitute teacher in Spokane's elementary schools. Her writing has appeared in "Q View Northwest," "The Fig Tree," and "The Spokesman-Review." This is the first contest she's ever won.
Going Forth and Coming Home
When I was twenty-four, I moved into one of the world's only Buddhist monasteries for Westerners. Part of the Buddhist monastic ordination ceremony translates literarily to "going forth into homelessness." Buddhist monks and nuns are trained to interact with their environment without thinking of anything as a possession. Any "my" or "mine" are reduced to their robes and alms bowls. While I lived there, "my" room was anonymous in decor like any other in the monastery, none of it reflecting me. If a guest or visitor needed the small cabin where I slept, I got a roommate or spent the night on the wooden floor of the meditation hall. Everything I could call "mine" fit in two boxes.
The year before I moved into the monastery, I spent seven months traveling around the world, living out of a battered blue suitcase and an old backpack. It was a turtle existence, my world on my back. I trekked across India studying Buddhism, visited a cousin who worked for UNICEF in the Maldives, schlepped through Europe thanks to hostels and the couches of friends and extended family. Almost every week, I went to a new city, province, or country. Sometimes I accidentally started speaking the wrong language, my confused brain unable to keep up with my changing geography.
Nomadic life had been my dream for years. I grew up itching to escape my small north Idaho hometown. At eighteen, I fled to a hippie college in Yellow Springs, Ohio, and at nineteen, I traded it for College of Santa Fe's painted deserts, artists, and eclectic melting pot of cultures. Santa Fe, New Mexico was a wonderful home for my student days, but as I set out into unsteady adulthood, I wanted to see who I was without anything familiar. I didn't go traveling or move to the monastery to find myself. I went to lose my old ideas about who I was or was supposed to be. Stripping home away, I could uncover my unquestioned assumptions.
For the most part, it worked. I'd grown up thinking I was shy, but I talked to strangers every day while I traveled. I'd been convinced that I was afraid to be alone, but I relished solitude in my gypsy life and in the silence of the monastery. Each place and experience forced me to try new ways of thinking and dealing with the world, to become someone who could exist in that environment, and amazingly, I did. I found new words for myself, and scrubbed old ones off like dead skin.
My devotion to Buddhism drew me to the monastery, but it wasn't just that. It was also the lure of an uprooted life in one place. The monastery was meant to challenge the easy habits of identity that play out in ordinary life. Monasticism is supposed to shake up how you see yourself. Living in community, meditating more than three hours a day, sharing almost everything with a dozen other people, and giving up control over your schedule, activities, even your meals, you find sides of yourself that you never knew existed.
Though I didn't ordain, I underwent the training, which brought unexpected results. During my several months of training, I was shocked to realize that I wanted to make a home as the new person I'd become. Despite believing myself a lover of the itinerant life, through living at the monastery, I saw that I actually wanted a home of my own, a job, and all the things I thought I didn't care about. So I did exactly what I'd practiced so many times before: I followed my heart.
That was six months ago. I'm now living in a small city and working in elementary schools. I like what I do, and even more, I like coming home. My walls are draped with saris I got in India, and my shelves burst with pictures and tokens from all the places I've been. The heart of my bedroom is an altar mirroring the one I sat in front of at the monastery, a small golden Buddha in the center. Looking around my apartment, I see all the things I've tried, and I know I couldn't have gotten here any other way. It was only through losing what I knew about myself that I found myself, only by going forth into homelessness that I found home.
***
What Natalie Won:
$200.00 Cash Prize
Publication of winning story on WOW-WomenOnWriting.com website
A skirt! books Prize Pack
A Year's Subscription to Premium-Green Markets
Interview on WOW!'s blog The Muffin


2nd Place: Abby Everett Tignor
Hopewell, Ohio
Congratulations Abby!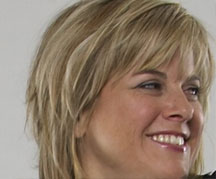 Abby's Bio:
My most vivid memories as a child are of the local library and the stack of books I'd haul home every month, thinking that someday I'd write that great novel. I have yet to write the first word of said novel—apparently because I've been too busy living my life, which has provided all kinds of great material of the non-fiction sort. This is my first major contest entry, but the editors of Women in the Outdoors Magazine did actually pay me real money for an article I wrote a few years ago, so I now call myself a published author, looking for more.
When I'm not putting skewed memories to paper, I go to my day job as a death claims examiner for a large insurance company. They frown on using too much creativity, humor, or dicey language in our correspondence concerning the dearly departed, so I'm forced to find my outlet elsewhere.
I live in rural Ohio with my husband of 25 years, who provides me with yet more material. We have two pretty cool sons, an ornery little granddaughter, donkey, mule and a large and grumpy Doberman. When we're not tending to our five acres of paradise, we're hanging at our river cabin, which attracts characters that really deserve their own book. Besides writing, I enjoy kayaking, photography, cooking and enjoying a cold beverage with friends and family, as the river flows by.
Please come visit me at https://abbybythepound.typepad.com/notwrite/
Dust Bunnies
It's been a twenty year love/hate relationship between this house and me. I was twenty-four when we bought the place. It was new, clean, and uncluttered, though a tad small—but all we needed. We moved in as naive newlyweds with two babies and few possessions.
Having grown up an auctioneer's daughter in an old farmhouse, I naturally decorated our new abode in rustic country—very popular at the time. I was re-creating my childhood with every antique knick-knack that found its way into our home. I was also unknowingly recreating my mother's obsession with stuff. Neither my mom nor I, however, had any obsession with cleaning this stuff.
The years passed and we managed to raise our children and hang on to our marriage within those walls, which seemed to grow smaller every day. My lovely old antiques were now just dusty objects, taking up precious space. I looked around one day, taking in the worn woodwork and nicked linoleum that had faded with time. The closet doors wouldn't close without giving its contents a good shove, and the basement was an unspeakable horror of moldy junk and cobwebs. Where was I when my house grew old and overstuffed? How could I have let this happen? I turned to the mirror and my attention shifted from the surrounding mess to the person staring back at me—also a mess. Like my home, I was unkempt, with too many issues. My gut, like the closet contents, had to be pushed into my jeans before zipping, and my roots needed maintenance. I realized that my body and my house were depressed and overweight. I had been overfeeding us both, for emotional reasons, and it had to stop.
So the clean-up now commences as I take a step forward to get control of my life and home, finally realizing just how closely each are affected by the other. I boldly start with my bedroom closet, but it's a bad move—I'm not ready to admit that my fifteen year old, size six jeans will never again grace my middle-aged butt. I move to the bookcase, instead, and ditch the book on getting control of your debt (I bought it with my credit card). Next to go is the attention deficit disorder paperback (I put it down three years ago after browsing two chapters). I quickly fill up one trash bag and triumphantly march down the hall, tripping over a laundry basket and gym bag.
The antiques are next. I hold on to the family heirlooms, dusting them off and putting some away for safekeeping. The items acquired at yard sales and auctions, holding no sentimental value, are put in a box—never to return. How long can one family stare at a rusty, non-functioning eggbeater, before the magic is gone? (Twenty years, apparently) I save my great-aunt's antique china and move it to a more accessible location in the kitchen cupboard. I can still hear her voice, ten years earlier, sternly advising me to use her beautiful dishes every day—not to save for special occasions.
As the weeks pass it becomes easier: lidless Tupperware, VHS tapes, half-melted candles and unmatched coffee mugs all make their way off the premises. In time, I even summon up the courage to toss some clothes. I silently shed a tear as I let go, reluctantly, of my oh-so-forgiving elastic-waist capris that got me through many pre-menstrual days. I throw out my favorite sexy bra, worn years before my breast reduction. My husband mourns with me, but for different reasons. Last, but not least, I fold nine pairs of "mommy jeans" for the Goodwill pile.
While moving the heavy boxes and bags out of the house, I feel the psychological weight lifting from my shoulders and I make plans to replace the worn carpet and peeling wallpaper. As I breathe new life into these tired walls, I begin to feel my own spirits lifting. The house is suddenly alive again, and so am I. Now that I've unearthed the computer, I've started writing again. I've resumed wearing makeup, too, because I can find it. I'm wearing clothes I didn't know I had, and eating off fine china instead of chipped plastic. Life is good.
The path I had envisioned twenty years ago isn't my reality these days, but in the process of over-hauling our home, I accidentally found myself—hiding beneath the clutter and dust bunnies.
***
What Emily Won:
$150.00 Cash Prize
Publication of winning story on WOW-WomenOnWriting.com website
A skirt! books Prize Pack
A Year's Subscription to Premium-Green Markets
Interview on WOW!'s blog The Muffin


3rd Place: Linda Rhinehart Neas
South Deerfield, Massachusetts
Congratulations Linda!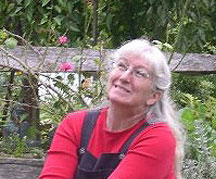 Linda's Bio:
Linda Rhinehart Neas self published her first written work at the age of seven on the cardboard she gathered from her Dad's shirts after they came back from the laundry. Since then, she has written extensively in various venues. Her work has been published and performed throughout New England. Gaining inspiration from her four daughters and three granddaughters, she has calculated that she will run dry of ideas for writing sometime in the next millennium. Her first full collection of poems, Winter of the Soul, was published in 2008. Next to writing, teaching is her second passion. Presently, she is working on her second book of poetry, essays and memoirs on teaching and two children's books.
Linda lives in an enchanted cottage surrounded by trees, bushes and perennials which she and her beloved, Roger, planted. Their dog Molly keeps track of all the other critters who call the enchanted cottage home.
Enchanted Cottage
"Anyone can build a house, but it takes love to make a home," my mother said as I pulled my things from the pillowcase. We had just moved into the projects of South Boston. It was the last place in the world anyone would want to call home. Brick and macadam, chain link and cement gave little hope to "home building." Yet, my mother, in the face of alcoholism, illness and poverty made us a home.
As the years went by, I became increasingly aware of just how few of my friends had libraries, art or music at home, because any chance they got, they would come to my Momma, borrow books, listen to classical music, jazz or big bands or sit contemplating an oil painting of the seashore at sunset. Of course, at the time, none of us were aware of what drew us to be in such space as Momma's. Only after years of life experience do such wondrous answers appear to our unasked questions.
It all makes me wonder if Momma had heard Churchill say, "We create our dwelling and afterwards our dwellings create us." Surely, the cement and clay boxes of the projects were not effective dwellings to create resilient, resourceful and respected citizens, or were they?
The federal government in the wisdom of the time utilized Bauhaus architecture to create as many homes as possible for the returning veterans of the Second World War. Large three story units of brick, steel, concrete and glass were erected in the corner of a city where only poverty found a resting place. Like huge index boxes, the apartment buildings featured center courtyards. Clotheslines hung within chain-link fences where the clothes often came back dirtier than before they were hung if the wind was so cruel as to whip the freshly laundered artifacts with black soot from the incinerators. In the center of the four blocks of buildings, was a playground big enough for two baseball diamonds, two basketball courts and yards of asphalt and tar. No sand lots here. Sliding into home base was left only to the truly tough kids.
Forty years later, I sit in the corner of my kitchen surrounded by sunlight and warmth. Two large windows form the corner into which my desk has been built. Looking outside, I am continually inspired by the beauty of my meditation garden. Soft shadows fall on the lattice from the overhanging wisteria. Pray flags move gently in the breeze. Feathered friends peck at the window when I have been negligent in filling their feeders. The contrast from this oasis of contentment and my childhood home do not go unnoticed, nor do the similarities.
How does a kid from the projects grow to own a home, complete a master's degree and publish a book of poetry? I believe it all started in that third floor apartment with steel and concrete walls and asphalt tile floors.
While my home now is made of wood, surrounded by almost an acre of trees, bushes, and perennials, like the home Momma created, it is also filled with art, literature and music. It too is a haven filled with houseplants, animals and people. Momma's home was the mold for my life as a poet/writer and educator. We didn't need a fancy Mc Mansion. We didn't need all the latest household gidgets and gadgets. We had love; no matter how bad the times were, and they got mighty bad back then, we had love.
Several weeks ago, friends came to visit to see the new floor in our kitchen. Our house is a work in progress, which they had visited only once before. As we sat in the living room listening to a beautiful recording by Rasa, surrounded by a wall full of books, windows green with pothos, violets, and bamboo, the dog at our feet, they began to whisper. They nodded their heads in agreement, smiling like Cheshire cats. Seconds later, the ultimate compliment wrapped around me.
"We love coming here," they said. "Your house is magical, like an enchanted cottage. The work you both have done makes it feel so warm. We felt at home the moment we entered."
I smiled, too, sharing Momma's words, "Anyone can build a house; it takes love to build a home!"
***
What Amy Won:
$100.00 Cash Prize
Publication of winning story on WOW-WomenOnWriting.com website
A skirt! books Prize Pack
A Year's Subscription to Premium-Green Markets
Interview on WOW!'s blog The Muffin

THANK YOU TO OUR CONTEST SPONSORS:
It is the sincere desire of skirt! Books, that each writer will keep his or her focus. Be wholesouled, and never give up. Because here's your proof that there are many, many people who want to see you succeed.
As much as we all value words, the right ones, we acknowledge that actions speak louder than words. So, as each of you receives your gifts, listen carefully to the encouragement and write, write, write.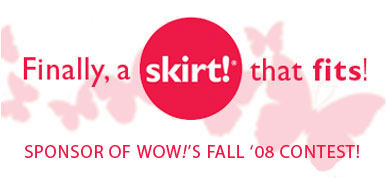 [About skirt!]
skirt! is all about women... their work, play, families, creativity, style, health and wealth, bodies and souls. skirt! combines spirited, independent editorial with bold, eye-catching artwork to create a unique line of books and magazines that are playful and irreverent, sometimes controversial, and always passionate.
skirt! Books is an imprint of the Globe Pequot Press and skirt! Magazine. Visit their websites: https://www.globepequot.com/skirt and https://www.skirt.com
Special Thanks goes out to Jaclyn Wilson of Globe Pequot skirt! books
Thanks Jackie!
-----------------
THANK YOU TO JILL BUTLER:
We'd like to thank Jill Butler for creating this season's prompt. Her book, Create the Space You Deserve: An Artistic Journey to Expressing Yourself Through Your Home captured the hearts and imaginations of the many writers who participated in this contest. We're thrilled with the fantastic selection of essays that Jill inspired.
To find out more about Jill Butler, please visit: www.jillbutler.com. Be sure to stop by Jill's boutique and explore her fabulous French-inspired creations! And in case you missed it, read WOW's interview with Jill Butler. She's an amazing woman and a true inspiration.
Thanks Jill!

RUNNERS UP (In no particular order):
Congratulations to the runners-up! It was very close, and these essays are excellent in every way. Enjoy!
Click on their entries to read:
How the Universe Moved My Sofa and Changed My Life by Jen Payne, Branford, Connecticut
The Desert Was In My Closet by Holly Helscher, Tucson, Arizona
The Price of a Room by Nancy A. Jackson, Monroe, Michigan
A Place of My Own by Pamela Allison, Dallas, Georgia
Lady of the House? by Julie Donner Andersen, Newmarket, Ontario, CANADA
Recreating Home by Shona Snowden, Caringbah, NSW, AUSTRALIA
What the Runners Up Won:
Publication of winning story on WOW-WomenOnWriting.com website
A skirt! books Prize Pack
A Year's Subscription to Premium-Green Markets
Interview on WOW!'s blog The Muffin

HONORABLE MENTIONS (In no particular order):
Congratulations to our Fall Essay Contest Honorable Mentions!
Your stories are excellent in every way.
The Space Called "Kevin's Room" by Karen Cannard-Curtis, West, Texas
Redefining Home by Risa Nye, Oakland, California
The I'm-Not-Good-Enough Chair by Donna Turello, Staten Island, New York
Sunshine, Sea, and Smiles by Krista Olson, Simi Valley, California
Changing My Universe by Maria Murcier-Ashley, Marietta, Georgia
Borrowing Home Amy Munday, Hampstead, North Carolina
The Outfit by Kara Stephenson Gehman, State College, Pennsylvania
Rooted in Love by Loren Elizabeth Christie, Patchogue, New York
This is So…Me!! by Julie Strauss, Mission Viejo, California
Under Construction by Joanna Davidson Brunk, Waukegan, Illinois
My New Home by Laurel Perkiss, Seattle, Washington
Forget Lavish Space—I Need Muse Space by Willma Willis Gore, Sedona, Arizona
High Ceilings by Julie Bogart, Brighton, Massachusetts
Making Room for Me by Madeline Sharples, Manhattan Beach, California
Country Fried City Girl by Julie Donner Andersen, Newmarket, Ontario, CANADA
The Dead Room by Anne Vinnola, Florence, Colorado
The Dusty Moose by Therese Haberman, Watertown, Connecticut
Writing From the Eye of the Storm by Laura Lynn Gatzow, Waukesha, Wisconsin
Emily's Inspiration by Jan Mann, Windsor, Connecticut
My New Nest by Susan M. Koerner, Winthrop Harbor, Illinois
Viva Las Vegas by Tracy Sides, Las Vegas, Nevada
To Retreat is Human; To Recreate, Divine! by Brenda Skinner, Trout Creek, Ontario, CANADA
The Bowling Alley by Cindy Haynes, Bedford, Massachusetts
Nesting by Kimberly Luchsinger, Woodbury, Minnesota
Room in My Heart by Aria Nemiro, Ashfield, Massachusetts
What the Honorable Mentions Won:
A skirt! books Prize Pack

IN CLOSING:
This brings our Fall 2008 Essay Contest officially to a close. Although we're not able to send a special prize to every contestant, we will always give our heartfelt thanks for your participation and contribution, and for your part in making WOW! all that it can be. Each one of you has found the courage to enter, and that is a remarkable accomplishment in itself. We're looking forward to receiving your entries for our next contest. Best of luck, and write on!
Check out the latest Contest: