f you ever walk into Gamut Classic Theatre on a Saturday afternoon, (and if you are ever in downtown Harrisburg, Pennsylvania at around that time, you will want to), you might see forty or so children seated on the floor in front of a tiny stage, watching as a fairy tale or nursery rhyme is brought to life before their eyes. Actors are singing, dancing, and entertaining their way through some of our most beloved classic tales. The children are helping, of course. They might be waving their arms back and forth like tree branches, creating an ambiance for Little Red Riding Hood's journey through the forest to Grandma's House. Or they may be shouting, "Pick me! Pick me!" for a chance to join the Players on stage to play a fairy in Sleeping Beauty.
For seventeen years, the Popcorn Hat Player's Children's Theatre, led by Melissa Nicholson and husband Clark, have brought classic children's stories to life for thousands of our youngest audience members.
Melissa wears many hats for her theatre: co-founder, Executive Director, Actor, Director, and Playwright. She has written over thirty original adaptations of classic stories that are performed on her stage by resident actors.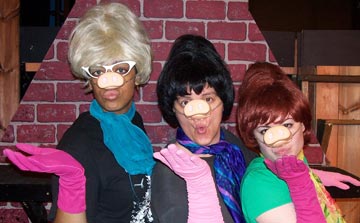 (Photo from The Three Little Pigs)
WOW: Thank you, Melissa, for joining WOW! to talk about this interesting children's writing niche. Where did your love of writing begin and how did you discover your talent?
MELISSA: I have loved writing short stories and poems since elementary school. In college—Susquehanna University, 1989—I minored in Writing with a major in Communications/Theatre Arts.
WOW: Why children's playwriting? Why did you settle into this genre?
MELISSA: I have 14 nieces and nephews—I am the youngest of six children. I used to make up stories with the older six from the time I was in my late teens/early 20's. I found I had a knack for it—especially with modernizing classic fairy tales and making them entertaining. I was also a camp counselor from age 16 to 19 and worked with a lot of different kinds of children. I worked at a children's theatre for a year before creating Popcorn Hat Players with my husband Clark. I found the plays at that theatre to be far too serious for young ones. I wanted to make our audiences laugh, a lot like I did when I entertained my nieces, nephews, and camp kids.
WOW: Your theatre company revisits your scripts every few seasons. Do you ever make changes when directing them again?
MELISSA: I revisit them before we remount the shows and see what contemporary references need to change. I also rely heavily on the input of our actors who are very adept at improvising. The basic comedy style, though, is timeless, and I use many techniques that worked for The Marx Brothers as well as current comedy presenters.
"I make an outline of the plot points to hit and then I just start writing as if I'm speaking on stage."
WOW: Walk us through how you take a story from a book and reinvent it for the stage.
MELISSA: I read the story and see what plot points I want to keep and how to end the story effectively. A lot of fairy tales have strange endings, but all Popcorn Hat shows end "happily ever after," so I sometimes need to change the ending a bit.
When I wrote The Three Little Pigs, I tried to think of someway to modernize the characters. Many times the circumstances of production will dictate some of the writing. For example, I knew that we had four actors to be in that show (three women and one man). So I knew that the pigs would need to be girls. I also knew that the three actresses in the show were pretty good singers, so I decided that the three pigs would be a Motown Girls Group from the '60s. The rest sort of fell into place. I make an outline of the plot points to hit and then I just start writing as if I'm speaking on stage. The second draft is going back and tightening up the language or fleshing out scenes.
In Three Little Pigs, the wolf becomes the manager of the girls group instead of dying in the pot of boiling water, because that's an unexpected and happy ending. When I came up with that ending, I went back and made references throughout the play that the girls needed a manager but didn't have one.
WOW: Have you ever put anything into a play such as a joke or an action that you expected to work for an audience and didn't? Anything surprisingly successful?
MELISSA: I often have jokes I think are hilarious that don't always go over well or that I can't get the actor to understand why it's funny. In those cases, we usually end up cutting that bit. I have a good feel for what will work. It has to make me laugh, and I'm fairly critical. I am writing for parents as well as adults.
Three Little Pigs was very surprisingly successful. I copied that general format for Hansel and Gretel and made the title characters Jitterbug dancers—that was also highly successful.
WOW: Jitterbug dancers! I can see why your characters entertain children and their parents, which is probably good for a children's playwright to keep in mind. Why do you feel these classic stories are important to reinvent and retell for children today?
MELISSA: Many children don't know these stories. When we first created the company 17 years ago, most kids knew most of the fairy tales, now many of the children don't know the stories unless there was a movie made of it. These stories are part of our history and help influence who we are as people. Many of them have a moral to them—great for kids!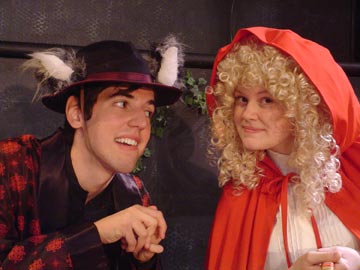 (Photo from Little Red Riding Hood)
WOW: How do you find those morals and present them to your audiences?
MELISSA: I try to find modern morals to go along with the classic stories. For example, the moral in Little Red Riding Hood is "Don't talk to strangers." The moral in Pinocchio is "Don't tell lies."
The Hans Christian Andersen fairy tales are a little harder to find the morals. He didn't really write any into them. His stories are epic adventures that are difficult to translate on to our stage, like Snow Queen and Thumbelina. In those cases, I make up something. For example, our Snow Queen is not "evil," she's just misunderstood. In the end, she ends up being really nice, and our moral is that you can't judge people just by the rumors you hear about them. That's not an Andersen moral, that's a Nicholson moral, you know what I mean?
WOW: Your productions are a great way to introduce children to the live theatre experience. Beyond that, how does live theatre itself benefit children?
MELISSA: They get to interact with other children and adults in a safe, fun way. Plus, it brings the characters alive in a way that is more visceral than passive entertainment like movies and television.
WOW: Your plays succeed in keeping young children entertained and interested. How do you manage to keep even your youngest audience members (toddlers!) so engaged?
MELISSA: We use a lot of physical comedy and non‑threatening characters and we keep the plays short—40 minutes, max.
WOW: How did you settle on that time length for your plays?
MELISSA: Years of performing for children, before I ever wrote my own script! It's about as long as they can handle!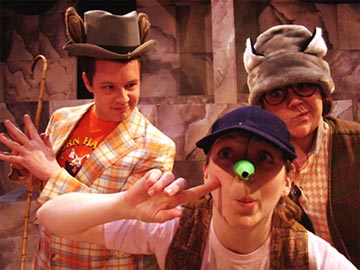 (Photo from Pinocchio)
WOW: Besides length of course, what are some aspects of children's theatre that are different from adult theatre?
MELISSA: Speaking directly to the audience a good deal of the time, although Shakespeare uses that device as well! Keeping it light and fun. Making very presentational choices and broad character choices.
WOW: Compare children's playwriting to writing books for children. What challenges are presented in children's playwriting that may differ from writing children's books?
MELISSA: I would think that a good children's book would rely a lot on great illustrations—those are the books that my daughter liked the best when she was younger. In children's theatre, we rely on the actors to portray those images. The challenge is to find the right kind of actors to present the story.
WOW: Some classic stories you have adapted, in their original form hundreds of years ago, have some grim events and outcomes. For instance, you mentioned the wolf in Three Little Pigs gets boiled alive. Naturally, this episode was left out of the Popcorn Hat version. How do you deal with these details while still keeping true to the original stories? Is there an example of how this has posed a problem for you in the past?
MELISSA: Sometimes we acknowledge these original "grim" events. For example, in Rapunzel, the device is that the actors are reading from a story book and then acting out portions of the story. So after one of the actors reads a certain narration, the other actor responds with:
Actor 1: So you're telling me that when the peasant man and his wife finally do have a child, the witch makes them give it up to her just because they stole a little lettuce?
Actor 2: That's what the story says, yes.
Actor 1: That seems pretty harsh.
Actor 2: It does, but if that's what the story says then that's what we have to do.
In that same story, the Prince blinds himself when he falls out of the tower. My version just has him losing his memory: "Who am I? Where am I? (pats pockets frantically) Where are my car keys?!"
In our version of Rapunzel, the witch becomes good at the end and becomes Rapunzel's fairy godmother, so we can create that happy ending.
"Fifteen minutes of online research can save you a lot of time and money. "
WOW: What advice do you have for writers interested in exploring this genre of children's writing? What is a good first step for someone who has written a children's play and is interested in having it produced by a theatre?
MELISSA: I would say that you have to love children and understand what makes them tick and what makes them laugh. I was writing for children long before I had a child of my own, but I had the experience of taking care of my nieces and nephews and camp students to remind me of what they enjoy.
If you are interested in getting your play produced by a theatre, I would make sure you understand what kind of work each particular theatre produces. We often have unsolicited scripts sent to us that just don't fit what we are doing here. Plays with large casts, weighty subject matter... Fifteen minutes of online research can save you a lot of time and money.
WOW: For writers, is there something you can pinpoint that you would consider the most important element to include in any children's play?
MELISSA: Number one: interesting characters that will hold the child's attention.
WOW: Any final advice for writers interested in pursuing this genre of children's writing?
MELISSA: I write comedies for children, but I don't feel that's the only way to engage children on stage, it's just what has worked best for me and my theatre company. Many of my answers focus on the importance of the comedy, but I'm not making any kind of judgment about writers of children's plays that do not use this device.
You should write what you are most comfortable with and know well. I always enjoyed creating camp skits, watching sketch comedy and classic comic movies and cartoons. My writing for children definitely reflects those influences.
WOW: Thank you, Melissa, for joining the WOW community to talk about your experience as a children's playwright.
Ladies, you can find information for the Popcorn Hat Players and its sister company the Harrisburg Shakespeare Festival, both founded by Melissa and Clark, at www.gamutplays.org.
***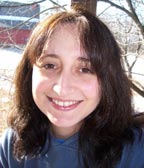 Jennie Adams is a writer and actor in Harrisburg, Pennsylvania. She lives with her actor/director husband Sean and their two daughters, who are Popcorn Hat kids for life.