Note to Contestants:
We want to thank each and every one of you for sharing your wonderful stories with our guest judges this season. We know it takes a lot to hit the send button! While we'd love to give every contestant a prize, just for your writing efforts, that wouldn't be much of a competition. One of the hardest things we do after a contest ends is to confirm that someone didn't place in the winners' circle. But, believe it when we say that every one of you is a true winner.
Every writer has been a gracious participant through the whole process, from the beginning of one season to the next. We've written emails to authors, agents, and publicists who have donated books to our contest, and we've shared our delight regarding the true sportsmanship among our contestants. It doesn't matter if it's one writer who placed or another who tried but didn't; all writers are courteous, professional, and wonderful extensions of WOW! Women On Writing's team. Writers' stories and e-mails fill us with enthusiasm.
Kudos to all writers who entered, whether you won or not, you're still a winner for participating.
***
To recap our current process, we have a roundtable of 4-7 judges who blindly score equally formatted submissions based on: Subject, Content, Technical, and Overall Impression (Style). That's the first step of the process. If a contestant scores well on the first round, she (or he) receives an e-mail notification that she passed the initial judging phase. The second round judging averages out scores and narrows down the top 20 entries. From this point, our guest judge helps to determine the First, Second, and Third Place Winners, followed by the Runners Up.
As with any contest, judging so many talented writers is not a simple process. With blind judging, all contestants start from the same point, no matter the skill level, experience, or writing credentials. It's the writer's story and voice that shines through, along with the originality, powerful and clear writing, and the writer's heart.
***
We've enjoyed reading your stories, each and every one of them. The WOW! Women On Writing judges take time to read them all. We recognize names of previous contestants, writers familiar with our style. We enjoy getting to know you through your writing and e-mailing. Remember that each one of you is a champion in our book. We hope that you continue to enter so we can watch you grow as writers and storytellers, because each season is a rebirth of opportunity.
Now on to the winners!
Drum roll please....

1
st
Place: Ashley Memory
Asheboro, North Carolina
Congratulations, Ashley!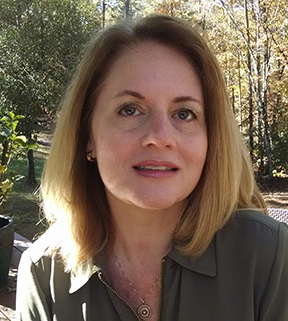 Ashley's Bio:
Ashley finds inspiration in the ancient Uwharrie mountains surrounding her home in rural Randolph, County, N.C. She enjoys preserving what she grows in the garden she tends with her husband Johnpaul. She's learned the hard way about wearing gloves when making jalapeno pickles!
Ashley's poetry and prose have recently appeared in The Birds We Piled Loosely, Gyroscope Review, The Ginger Collect's 2018 Halloween Mini-Magazine and numerous other literary journals and anthologies. New work is forthcoming in Okay Donkey and Coffin Bell. She is a Pushcart Prize nominee and a two-time recipient of the Doris Betts Fiction Prize sponsored by the N.C. Writers' Network. A previous story, "Eula Dare Hampton Agrees to Edit the Quaker Ladies' Cookbook," earned honorable mention in the WOW! Winter 2018 Flash Fiction Contest.
Ashley loves sharing what she's learned as a part-time instructor for Central Carolina Community College's Creative Writing Program in Pittsboro, N.C. Follow Ashley on Twitter @memoryashley or visit her fruit-inspired blog at ashley-memory.com.
Dear Derinda
I know people don't write letters these days, but since you've ignored my calls I had no choice. Especially now that you and Skeeter put a gate in front of your house so I can't just walk up there like I used to do and shout, Yoo hoo, Derinda! It's me, Iris!
As you know, when that sleazy Ray Speers from Infinity Communications showed up at my house, you were the first person I called. Yes, I was tempted. Who wouldn't be by the idea of an easy twenty grand and then $500 a month for the next ten years for letting Infinity install a cell tower on our property? You know how much I've always wanted to cruise the Caribbean. And how Bobby drools over that new Dodge Ram pickup with 4-wheel drive. We probably would've used the money to send Brittany to college but it never hurts to dream, does it?
What kind of people would we be if we didn't ask your opinion, along with the Flynts, Callicuts, Moodys, Loftins, and the Tarrs? We all met about it, remember? And the bottom line was that nobody out here in Bayberry Fire District wanted a 200-foot tower lording over us. The way it looks is one thing, spoiling our view and the reason we all live in the boondocks, but you were the one who brought up the point that somebody else, maybe even the government, might be able to hear and see everything we do. And how you and Skeeter like to skinny dip in your hot tub from time to time. The truth is that me and Bobby like to do that, too.
(Now that we're confessing, I want to remind you that I'm the one who didn't laugh her ass off when you changed your tampon without washing your hands after making jalapeno pickles. Instead I brought you a cold pack from my own freezer because I felt sorry for you! And remember how I forgave you after you admitted to kissing Bobby at the Fourth of July pig-picking five years ago? I wasn't mad for too long—I just sulked for a few weeks to make you and Bobby feel bad. What you don't know is that me and Skeeter met at your place to get even. And I wasn't just going to kiss him. I was going to sleep with him! But something about being on your bed and seeing that little pillow that I cross-stitched for you that says My Best Friend Brings Out the Best in Me just ruined the moment. And Skeeter, if we had gone through with it, would have cried like a baby afterwards because he loves you so much.)
Imagine how shocked I was when less than one week after we all met and agreed, as a group, to say NO to Infinity, I watched those bloodsuckers build that blasted tower on YOUR land. Yes, you double-crossed us, yes, you took the money and ran, but maybe you really did need it worse than any of us. But that's okay. What I can't get over is how, out of guilt I guess, you just wrote me out of your life.
Nobody but you and me have the memories we do. Remember the time we drove all the way to Greensboro to take that meditation class from the Buddhist monk but got bored and skipped out to Bojangles? Will you ever forget the time we found an afternoon broadcast of Jeopardy on another channel, then watched the same show at 7:30 on WTXY in front of Bobby and Skeeter and got all the questions right, even the ones on opera? But most of all, Derinda, I remember how you helped me when I lost my daddy. While everybody else kept saying that at least he went the way he wanted to go, falling over in his tomato garden like that, you were the only one who said, It still hurts like hell, doesn't it?
I think that once you get this you'll stew on it for a while but I'm hoping, maybe by the time the lightning bugs come back, you'll get a hankering for my watermelon margaritas. And when you do, you don't have to say anything, no apology, you don't even have to mention this letter, just show up like you always do with your homemade mango salsa and chips and with God as my witness, I swear, we'll go on like nothing ever happened.
Iris
***
What Ashley Won:
$400.00 Cash Prize
$25 Amazon Gift Card
Publication of winning story on WOW-WomenOnWriting.com website
Interview on WOW!'s blog The Muffin


2
nd
Place: Rebecca Song
Baltimore, Maryland
Congratulations, Rebecca!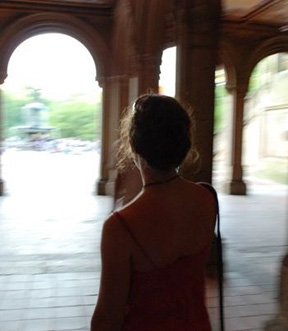 Rebecca's Bio:
Rebecca was an English teacher before developing ME/CFS. She was privileged to help young teens wrestle with big questions, stretch their intellectual limbs, and find their written voice. While her illness forced her to relinquish her vocation as a teacher, being sick has also been a gift, teaching her how to live with far greater presence and loving-kindness. She's only just dusting off her own practice as a writer, but as she'd tell her students, Rebecca believes wrapping language around our experiences is one of the greatest (if most impossible) tasks we can undertake. We are sentient tourists in a multiverse with newborn fingernails and undersea volcanoes; we have ancestors who were shamans and atoms in our bodies that were crafted among the stars. "Who am I to write?" is not for us to ask. Who are we not to write?
The Change
It was the hair Teresa noticed first.
Softer than normal body hair—thicker too—she woke to find it spreading across her breast, down her arms, and circling her neck like a Ruth Bader Ginsberg dissent collar. Rubbing her arms as though she could scrub the fur from them, she realized her fingernails had grown thick as concrete nails.
Teresa had seen other women-turned-bears—stood behind them at the deli counter, glanced sideways at them during Zumba. But Teresa, who had never been picked first or last for anything, who never won Bingo or contracted a rare disease, would be the first bear-woman at the start-up where she was already the only person of color.
It took her five minutes to put her passcode into her phone, and another five minutes to call her fiancé, Adam. By the time he answered, she was sobbing. "I have a meeting at 10, and I can't even get clothes off hangers!"
"I'm coming over now," he said. "We'll get you ready."
As a child, Teresa's hair was a magic jungle. She was a mermaid in the bath, a wild horse when she ran. Then, her mother took her to see Elisa, who cut hair on her sun porch. Elisa had a kindly face ringed by a cloud of white hair, and she promised Teresa a lollipop. But after being draped with the plastic cape, Teresa noticed the lifeless pile of black hair on the floor. By the time the old woman picked up her scissors, every muscle in Teresa's body was telling her to run. She leapt from the chair and hid behind the couch, impervious to her mother's threats and bribes. No one could make her give up the source of her power.
Now her beloved curls lay scattered across her bed, still smelling like coconut oil. Teresa found her eyes full of tears. "Why me?" she demanded of her bedroom mirror. "Why today?"
***
"I have concerns about partnering with Jive," Teresa began, placing her paws on the table. As she enumerated them, she noticed that Ryan, their CTO, was listening more intently than usually, looking at her face instead of his phone. Ryan was the one who, in her first month at CloudJam, suggested thick-rimmed glasses would make her look more "in touch."
Was this what it took for a woman in tech to be seen as equal—claws and fur?
When she finished speaking, Ryan rocked his chair onto its back legs and stroked his oily beard. "Good points," he said. "And I like your new voice. Very Nina Simone."
Teresa felt a growl rumble warm and rhythmic against the inside of her chest.
The front legs of Ryan's chair slammed back to the floor.
***
Teresa could feel Adam staring as she tore open a carton of chicken broccoli, gripped it between her paws, and shook it into her mouth.
"You know, the treatments are a lot better now," he said. "And I'd take care of you while you recover."
Teresa dropped the carton and sat back on her haunches. "You think I should get rehumanized?"
Only she could decide, of course. But didn't she remember, when Adam tried "No-Shave-November," Teresa had renamed it "No-Laid-November"? And that was a lot less hair.
Teresa looked down at the pads of her paws, sculpted yet rough like unglazed pottery. There were things she missed, of course. Snapchat streaks, sun dresses. Doing daily tasks efficiently. But sometimes it was nice to be a bear. To browse a clothing store without a salesperson tailing her. To roll in grass and nibble on dandelions with her Thursday evening meet-up. To walk home alone without carrying mace.
"What if I don't want to change back?"
"Don't want to?" He returned her look of hurt with his own. "You still want to get married, don't you?"
***
Teresa, undressed to her fur, waited for the doctor on a vinyl examining chair. She was already unnerved by the sharp-looking tools on a metal tray beside her when she saw it in the corner: a plastic trash bag filled with black fur. By the time the doctor entered, every part of her was trembling.
"Ready to be human again?" he asked.
This time, her growl erupted into a roar, causing the doctor to stumble into the tray and send tools clattering to the floor.
Teresa padded past him on all fours, through the office and into the sunlight, toward the blackberry bushes three blocks away. She did not look back.
***
What Rebecca Won:
$300.00 Cash Prize
$25 Amazon Gift Card
Publication of winning story on WOW-WomenOnWriting.com website
Interview on WOW!'s blog The Muffin


3
rd
Place: Susan Moffson
Boulder, Colorado
Congratulations, Susan!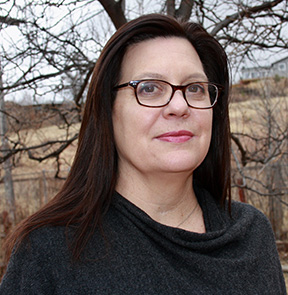 Susan's Bio:
Susan Moffson has been working in the field of international development for twenty years, much of that time spent living and working in Africa. For the past eight years, she has worked for the non-governmental organization, Jhpiego, the leading partner in a consortium implementing the global health project, Maternal and Child Survival Program. She has written several work-related blogs about the positive impact this program has had on many women and children and has realized she is a journalist at heart. Susan loves to write fiction, pulling from her time abroad, to capture the incredibly rich and varied cultures she has been fortunate to experience.
Canela
The long row of steep steps ahead look almost as daunting as my old friends crowded around the school's front door. I pull down my baggy sweatshirt and position my books over my waist before I lumber up the steps.
I pant and stop mid-way, leaning against the railing. Cape Verde's dry, hot winds fill the air like smog. A layer of brown dust coats my skin, my clothes, my hair. A gift from the Sahara, the winds cover us like a scratchy coat we never outgrow.
In the nearby harbor, Papa's rickety wooden fishing boat floats among the tourist yachts and windsurfing boards. Papa will soon be bringing home his catch of tuna, to sell to local restaurants on our island, Sal. He's saving money to buy a stroller.
As I trudge up the last steps and pass by the front door, their laughter dies down to hushed chatter. I feel their long stares and their whispers of "gorda." Fat. I shake, my face burning when I step into my classroom down the hall.
I sit, not daring to look up. Not that it matters. Now he pretends I don't exist. He used to pester me non-stop. Did I need help with my homework? Could he give me a ride home? He said I was the smartest girl in class. He reads poetry, not like the silly boys my age playing video games.
He used to call me "canela" for my cinnamon colored skin—he liked me because I'm lighter than other girls. Papa's ancestors came over as slaves from West Africa, but my grandma on my mama's side married a Portuguese soldier. They say I got my skin and green eyes from him. But my baby sister has black skin with ebony eyes, like Grandpa. One day I heard my mama crying to Papa when she was putting my sister in her crib. Mama said she couldn't believe she had a child that dark. At least people won't stare and whistle at my sister all the time.
He tells us to take out our paper for dictation when the secretary enters the classroom, beckoning me to the headmistress' office. I nod, wrapping my sweatshirt around my waist before I walk out of class. This can't be good, I think, wondering if she knows.
When I peek around the headmistress's door, she motions for me to sit, her cat-like eyes flashing with scorn. In better times, the headmistress was my biggest supporter, praising my straight A's and my leadership as vice-president of the student body.
The headmistress pushes her glasses on and greets me in formal Portuguese, instead of creole, the local tongue. So she has something important to say.
"Isaura, it's come to my attention that you're with child."
I squirm in my seat, unable to meet her eyes.
Her impatient sighs linger in the air, before she says, "You're suspended."
I take a deep breath, "But Senhora, I graduate in three months! I must finish school."
"Child, you're in no condition to be at school. People are starting to notice." Her eyes linger on my belly.
"Senhora, without my diploma, how will I get a good job and support my child?" Anger wells within me.
"That's not my problem. Pregnant girls shouldn't mingle with other students. You're setting a bad example." She crosses her arms, adding, "Such a shame, when so many girls looked up to you."
"But," I stammer, "I have a right to go to school!"
"My dear, you lost your right when you spread your legs."
I am stunned like a fly caught in a spider web, trapped, immobile.
She says she will have my teacher escort me out of school.
I shudder. He's the last person I want to see.
She tells her secretary to get my teacher and orders me to wait outside her office.
I can't breathe.
Moments later, he arrives, his gaze so fiery it could burn. He leans in close, so I can see the grey stubble on his chin. "Mentirosa, what stories have you been telling the headmistress?"
How can he call me a liar? My anger simmers like a pot of mama's fish stew. If I can't stay in school, neither should he. I pivot back inside the headmistress's office and say, "He's the father."
The headmistress shuffles her papers, disinterested, and says, "Oh really? Why would I believe a slut like you?" She looks at him and says, "Cousin, please escort Isaura off school grounds."
***
What Susan Won:
$200.00 Cash Prize
$25 Amazon Gift Card
Publication of winning story on WOW-WomenOnWriting.com website
Interview on WOW!'s blog The Muffin

RUNNERS UP (In no particular order):
Congratulations to the runners-up! It was very close, and these stories are excellent in every way.
Click on their entries to read:
Mistook You by Amy Culberg, Evanston, Illinois
448 by Emily Messina, Boulder, Colorado
Mister Softee by Valerie Burton, Sterling, Virginia
Woman in Blue by Diane Elayne Dees, Covington, Louisiana
One Side of the Vase by Bonnie West, St. Paul, Minnesota
Half Sure by Ruby Norman Curran, London, UK
Sick Leave by Kerri Ward, Dublin, Ireland
What the Runners Up Won:
$25 Amazon Gift Card
Publication of winning story on WOW-WomenOnWriting.com website
Interview on WOW!'s blog The Muffin

HONORABLE MENTIONS (In no particular order):
Congratulations to our Summer Contest Honorable Mentions! Your stories stood out and are excellent in every way.
Manifold by Kate Osana Simonian, Lubbock, Texas
Shovelbum by MacKenzie Tastan, Union City, California
Julie and James: A Love Story by Reanna Montgomery, Birmingham, Alabama
Revenant by Pamela Allison, Dallas, Georgia
Union by Isabella Kestermann, Los Angeles, California
Gary Cooper Kiss by Heidi Croot, Campbellcroft, Ontario, Canada
The Back Warmer by Susan Fabio, Chandler, Arizona
The Coffee Shop by DeVonna R. Allison, Burr Oak, Michigan
When Frogs Speak by Lori Lyn Greenstone, Camas, Washington
Zambezi by Doley Henderson, Toronto, Ontario, Canada
What the Honorable Mentions Won:

IN CLOSING:
This brings the Summer 2018 Flash Fiction Contest officially to a close. Although we're not able to send a special prize to every contestant, we will always give our heartfelt thanks for your participation and contribution, and for your part in making WOW! all that it can be. Each one of you has found the courage to enter, and that is a remarkable accomplishment in itself. We're looking forward to receiving your entries for our next contest. Best of luck, and write on!
Check out the latest Contest: