Note to Contestants:
We want to thank each and every one of you for sharing your wonderful essays with our guest judges this season. We know it takes a lot to hit the send button! While we'd love to give every contestant a prize, just for your writing efforts, that wouldn't be much of a competition. One of the hardest things we do after a contest ends is to confirm that someone didn't place in the winners' circle. But, believe it when we say that every one of you is a true winner.
Every writer has been a gracious participant through the whole process, from the beginning of one season to the next. We've written emails to authors, agents, and publicists who have donated books to our contest, and we've shared our delight regarding the true sportsmanship among our contestants. It doesn't matter if it's one writer who placed or another who tried but didn't; all writers are courteous, professional, and wonderful extensions of WOW! Women On Writing's team. Writers' essays and e-mails fill us with enthusiasm.
Kudos to all writers who entered, whether you won or not, you're still a winner for participating.
***
To recap our current process, we have a roundtable of 4-7 judges who blindly score equally formatted submissions based on: Subject, Content, Technical, and Overall Impression (Style). That's the first step of the process. If a contestant scores well on the first round, she receives an e-mail notification that she passed the initial judging phase. The second round judging averages out scores and narrows down the top 20 entries. From this point, our guest judge helps to determine the First, Second, and Third Place Winners, followed by the Runners Up.
As with any contest, judging so many talented writers is not a simple process. With blind judging, all contestants start from the same point, no matter the skill level, experience, or writing credentials. It's the writer's essay and voice that shines through, along with the originality, powerful and clear writing, and the writer's heart.
***
We've enjoyed reading your essays, each and every one of them. The WOW! Women On Writing judges take time to read them all. We recognize names of previous contestants, writers familiar with our style. We enjoy getting to know you through your writing and e-mailing. Remember that each one of you is a champion in our book. We hope that you continue to enter so we can watch you grow as writers and essayists, because each season is a rebirth of opportunity.
Now on to the winners!
Drum roll please....

1
st
Place: Shannon Stocker
Crestwood, Kentucky
Congratulations, Shannon!
Shannon's Bio:
Shannon Stocker was looking forward to a career in pediatrics when, during her last year of medical school, she became sick with Reflex Sympathetic Dystrophy—an illness that nearly took her life. After seven years of fighting, Shannon and her husband left the country to take place in an experimental treatment that would forever change their lives. Now a full-time mother and writer, Shannon is thrilled to have experienced some exciting literary successes in 2017. Last September, her story, "Marcela's Vision," was published in Chicken Soup for the Soul: Dreams and the Unexplainable. She sold her first picture book (Can U Save the Day), to be published by Sleeping Bear Press in 2019. Her picture book manuscript, Bella the Small, won an SCBWI Honorable Mention distinction, as well as two CBA Golden Ticket Awards. She was also honored to have been featured in two podcasts (Five Things and Painopolis). Shannon is looking forward to being interviewed by Amy Newmark for the Chicken Soup for the Soul podcast on January 9th, and she's optimistic that she will soon finish her memoir. Shannon can be followed by subscribing to her website/blog at www.shannonstocker.com, and she can be found tweeting positive affirmations at @iwriteforkidz on Twitter.
This, Too, Shall Pass
Me – "I love you."
Tye (5yo) – "I love you more."
Me – "I love you most."
Tye – "No, I love you more than that. And I will love you more until you're a zombie. But that's not right now. That'll be a long time away."
Driving my kids to school a couple of weeks ago, the traffic backed up beyond the point where the road curved over the horizon. I knew we'd be late. Trying to prevent a crappy mood, I inhaled deeply and thought to myself, "This, too, shall pass."
That same morning, my husband rushed around the kitchen, scowling. Nothing could be said or done to help him. When I tried, I became part of the problem. He needed space to be alone in his grumpiness—time to get over himself. Knowing that he was going to be leaving town the next day, I desperately wanted him to be in a difference emotional place, but that wasn't for me to make happen. All I could do was remove myself from his circle of crankiness and think, "This, too, shall pass."
In April of this year, my sister and her boyfriend of 5 years broke up. It was one of those really strange breakups where you don't really quite know what went wrong. It just did. I cannot count the number of times I wanted to hold her while she cried on the phone. I could offer no words of wisdom, no solace, no appropriate comfort. All I could do was tell her I loved her and say, "This, too, shall pass."
Then last night, a close friend of mine lost his baby sister to alcoholism. She wasn't even 40 yet. Life offered no explanation as to why she couldn't stop. Why no one could reach her, though they tried. She just kept tipping back that bottle for solace she couldn't find anyplace else—and just like that... she was gone. While she was still alive, my friend and I talked each time she landed in a hospital. We hoped and prayed that each worsening episode would be her last, because her addiction would somehow pass. But it didn't. And because her addiction wouldn't pass, she did. Now, I can only share with him my love and my comfort, knowing that the lack of answers makes his loss that much more excruciating.
As bad as his pain is, though, I know the deep bite will eventually lessen. Because this, too, shall pass.
This, too, shall pass.
Not that we ever forget our pains. Our tragedies. Our life lessons. We don't. But, thanks to the gift of Father Time, we forget the intense pain that we feel immediately after a tragedy occurs. "This, too, shall pass" becomes a tagline of survivors. A quote that we tell ourselves not only when having a bad day, but also during the worst seasons of life. Just to get by.
This morning, my 5-year-old son was in a really clingy space. Physically, he could not be close enough to me. He wouldn't even get dressed unless he was sitting within 3 inches of my feet, which made it very difficult to flip an omelet. I kept asking him to move back. I didn't want to trip on him. I didn't want to hurt him. I didn't want to fall. For the sake of everything that is good in this world, just MOVE BACK A FOOT!!! He began to cry as my volume increased, and I found myself moving slowly from frustrated with HIM... to frustrated with me. Here sat this sweet little boy who wanted nothing more than to be near me. Suddenly, I was hit by the weight of my own mantra. "This, too, shall pass." Right now, for only a few more brief moments in time, this child wants to snuggle. He wants to sit in my lap. He wants to be my baby.
But this, too, will pass.
Too soon.
It won't be long before he'll probably want me to drop him off a block away. He'll probably wipe away my kisses. He'll probably roll his eyes when I tell him I love him.
And yes, that, too will pass.
It all passes by so quickly. Every time they say or do something wonderful, I think I'll remember it forever. But I don't. Sometimes, the memory is gone before the sun sets. Time does not have a pause button. Time heals, this is true. The wounds of my childhood and the mistakes of my young adulthood have faded, but so will the moments I wish could last forever. Those times when my son nearly tripped me because his love was so tangible that he couldn't stand having space between us. Those memories will also fade with time.
As will his desire to be my baby.
All this went through my mind as I stood at the kitchen island, fighting tears. I slumped down to the floor next to my 5-year-old and told him I was sorry for getting angry.
"Do you still love me?" he asked.
"More than you know, baby."
I hugged and rocked him until his tears faded, wanting the moment to last forever.
But this, too, shall pass.
So I will cling to it as long as I can.
***
What Shannon Won:
$500.00 Cash Prize
Publication of winning essay on WOW-WomenOnWriting.com website
Interview on WOW!'s blog The Muffin


2
nd
Place: Judith Sornberger
Wellsboro, Pennsylvania
Congratulations, Judith!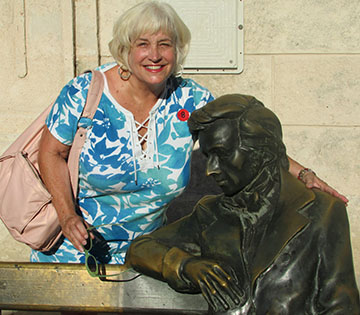 Judith's Bio:
Judith Sornberger is a poet, essayist, and memoirist whose newest poetry collection Practicing the World is forthcoming in 2018 from CavanKerry Press. Her most recent book, a memoir, is The Accidental Pilgrim: Finding God and His Mother in Tuscany from Shanti Arts Publications. She has one other full-length poetry collection Open Heart (Calyx Books) and five poetry chapbooks, most recently Wal-Mart Orchid, winner of the Helen Kay Prize (Evening Street Press). Sornberger has fallen passionately in love with practicing Tai Chi. She thanks her teacher Karen Meyers for her wise and gentle instruction and for encouraging her to become certified to teach Tai Chi, which she hopes to do in 2018. Judith has taught writing in a wide variety of venues, including prisons, community colleges, arts and community centers, and universities. She is professor emerita of Mansfield University of Pennsylvania, where she created the Women's Studies Program and taught for 25 years. She lives on the side of a mountain in north-central Pennsylvania where her nearest neighbors are deer, birds, bobcats and bears.
White Crane Spreads Her Wings
[for my Tai Chi teacher Karen Meyers]
Align
Plant your feet hip-width apart. Grow roots from your soles into the earth. Bend knees softly, drop shoulders, sink.
What if each day opened like this—aligning my body with the ancient roots of birch and oak cradling the bones of my ancestors (their vertebrae posed in their final alignment)?
If this were the only Tai-Chi I ever learned—the prayer of my body recalling its role as conduit between earth and sky—that might be enough.
Let the busy thoughts that followed you in fall away, my teacher says. Soft music meanders like a river whose course is so deeply embedded in memory, it no longer needs to plan its movements. A river that has no ambitions, no timetable.
Try not to visit the past, dream the future.
The best times to practice Tai Chi:
When you have no time, when you need your wings, when clouds banish the moon, when there is no hope
*
Opening from Within
Raise your arms out front to shoulder height, palms facing one another, keeping your shoulders down and relaxed. Inhale as you open your arms. This is not a big movement, though it may look like one because the chest—your heart—is opening.
At 64, I am learning to breathe.
As you exhale, bring your palms back in front of your shoulders and let your hands float slowly to your sides, palms facing down.
I accomplish nothing here. Cross nothing off a list:
No floors swept, dishes washed, errands run, pages written, phone calls made, good deeds done, or heart rate raised.
I have studied many decades in the schoolroom of accomplishment—of projects and assignments and show your work. The schoolroom of do your chores and earn your way. Of excellence, advancement, publication.
For decades, I've been holding my breath. Exhaling now, I see us, each student, elegant as the Snowy Egret I watched last September, balancing on one leg at sea's edge.
The best times to practice Tai Chi:
While waiting for the green bud to release its rose, when you need to dance with waves, when you are too tired, while standing in the checkout line, when the stars are hiding
*
Tree Pose
Align. Grow roots from the bottoms of your feet into the ground.
Toes squirm. Roots sprout from sole and heel, tunnel through earth, searching for home, split and dive, keep searching.
Bring your arms up into the tree you are today.
Mine curve into the trunk of Cottonwood, the sole tree native to my prairie homeland. Branches reach into October blue. Shoulders, elbows, upturned wrists send out shoots.
Now sink.
I descend into the ancient memory of trees, oldest creatures on earth, Cottonwood an elder of that tribe. Sunlight strokes my trunk. My few remaining leaves rustle like restless raindrops—my favorite song from childhood.
When you're craving stillness, while sun pulses through gold leaves, while you wait for the microwave to beep
*
Charm Bracelet
Movements like the delicate fingering of rosary beads, one to the next. Eternity slipping into ordinary time—a moment suffused with a light beyond sunlight, when I'm vibrating with everything in this world and everything beyond it.
I wear an interior charm bracelet of such moments like the silver and gold ones we wore in junior high, each charm a piece of our lives—a tiny telephone, a ballet slipper, a cat or dog, a cross or star, the initial of a boy.
While the river whispers river stories, while bread bakes in the oven, when the last leaf waltz has ended
*
Cloud Hands
My hands are clouds floating back and forth before my eyes. I watch them with soft eyes. Everything around me is the sky.
While the morning mist gives up its body, while your puppy finds the perfect spot to pee, when you remove the wedding ring you wore for thirty years
*
Scoop the Sea, View the Sky
Standing on oak planks two stories up, I slide forward with cupped palms to lift dry water drops. As I lower my arms, drops spill, dissolving into stars, lighting on my shoulders.
Take your time, she says. Life is short, tai chi is eternal.
While snowflakes drift toward earth, when even the pulsing river freezes, when your heart aches to awaken after loss
*
Advent
It's been days since I've seen my new love. Days looping and folding paper strips into intricate stars for Christmas gifts—like my hands entering the pattern of the Yang Form I am learning—finding their way from parting wild horse's mane to grasp sparrow's tale.
Sleet turns to ice, then to snow pocking my windshield; I see him waiting, eyes deeper blue than an April sky, his cabin in the woods an island of gold light. And I smell the intoxicating scent of bread he promised he'd be baking.
Snow races to fill tire tracks before me. Desperate not to lose them, I accelerate as much as I dare, but the mountain road twists, rises, and falls. Even with all-wheel drive, I'm sliding.
Would it really be so bad to slip off the earth here and now? I've loved and been loved by people and animals. I've loved the earth and books and good food. And I've learned so much through loss.
Try seeing how slowly you can go.
My teacher's words whisper in the wind driving drifts of white before me.
Find the stillness in the movement.
My right foot lifts slightly from the accelerator. I allow myself to be alone in the bright and blinding swirl.
*
Morning
Butter slides like sunlight across bread my love has toasted. Like my body gliding from one pose—one life—into another.
I add a cabin charm to my charm bracelet.
Later I'll walk along the stream, find the birch that's brighter than the others, stand beside it.
Align, grow roots. Listen for instructions.
***
What Judith Won:
$300.00 Cash Prize
Publication of winning essay on WOW-WomenOnWriting.com website
Interview on WOW!'s blog The Muffin


3
rd
Place: Mary Tonne Schaefer
Vienna, Virginia
Congratulations, Mary!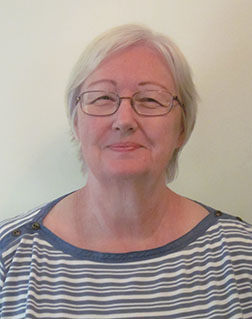 Mary's Bio:
Mary Tonne Schaefer writes short fiction and creative nonfiction from her home in Vienna. Yes, THAT Vienna ... Vienna, VA, fifteen minutes outside Washington, DC. Transplanted from rural beginnings—Rock Rapids, IA—to an ultra-urban area, she explores small-scale universal themes that live in all locales.
Although in "Missing" Mary shares personal freak outs and misadventures created by her growing forgetfulness, her favorite focus is others' backstage dramas. She best loves sharing glimpses into peoples' unofficial bios ... spontaneous moments and unrehearsed secrets and struggles that weave the common threads of friendships (and feuds). Earlier efforts submitted to WOW contests are "Trending" (a small family in a rural town faces surprisingly painful diversity conflicts) and "Safe at Home" (an early-Alzheimer's-afflicted elder causes ripples in the routine of the young family he joins).
Mary says she's working at embracing living and writing outside her comfort zone ... because life makes her do that anyway! Her recent and improbable response to David Wiencek's devilishly "impossible" writing prompt appeared in The Nervous Breakdown, Dec. 18, 2017. Her (long-ago) first creative nonfiction publication is "Jury of Peers".
Missing
If absentmindedness is aging's distinguishing feature, I'm maturity's poster person.
I may acknowledge this boldly here in this private space, just between you and me. But when faced with a public lapse, I wildly grasp at cerebral straws. If a proper name evaporates as I speak, I'm unashamed to claim lifelong mind murk. In that effort, my long-term memory rushes to my rescue. I can easily self-report abundant ancient amnesias ... most notably, forgetting my wedding was scheduled for 11 a.m., not noon.
Life is now generously punctuated with lapses, accentuated by the speed and permanence of social media communications. My lonely unclosed parenthesis and unfortunate fat-fingered phrases all linger long in virtual space, irretrievable after a too-quick click.
In a decades-long career as a technical writer—through the bloom of youth and its fading—I prided myself on and supported myself with meticulous word craft. I edited the editors. Clear. Concise. Specific. Back in the day, I ranked as both the Strunk and the White of my workplace. Need to know how to mate a collective noun with an agreeable verb? Mary Schaefer equaled expression's Match.com.
Now, in conversation, a key word can dry up and fly away, un-rehydrated 'til it washes up via random recollection. Sometimes things are just gone. Disappointing. Disconcerting. So, lately, I've morphed into a new way of speaking and writing ... explaining and re-explaining myself. As an example—and I will most certainly compulsively and fully explain this example—last winter, obediently following the rules of safe Internet use, I changed my gmail password. I promptly forgot the new password. Unfortunately, I observe the prudent never-write-down-your-password policy as scrupulously as I once followed The Chicago Manual of Style. Even more regrettably, Google's security crew (who ironically reside at 1 Hacker Way (or telecommute from Dubuque)) rejected all of my reset inputs. So, I panic-created not one, not two, but three new email addresses. (Why aren't they called e-dresses?) Do you think I know those new-account passwords?
Fortunately, my family and friends are far more forgiving than Google. Perhaps they've been in the same fix themselves. (The plaintive Google search "Google won't let me reset my password" yields more than 2.5 million results.) People seem to amiably accept that I'm not trying to try their patience. Recently, I attempted linguistic humor in a text to my daughter-in-law regarding their anniversary flowers' arrival a day after their wedding "unniversary." But, I, the former perfect proofreader, hit my iPhone's Send arrow without noticing Apple's autocorrect. My clever "unniversary" transmitted as "un-adversary." Graciously, my daughter-in-law cheered "un-adversary" as an excellent marital survival strategy.
While technology broadcasts my goofs, it's also a tremendous tool. My iPhone sports a robust Reminders list. (It's kind of a messy mélange of grocery essentials and TBDs, but it works for me.) Thanks, Steve Jobs. My bag of tricks also includes detailed daily online calendar entries. I even have a prudent plan to someday share my calendar with others via the Cloud to broaden my cerebral support. Physical therapists advocate regular balance exercises to avoid the great danger of old age: physical falls. I'm finding mental balance in devising drills so I don't fall and trip over my slips of the mind.
I've implemented multiple memory maneuvers and strategies. I email information to myself at two gmail addresses that I can, of course, never ever log out of, else all is lost. We have an important family event soon so I have been improving the parts of me still capable of repair. To be certain not to lose the miraculous natural-ingredient nail fix shared on a TV self-improvement segment, I messaged the formula to myself. I also unwittingly copied a former high school classmate. Some days later I retrieved the recipe. I saw I'd included Mary Sue and immediately dashed off an apologetic "My Goof" note. MS responded immediately that she's done that too and that, half a continent away, she was confident I wasn't being catty about her cuticles. She is definitely on Team Mary.
Having faced forgetfulness, I still struggle to keep perspective. I know the last thing I can afford to lose is my sense of humor. There are remedies. Researchers report engaging in reading, writing, and arithmetic is as essential to brain fitness now as in childhood. "Start young and keep it up," Mayo Clinic encourages. Science is certainly on my side. National Institute of Health studies now attribute these tip-of-the-tongue lexical losses to plain old wear and tear on cerebellum not flawed neurocircuitry.
Speaking of circuits, you can clearly see I place a fair amount of dependence on electronic apps, especially my iPhone. But there's a recall remedy for that, too. I keep Alexander Graham Bell's handy nineteenth-century innovation hardwired to my wall ... so my landline can ring my cell when it goes missing.
***
What Mary Won:
$200.00 Cash Prize
Publication of winning essay on WOW-WomenOnWriting.com website
Interview on WOW!'s blog The Muffin

RUNNERS UP (In no particular order):
Congratulations to the runners-up! It was very close, and these essays are excellent in every way.
Click on the titles to read:
The Debutant by Mary Roberson Wiygul, Columbus, Mississippi
Marmalade by Martha Mattingly Payne, Atlanta, Georgia
#MeToo by Cheryl Fines, Brandon MB CANADA
The Other Half of the Sky by Vickie Fernandez, Philadelphia, Pennsylvania
The Involuntary Starts by Jackie Pick, Chicago, Illinois
Straight Lines by Laura Janis Thompson, Tequesta, Florida
The Woman Who Wouldn't Die by Melody Mansfield, Lake Balboa, California
What the Runners Up Won:
$25 Amazon Gift Card
Publication of winning essay on WOW-WomenOnWriting.com website
Interview on WOW!'s blog The Muffin

HONORABLE MENTIONS (In no particular order):
Congratulations to our Essay Contest Honorable Mentions! Your essays stood out and are excellent in every way.
Transient by Elizabeth Maria Naranjo, Tempe, Arizona
Reading Braille by Mary J. Breen, Peterborough ON CANADA
To the All Mighty Chairman of the Board by Susan M. Sparks, Cicero, Indiana
Disciplined Discipline by E. Izabelle Cassandra Alexander, Des Plaines, Illinois
The Gentleman's Agreement by Lisa Mae DeMasi, Natick, Massachusetts
A Long Way to Fall by Paige Vest, Truth or Consequences, New Mexico
Wailing Widows by Judith A. Hamer, Redding, Connecticut
Different Pages by Donna L. Landi, Sleepy Hollow, New York
Morning Observations in Ecuador by K. Kris Loomis, Rock Hill, South Carolina
A Funny Thing Happened Along the Cancer Journey by Antoinette Truglio Martin, Sayville, New York
What the Honorable Mentions Won:

IN CLOSING:
This brings our first ever essay contest officially to a close! Although we're not able to send a special prize to every contestant, we will always give our heartfelt thanks for your participation and contribution, and for your part in making WOW! all that it can be. Each one of you has found the courage to enter, and that is a remarkable accomplishment in itself. We're looking forward to receiving your entries for our next contest. Best of luck, and write on!
Check out the latest Contests: