"Sybil Davis has a genius IQ and has been laid at least six times."
Since when is a young adult novel that opens with this line considered blasé? Novels like Speak, Whale Talk, and Boy Toy have moved past the subject of blossoming into womanhood, which censored young adult novelist Judy Blume explored through her 13 plus YA and middle-grade novels (that line is from her 1974 novel Forever), and into new territory such as homosexual relationships, rape, drug and alcohol addiction, racial ugliness, and graphic violence. The times they are a-changin', but are young adult authors being forced to remain in the past?
Censorship Today
A recent stroll through the local Barnes & Noble shows YA merchandising tables, which juxtapose the gritty street scenes of S.E. Hinton's The Outsiders against sleek, shiny Hollywood versions of the Twilight series. Thrown in for a truly good YA mix is a smattering of other titles, both challenged and unchallenged, including Speak by Laurie Halse Andersen, which was recently read by the incoming freshman class of a large Lansing, Michigan high school.
"...of the challenges recorded by the ALA (for all books) in 2008, the most cited reason was that the contents were 'sexually explicit.'"
According to the American Library Association (ALA) Office of Intellectual Freedom, Speak by Laurie Halse Anderson has been challenged multiple times since its 1999 publication. Cited reasons include language, sexual situations, and inappropriateness to age group. Indeed, these are common reasons for challenges; of the challenges recorded by the ALA (for all books) in 2008, the most cited reason was that the contents were "sexually explicit."
Speak is the story of Melinda's first year in high school and ends with the realization that she was raped by an older student shortly before the year began. The book culminates with another aggressive attack from the same boy later in the school year. Although generally mild compared to other available titles, Speak's multiple challengers focused on the sexual violence, in addition to other plot pieces such as Melinda's self-cutting. However, the ALA doesn't record any challenges on this YA novel since 2007.
Bri Spedoske, a freshman at Waverly High School in Lansing, Michigan, noted that she hadn't heard about the uproar over Speak and that the book was generally presented in a positive light by teachers, community members, and other students when her class read it. Apparently the book has come a long way since it's heyday in the news—in addition to the several challenges the ALA recorded, the author's own blog details the beginnings of a movement to ban the book in suburban Detroit along with similar instances in seven other states.
Why is it that a book can cause such uproar in one area and not make a mark—other than for its own literary merit—in another? Nicole Ohl-Shaw, a teacher at Waverly High School (although not the instructor for the class that read Speak), noted that it might have something to do with the communities themselves.
"I think it might vary from community to community. A more conservative, small, rural area will have a different outlook or beliefs than an urban community or a suburb." Ohl-Shaw goes on to point out that it's the challenges themselves that garner the most attention, and local parents concur.
"A more conservative, small, rural area will have a different outlook or beliefs than an urban community or a suburb."
Spedoske's mother, Emily Commarato, notes the reverse psychology that often happens with these titles.
"If I tried to keep something from her, she would probably work even harder to find a way to see it, read it, or listen to it regardless. My actions make her notice these things. I'm pretty open to all kinds of things and letting her see different points of view and knowing that the world isn't so happy-go-lucky all the time. If nothing else, it might make her come to me with questions."
In fact, research finds that many community members, parents, authors, and school boards think the same way as Commarato—but not all. Parents Against Bad Books In Schools doesn't publish value judgments against books on its website (other than those implied by the group's name); but the group does list the most graphic portions of over fifty novels out of context and without comment or reference to the storyline that carried them. The organization, Common Sense Media, grades books on an age-based system (it gave Speak a rating of "iffy" for ages thirteen to sixteen), but insists that it "believes in media sanity, not censorship."
Just west of the Waverly area, where Speak was given a golden pass and even promoted as a great read for the entire freshman class, is the smaller, by some accounts, more conservative town of Grand Ledge. In 2005, letters went home to families in the community, noting that Whale Talk by Chris Crutcher was on the curriculum; but families could opt out and be given another book. One reverend in the community felt that the opt-out choice wasn't good enough, and no child should read that book as part of the curriculum. Here, then, is the crux of YA censorship problems.
According to Deborah Caldwell-Stone at the ALA's Office of Intellectual Freedom, the ALA "defends the right of each person and each family to choose their reading materials in accordance with their own interests and values, without having other individuals and others' families dictate those choices to them."
Often, as in the case of the reverend, it's not enough that his child can read another book—but he doesn't want any of the children or families in the community to read the book in question.
This incongruence—asking for freedom to steer their children's choices but not extending the same freedom to the rest of the community—is not lost on many parents, like Commarato. When asked how she thinks she would have responded had her daughter's right to read Speak been impeded, Commarato highlighted the hypocrisy.
"I would be mad because I think that if you want to take things away from your kids, that's your choice; but why should your personal choice take something that could be of value away from my kids?"
This is the basis of the work of the ALA's Office of Intellectual Freedom. Caldwell-Stone notes that the office uses a combination of education and advocacy to prevent interference of First Amendment rights in the selection of reading materials and ideas.
"Families have a right to say: 'In this family, we don't read those kinds of books;' but the ALA protects the First Amendment rights of all users."
"Families have a right to say: 'In this family, we don't read those kinds of books;' but the ALA protects the First Amendment rights of all users. Even today, books are removed [from circulation, readings lists, etc.], and books are still censored despite the existence of First Amendment rights, despite the tradition of free expression and free speech that we enjoy here in America."
The ALA's main vehicle for awareness is the annual Banned Books Week, scheduled for September 25 to October 2, 2010.
"Write the Truth of Your Story"
So, what's an author to do?
Many major author organizations actively decry censorship. Statements to this effect are easily found at organizations such as the American Society of Journalists and Authors, the Authors Guild, the Freelance Writers Union, and the National Writers Union. It seems that an author faced with censorship or challenges to their work has a reasonable amount of backup support for their fight.
In addition, the authors themselves are often their own best bet. Loud, organized, and forceful responses to censorship are quite common in the writing world. One of the best examples of this is author Chris Crutcher's website, which details his often ongoing challenges and his answers to them. Crutcher makes himself available as a speaker and presenter in general and specifically does so in the regions where his books are challenged. His background, as a teacher and a therapist, expertly position him to answer challenges of his material, and he does so with gusto. A look into his world, via his website, is a must for any author facing the challenges of censorship. For example, in his FAQ section, Crutcher reveals his thought processes in response to his novels being challenged.
"I have two responses really. The first one is just an adolescent response, and I feel proud because I've made someone think or gotten some emotional response. The second is that I'm sorry people are afraid of talking about things. I don't necessarily think the things I have to say are all that important, and I don't expect everyone to agree with me. OBVIOUSLY. But when people can't sit down and talk with folks about what they're afraid of...that's sad."
Of course, not everyone is up to the challenge of having their name and work dragged through the mud. New writers and those who have not yet published may be so intent on getting their name and work out into public hands that the potential for censorship gives them pause.
"New writers and those who have not yet published may be so intent on getting their name and work out into public hands that the potential for censorship gives them pause."
Mark Beadles recently finished a YA fantasy manuscript, and his take on questionable content is particularly interesting.
"Questionable content was indeed one of my concerns when starting to write. I have deliberately chosen my situations, and in some cases, my words, to avoid more mature themes such as sexual situations, harsh profanity, and graphic violence. I treat this as a matter of degree based on my own judgment as to where to draw the lines as opposed to a hard-and-fast rule."
Yet, Beadles doesn't go so far as to specifically and purposefully self-censor.
"[It's] just stylistic: I often prefer to imply actions and situations rather than describe them outright. One thing that's not been a reason is any concern for censorship or challenge from third parties. I'm quite vehemently against such actions. But while I'm writing, I'm honestly not thinking about self-censorship all the time; it's just part of the natural process of how I write."
Published author Mary DeMuth reiterates this same feeling.
"I don't really consider censorship when I write the story. The story dictates what I write; and if it calls for something controversial, I write it. So far in my writing career, I've been blessed to have great editors. I've never been censored in my five novels though they deal with very tough subjects."
But what about the authors that have had to vigorously defend themselves? Does that play into future work? Is the process of being censored so difficult that subsequent manuscripts are tempered?
Jane Yolen, a prolific writer and poet who has often been referred to as "America's Hans Christian Andersen," has seen not only the censorship of her books but an outright book burning of Briar Rose, her novel loosely based on the Holocaust. When asked if this violent act had given her pause when writing later novels, her answer was an unequivocal, "Not for a moment."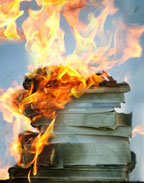 "Jane Yolen has seen not only the censorship of her books but an outright book burning of Briar Rose..."
Must all YA authors and potential authors who deal in the realities of life have such iron-jawed wills? Caldwell-Stone has some advice for YA writers asking this same question.
"Authors should write the truth of their story without regard for the consequences because young persons, particularly young adults, respond to stories that speak truthfully about their lives, about the circumstances they encounter in the world. It is important for authors to provide a means to explore the world of ideas and emotions in their book. It is important for them to speak to the truth of youth's lives today."
Caldwell-Stone also notes that authors are often rewarded when they deal with their stories and characters honestly.
"When books are challenged, we find that they become more popular because people want to know what's in this book that makes it so bad that someone wants to remove it from a library. Some authors joke that they wish they would be challenged because it would raise the visibility of their book, get their book on the radar. One of the ironies of censorship is that when you try to keep people from reading a particular book, it makes them determined to figure out what great secret you're keeping from them."
This sentiment, of course, is echoed by mothers in general, as Commarato said. Teachers, too, realize the futility of this effort.
"Knowledge is power," says Ohl-Shaw, who has seen hundreds of teens come through her classroom in the last decade. "If you have conversations and be open with them, they'll be open with you. Kids are going to find a way to find out these things either way. Removing [materials] tends to backfire."
Author Ellen Hopkins, whose school visit in Norman, Oklahoma was canceled and her books Crank and Glass pulled off the shelves, concurs with the idea that banned books simply pique reader's interests more.
"In the weeks immediately following [the incident], I became something of a celebrity because this happened right before Banned Books Week. The Associated Press picked up the story as did such eclectic places as the Guardian, Christian Science Monitor, and even the Conservatives for Palin website. As for book sales, a student wrote me in December that all my books remained sold out and on back order in Oklahoma City."
YA authors may or may not be subjected to censorship; Caldwell-Stone, the ALA, and other organizations are working hard to make sure that your work is out there and available to those who request it. Let them do their job; and you, the YA author, can concentrate on yours: speak your truth to your audience to the best of your ability.
***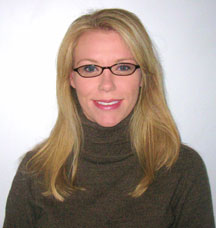 Allena Tapia is a freelance writer and editor, and owns her own firm, GardenWall Publications: www.gardenwallpublications.com.
She has contracts with Sharpe Reference, the New York Times' About.com, and is a longtime contributor to Latino Leaders magazine. She teaches a class on freelance writing through Lansing Community College in Lansing, Michigan, and plans to retire to Mexico on the proceeds from her first novel.