Dick and Jane. The Bobbsey Twins. These are prime examples of what children's literature used to entail. Nancy Drew was once considered reading for high school aged girls. If you're familiar with children and teenagers of today, you'll know that Nancy Drew's readership has gone down in age. The Bobbsey Twins are completely irrelevant. And Dick and Jane are nowhere to be found except for antique book stores and Grandma's attic. What contributed to the demise of these tales? Kids got older.
Of course kids age. We all do. Children have aged emotionally and socially at a much higher rate during the past couple of decades. What once passed as Young Adult fiction in the 1970's would engage a readership of 8-10 year olds today. The classics tend to be the only exception to this rule because they frequently appear on school's required reading lists.
"What might once have been thought appropriate for a fourteen-year-old is now appropriate for a considerably younger reader."
Does this mean kids are smarter today than they used to be? Yes and no. Standardized testing won't show an enormous upswing on the learning curve, but kids are exposed to many more facets of the adult world today than they were in past decades. Most homes find both parents working—if there are even two parents in the home. Kids are exposed to sex, drugs, and independent situations much younger and far more often. This is part of the reason that the great abyss between young adult reading and adult literature is slowly but surely closing.
Professor Kay Vandergrift of Rutgers University says, "With greater freedom in both content and form, young adult literature is moving into a closer connection with adult literature, and fluent readers in this age group may read primarily adult books. Societal changes and the mass media have, in some ways, pushed young people to an earlier maturity, or at least a facade of maturity. What might once have been thought appropriate for a fourteen-year-old is now appropriate for a considerably younger reader."
This poses a bit of a concern for parents of young teenagers. Lured toward adult titles that appear interesting, they may in fact be in a bit over their heads when faced with sexual situations or episodes of violence that far outweigh anything they've seen on prime time TV. What can current authors do to service the YA genre?
Vandergrift offers the following suggestions:
Creating meaningful dialogues with children in this age group is imperative to finding out their thoughts and feelings, fears and dreams.
Exploring popular web sites frequented by this age group is another way to find out what matters, what's popular, what current events prompt conversations, and what topics develop into intriguing banter.
Authors should visit school lunchrooms or teen coffee houses. They can obtain permission to "eavesdrop" on teen sites.
Teachers can be excellent sources of information for authors. They interact with this specific age group on an ongoing basis, and not only hear the chatter; they gauge the maturity development as well.
"In order to work successfully with young adults, we must read widely to acquaint ourselves with the best and most current thinking about young people and their literature from a variety of perspectives," she says.
The cross from YA to adult literature may encourage younger teens to judge their development in ways that could become unhealthy. Vandergrift explains it simply:
"Often, what is perceived as knowledge or maturity is only at a surface level, and young readers need a great deal of time for the distancing and reflection possible through literature. Literature creates a safe haven to accrue experience."
Her study compares teenagers to "inexperienced adults." When inexperience is exposed to matters beyond the realm of emotional understanding, unhealthy perceptions can ensue.
What does all of this mean for prospective authors of the genre? It's simple. The young adults of today are chronologically younger than the young adults of three or four decades ago. While they need the same good quality of literature it needs to be presented in a manner that is factual but safe; reserved but never condescending; and, above all else, always entertaining.
"There is a market for YA writing."
Harry Potter is among the modern day tales to span the gap. Read by adults, children and young adults, its genre has entertained and inspired, and reacquainted many readers with the notion of fantasy. While it hasn't been without some controversy, it has more than overcome any biases, and soared to the top of reading lists around the world.
Magazines for the YA set display yet another example of the "YA aging process." For example, Seventeen was founded in 1944. Its readership then was typically 17-year old Depression-era girls destined to be the first women in their families to join the workforce, or young ladies refining themselves to become proper wives and excellent hostesses. Today girls as young as 12 or 13 buy Seventeen, and read about relationship issues, make-up trends, rehab centers and celebrities.
Probably the best example of a YA magazine for girls is Girls Life, launched in 1993 by Karen Bokram, who set out to fill a need with a quality publication that still graces newsstands today. Once employed by Seventeen, she knew that the ads, articles, and subject matter in such a magazine were too much for younger teens to relate to.
Today she utilizes the Internet to encourage communication with her young readers. Girls read the articles and can log onto Girls Life blogs and message boards and discuss their thoughts and feelings about the articles. She's clearly met a literary need very successfully.
"It must be fresh and it must be savvy."
Not all authors will become the next JK Rowling, but many will successfully enhance the Young Adult literature of the next few years. Not every writer's dream will result in an exceptional long running monthly publication. But the obvious fact remains: There is a market for YA writing. It must be fresh and it must be savvy. And it must be written with the "real age" of young adults as defined in today's reading populous.
--------------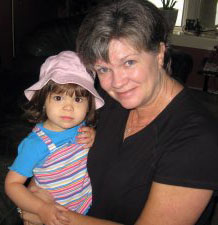 BIO:
Kimberly Ripley is a full-time freelance writer and published author. In addition to Freelancing Later in Life, she is the author of Breathe Deeply, This Too Shall Pass, a book of thirty tales of trials and tribulations examining the humorous aspects of parenting teens. Her first fiction, Lily's Gift debuted in May, and is geared to middle readers/young adults.
[Enjoying her time as "Nana"]