riting books for teenagers allows the author to regress mentally, physically and psychologically. It also gives them an opportunity to act youthful, playful and carefree in situations where adults would choose seriousness and a more correct solution. The lack of responsibility and curiosity that teens carry lets writers explore any topic in a lighthearted, yet calculating manner. Practically any chosen subject, if handled properly, can be of great interest to kids. With that said, if you decide to write for adolescents you must follow a few basic rules and you are guaranteed a winner.
For my book Turtle Feet, Surfer's Beat I chose an important topic that today cannot be overlooked. My novel focuses on marine preservation; in particular, the critically endangered leatherback turtle.
This isn't exactly a topic kids are going to stand in line for overnight. However, by adding elements of a surf community, relationship problems, and beach parties, I get my idea across while taking the reader on an extreme adventure.
KNOW YOUR MARKET
The initial step to writing for the teen market is to know exactly what makes this group tick. Teens want to know: when does the drama begin?
First and foremost, who is your character and what are they like? Get to know them as though they are your best friend. Learn all about their likes, dislikes, what they would do in certain situations, how they dress, how they react, the relationship they have with their parents and siblings, what kind of people they hang around with, everything you can possibly imagine.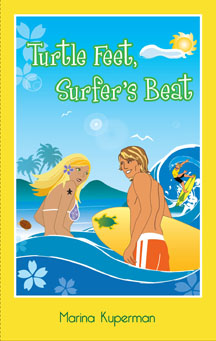 "The next research tool and one that a young adult writer cannot live without, are teen social networks."



Once you've decided on your character, it's time to bring her/him to life. My main character, Penelope, is a typical suburban girl whose entire life has revolved around her friends, her jock boyfriend, and parties. But who is she really? How can I best describe her? For references and invaluable help I turned to magazines. Luckily for us, there is a myriad of teen magazines in print and online today. I read every article I could get my hands on, analyzed how they were written, what words and tone the writers used. Play with your imagination, but borrow bits and pieces from the best.
The next research tool and one that a young adult writer cannot live without, are teen social networks. Dedicate a lot of time to these and read profiles, blogs, enter chat rooms and forums and as much of www.myspace.com as you can. Granted, there are as many myspace profiles as there are different types of people, but after a while you will start to see a rhythm, especially once you've narrowed down the kids with similar profiles as your main character. You can learn about the type of music they listen to, how they perceive relationships with their friends and the opposite sex, and what they like to do for fun. The information you will discover on these pages will fill your character notebook three fold.
Still, these bits of information can never be substituted by good old fashion reading. Get all the books you possibly can in your genre and read!
RESEARCH, RESEARCH, RESEARCH
Now for the fill-in the blanks! Start with the location. With all the information available these days about every corner of the world, you can get wonderful descriptions of any place real or imaginary. If your book is based in your hometown, you'll be surprised how much you might discover about your neck of the woods. Dress up the pages with fun, but don't overdo it with mind-numbing descriptions.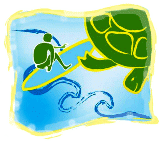 "With the elements of an exotic beach and a love interest, my readers are less likely to notice my educational push…"
Next, what is your story about? Do you have a lesson that you want your readers to learn? In my book, I chose the leatherback turtle which comes to nest on a beach called Playa Grande. This creature is the most endangered marine animal in the world. Since talking only about the turtle will put anyone to sleep, I realized that the next beach from the nesting site was Tamarindo. This world famous beach is known for its surf breaks plus it's one of the hippest surf communities. Although, my character gets signed up involuntarily by her parents to spend two weeks at the Leatherback Turtle Biological Center, she ends up meeting the Central American surf champ who lives in Tamarindo while patrolling the turtle beach.
With the elements of an exotic beach and a love interest, my readers are less likely to notice my educational push on helping to save the leatherback. These little tangents can truly personalize the book and put an average kid in the center of the action.
GET IT DONE
I read once that Stephen King writes every single day of the year except for his birthday and Christmas. I also read that he writes a minimum of six pages a day (approximately 3000 words). That is amazing, not to mention disciplined. If you can pull off a schedule like that, you are golden. Realistically, not all of us can pour out that many words on a daily basis. Sometimes it is difficult to write even one word. So what do you do?
Marina's checklist:
No distractions
Stocked full of materials
Computer
Dictionary
Thesaurus
Water
Snacks
Pencils
Paper
Notebooks
Write straight through
Don't look back
Don't review
Don't edit
Edit the next day
Review for a scheduled amount of time
Reread what you wrote the previous day
Keep on writing!
To begin I recommend you have a place all to yourself far away from the phone, TV, kids, etc. You want to be somewhere you'll have no distractions. Have it fully stocked up with all the materials you need so that you won't waste your time looking for them once you sit down. Some of these materials might be: a computer, dictionary, thesaurus, water, snacks, pencils, paper, notebooks, and whatever else you need to get focus.
Second, designate the time. If you have a family to take care of or a day job, arrange your schedule so that it doesn't have direct conflict with these responsibilities. Make sure you tell your family that this is YOUR time and they need to respect your privacy. The importance you give your writing will be the same importance your family and friends will have to give it.
Now sit down and write! Ok, it's not that easy, I know. However, you will be surprised when you actually park yourself at your desk and begin. The words will come out. Most of them will not be the right ones at first, but don't worry; that's what editing is all about. Your goal for now is to write. And don't measure your success by the amount of words or pages you've done, but rather that you are doing what you want. If for some reason you are blocked, then get your notes out, review them, read some inspiring literature about your storyline, pretend you are the main character and what will they do in this moment. Eventually, the words will come. If we wait for inspiration to hit, we will never leave our beds. Action is a result of action.
One thing I find most helpful is to write straight through. I don't look back. I don't review. I don't edit. Whatever comes to my mind I put it on paper. The next day, for my scheduled hour(s), I review. I reread everything and edit my work. By going over what I wrote the day before, and editing I find myself continuing with the previous day's work and writing more and more. Each person is different and once you find what works best for you, stick with it.
FINAL DRAFTING
Editing as you go is a great way to clean up your text and push you forward. Nevertheless, it is not the final draft. Most writers say that their best writing occurs during the editing process. I have found myself throwing out pages simply because they were gratuitous and irrelevant in the grand scheme of the story. Place as much emphasis, if not more, on your final draft. There is no such thing as over-editing.
If you follow these simple techniques you are guaranteed to get the first draft done in no time. All it takes is an idea, the passion and a little bit of discipline, and who knows you just might have the next Harry Potter in you!

ABOUT THE WRITER
Marina Kuperman is the author of 'Turtle Feet, Surfer's Beat'. She is also the founder of www.turtlefeetsurfersbeat.com a community for kids, teens and parents to join forces with surfers, musicians, artists and everyone else who is devoted to helping marine preservation. She can be contacted at: Marina@turtlefeetsurfersbeat.com