Smartphones
Is your cell phone keeping you from properly maintaining your social media presence while you are out of the office? Maybe it is time to buy a smartphone—but which one to choose?
Here are some things to consider:
Keyboard – Do you want a real keyboard or can you manage to type on a touch screen?
Apps – What applications are supported by the smartphone you are buying? Can you access Twitter and Facebook via an app or do you have to use the web browser?
Synch – Ability to synch with your desktop calendar, contacts and email. Your smartphone should act as your mobile office.
Camera – Do you need high resolution and flash? Can you easily upload photos to Facebook or Flickr?
Battery life – How often do you have to charge your phone?
Connectivity – At the present time, iPhone coverage is only through AT&T. If AT&T does not cover your area, or does a poor job at it, consider buying another phone.
Data and phone usage plan – Is there a plan that fits your needs?
Netbooks: Acer Aspire One
If you are looking for a netbook to take on the road, think about investing in an Acer Aspire One AOD250-1706 ($319 at Amazon). With a 10.1 inch screen, a keyboard that is 89% of standard size, it weighs in at a mere 2.8 pounds. Best of all, the 7.5 hours of battery life will get you through a long plane flight—and then some.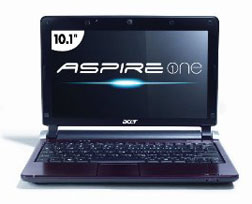 I have the slightly older Acer Aspire One AOD250-1610, which has 6.5 hours of battery life and weighs 5.1 pounds. It is small and light enough to fit into my purse—perfect for conferences. Using the undersized keyboard and screen can be challenging at times, especially when you are working on a long assignment and not just using the netbook to check email or browse the Internet.
Also, purchase a neoprene sleeve to protect the case and small travel mouse if you do not like using the touch pad. Both can be found at Target, WalMart or Best Buy.
Blog editing software: Microsoft Windows Live Writer
How often have you written a post, clicked on save, and come up with a blank screen? There is nothing more frustrating than losing minutes or hours of work. By using a free blog editor like Windows Live Writer, you are no longer at the mercy of a flaky Internet connection. Instead of writing live on the Internet to your blog, Writer resides on your computer, so all your work is saved to your hard drive.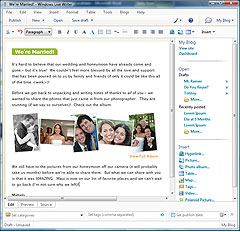 You can use Writer with almost any blog platform—Wordpress, Blogger, LiveJournal, and TypePad. It allows you to create posts (though not go live) without an Internet connection, too. This means you can blog just about anywhere—on the airplane or while you are waiting for the kids at hockey practice.
With Writer, you can preview your work to see how the fonts, spacing, colors, and pictures will look when you post. The program comes with a spell checker and makes placing photos in your post a snap. With Writer, you have the ability to crop and resize photos, create a border, tilt the photo, or add a watermark. You can even add special effects like sepia tone, improve the lightness and contrast, or sharpen the picture. While it is not a total replacement for a photo editing program, it saves you time by handling the basics.
Since Windows Live Writer is only for PCs, here are some other blog editors to consider:
Video: FLIP camera
When I came back from BlogWorld Expo in 2007, video was the hot topic. Many bloggers were starting to create simple videos for their blog realizing that their audience would rather watch than read. That year, FLIP cameras were the hip gadget to have—and still are. The video cameras are small enough to fit into your pocket, light weight, and simple to use. To download videos, you just plug the flip-out USB arm directly into your computer's USB port. (You may need a USB cord to do this if your ports are on the back of your PC.) The included FlipShare software then lets you transfer your video to a YouTube account.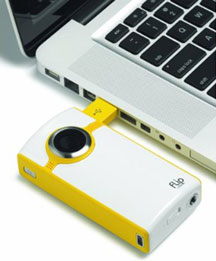 There are now four different Flip models. There is the original Flip Ultra ($149 on Amazon) now in its second generation. It comes in four colors, has two hours of recording time and 4 MG memory. It uses two AA batteries or the optional Flip Video AA rechargeable battery pack, which is rechargeable through a USB port.
The Flip Ultra HD only comes in black and white. For the extra $50 you get higher resolution (1280x720 versus 640x480 of the regular Ultra). It has twice as much internal memory and can record up to two hours.
The Flip Minos (both regular and HD) are thinner, smaller versions of the Ultras with half the memory and record time of their big sisters. They can only be charged through a USB port and have smaller LCD screens. The Mino sells for $149 and the Mino HD for $199.
The coolest thing about the Mino HD is that it is "designable" meaning you can design your camera's cover by using one of your own photos, something from their design gallery, or your company's logo.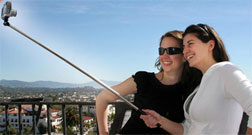 Besides a USB cord and a camera case, there are two must have accessories for the Flip. First, a Flip Tripod, which makes it incredibly easy to shoot your own "talking head" videos. Just set it up on your desk or table top, aim, and start shooting. (Any type of camera tripod will work with the Flip.)
If you are out and about and want to take video of yourself strolling through town, try the XShot camera extender (pictured in photo above), which is basically a tripod on a stick.
Video editing software: muvee Reveal
Now that you have a FLIP and are experimenting with video on your blog, it is time to invest in some editing software. One program to consider if you want to combine music, photo stills and video is muvee Reveal. muvee Reveal comes with editing tools like automatic brightness, color correction, rotate image, and red eye reduction. You can also create captions, voiceovers, and add end credits.
With facial and motion detection, muvee Reveal automatically selects the best scenes and syncs everything to the beat of your music. I have used it several times and found it to be fun and easy to use.
muvee Reveal works with shwup.com so you can export and share your muvee directly with others using a private online album. From there, you can save it publicly to Facebook or grab the code and embed it into a blog post. You can also transfer muvees to your iPod, phone, DVD and play it on your PSP. The program also works with HD video.
muvee Reveal a terrific tool for bloggers, but it is also a great way to make muvees for class projects, workplace presentations or video presents for friends and relatives. You can try muvee Reveal for a free 15-day trial or purchase it for $79.95.
Other video editing software:
Apple iMovie for Macs – Comes on most Mac computers or you can purchase it as part of iLife '09 (also includes iPhoto, GarageBand, iWeb, and iDVD) for $79
Microsoft Movie Maker – Already installed on PCs that run Windows XP
Online photo editing: Picknik.com
There are several photo editing software packages to choose from, most in the $70 to $100. For bloggers on a budget, I recommend Picknik.com's free, easy to use online photo editing program. Picnik allows you to fix underexposed photos, remove red-eye, or apply effects to your photos. You can also use it to auto-fix colors, rotate, crop, resize, and sharpen your less than perfect pictures. It works with online photo sharing sites like Flickr, Facebook and Picasa.

If you want more advanced features, more types of photo effects, dozens of shapes and fonts, premium support, and advanced editing tools like Curves and Levels, you can upgrade to Picnik Premium. They offer three payment plans: $4.95 a month, $19.95 for six months or $24.95 for a year.
***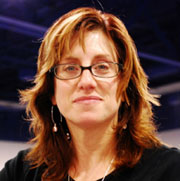 Anne-Marie Nichols is a Colorado-based work-at-home mom, blog wrangler, and social media consultant. When she is not blogging from a mom's perspective about food, weight loss, exercise, and health at her blogs This Mama Cooks! On a Diet and This Mama Cooks! Reviews, you can find her on Twitter @amnichols. She is also a social media manager at Mom Central Consulting and blogs for them at Mom Central Blogger University.