hat makes you pull the covers tight and keeps you wakeful through the night? Horror, pure and simple. But horror is not that simple. Its varied elements and subgenres swirl in the horror cauldron, and each time we dip the ladle in, we come up with something terrifyingly different.
FINDING THE RIGHT FIT
Yvonne Navarro, an award-winning writer who's penned a few Buffy the Vampire Slayer books, calls horror "the heartbeat of the literary fiction world. It beats beneath the surface, working on its own to keep the life flowing and the adrenaline going." It's that adrenaline rush that tells us we're reading something dark, sinister and scary. But writing horror can be pretty exciting, too.
For the writer who can craft a creepy, page-turning story, horror can open new doors. It's a genre brimming with possibilities, and a market that's always looking for the next terrifyingly different thing. So, dip into horror, browse the elements, and find a subgenre that's a perfect fit for your writing!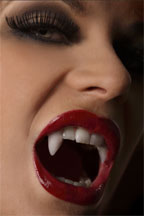 "Horror fiction teems with witches, demons, werewolves, aliens, zombies, vampires, and of course, ghosts."
SUPERNATURAL
Webster defines horror as an intense fear, and when it comes to horror writing, that fear is often associated with the supernatural. Canadian Susie Moloney, author of The Dwelling, writes supernatural horror, but adds a psychological element, also. "I write about how horror and fear play into pre-established fears we already own. When the ghouls push our buttons, you know?"
Oh, yes, we know the ghouls! Who hasn't shuddered, conjuring up nightmare creatures? Horror fiction teems with witches, demons, werewolves, aliens, zombies, vampires, and of course, ghosts.
Ghost stories have a way of capturing the imagination; this year, Neil Gaiman's ghost story, The Graveyard Book, captured the coveted Newbery Medal. But readers of all ages have been pulled into this juvenile fiction story. The supernatural, with its mysterious and unknown origins, draws us into horror and turns our safe world inside out. Quirk Books recently released Pride and Prejudice and Zombies, turning Jane Austen's proper English village into a chilling, ghoulish parody. How can we possibly resist that?
GOTHIC
The Gothic subgenre is not inky black hair and painted fingernails, though it is dark and gloomy. Tracy S. Morris considers her novella, Tranquility, to be Southern Gothic "primarily because of the rural setting (think the painting, American Gothic) and because of the supernatural aspects."
Setting and supernatural components are two elements associated with Gothic horror fiction, but the psychological twists also play a role in this subgenre.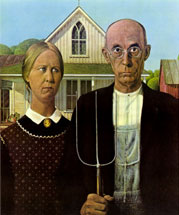 "In horror, particularly Gothic horror, setting becomes the third character in the story."
(Painting: American Gothic, 1930, Grant Wood)
English Gothic horror might take place around a decrepit mansion or haunted castle, while American Gothic makes use of the decaying family plantation or rambling ruined home as a menacing backdrop. In horror, particularly Gothic horror, setting becomes the third character in the story. But don't forget to add psychological terror. Gothic characters are often caught up in the past, haunted by someone or something that will not let the psyche go. And romance, subtle and otherwise, often appears, to further rev up the plot. See how all these elements come together in The Vampire Chronicles, pennedby Gothic Queen, Anne Rice.
GORE/ VISCERAL
If you're the kind of writer who's not afraid to confront the extreme side of horror, this gruesome subgenre may be for you. Pushing-the-limits poet Rain Graves, author of Barfodder: Poetry Written in Dark Bars and Questionable Cafes, writes, "I have often set out to write a 'regular' story… Something always occurs when I'm fleshing it out and putting the meat on the bones that makes it dark." But she also issues a warning: "Don't force what isn't part of you to be you."
That's sound advice for any writing, but especially true when it comes to the visceral subgenre. Sometimes referred to as gore, extreme horror, or even splatterpunk, this is a subgenre that doesn't spare the sensibilities. It may include a supernatural element along with the gore-fest, and it's often as much a thriller as a horror story. Aim for fast-paced, scare-the-heck-out-of-you writing. J. A. Konrath used the pseudonym of Jack Kilborn when he released his gross-out horror novel, Afraid.
EROTIC
Erotic horror is a subgenre that can include anything from mildly romantic suspense to sexually explicit sagas. It's not so much about the horror elements as it is the sexual interaction of characters. That doesn't mean it's not dark writing. Lisa Lane, an author who writes for the Ravenous Romance line of books, says, "When I write erotic horror, I find it fascinating to explore the human condition—in all its ecstasy and pain—by exploring the darker desires, as well as the darker fears and attributes, of my characters."
These characters are often supernatural, like vampires, both male and female. Best-selling novelist, Laurell K. Hamilton, serves up sexually graphic content sizzling with erotic horror. Try a couple of her Anita Blake, Vampire Hunter novels to see how Hamilton heats things up.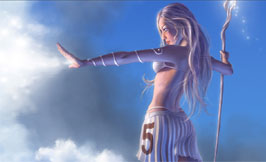 "Magic or unseen forces play their roles in dark fantasy worlds."
DARK FANTASY
It's not always easy to see the line between horror and dark fantasy, and not every genre writer will make that distinction. But there are a few elements that often appear in this subgenre. Take magic, for example. Horror writer Monica Valentinelli explains: "In dark fantasy, the rules of magic might take center stage, offering serious consequences to those who abuse them."
Magic or unseen forces play their roles in dark fantasy worlds. These worlds are usually filled with the supernatural, though not always the common beasties like vampires or ghosts. Here is where wizards, witches, faeries, shape shifters and other beings of darker realms abound. In fact, a witch bounty hunter is the protagonist in Kim Harrison's latest dark, urban fantasy, White Witch, Black Curse. It can be confusing to jump into dark fantasy worlds right in the middle of complicated story lines, so you might want to start at the beginning of The Hollows series with Dead Witch Walking. And you'll probably hunt down the rest of the series before you're through!
"If you like the tangles of psychological horror, probing the dark, malevolent side of human nature, then Lovecraftian horror may be calling you..."
LOVECRAFTIAN
H. P. Lovecraft didn't start out in the 1930s to develop a cult that would lead to its own subgenre of horror, but that's exactly what happened. Today, writers copy his style and include what have become known as Lovecraftian elements in their novels or short stories. Danielle Ackley-McPhail, an author of fantasy and horror, says "Lovecraftian horror—or Mythos, as it is referred to—is very cerebral, it is more about letting the reader's mind take the hints you have made and run with them in their own terror-stricken time."
Lovecraftian horror can be an exhilarating challenge! If you like writing in a florid style, and setting your stories in a New England locale, then Lovecraftian horror is for you. If you like the tangles of psychological horror, probing the dark, malevolent side of human nature, then Lovecraftian horror may be calling you, too. And if the Old Gods, like Cthulhu, sound familiar, you might already be channeling Lovecraft's spirit. It could pay to listen carefully. Many famous horror writers credit Lovecraft for influencing their work, notably the modern master of horror, Stephen King. Read one of Lovecraft's most famous works, like The Call of Cthulhu to get a handle on this subgenre. Then read Duma Key, one of King's recent psychological horrors, and see where studying Lovecraft can take you.
HAUNTING HUMOR
Oh, the humor of it all. Perhaps you have a style of writing that's more funny than frightening. You're just the right writer for horror on the light side. You'll still need a page-turning plot, an attention-grabbing beginning, a scary setting, and a fair amount of fear. But if you can manage all those elements and include the comic with your mayhem, you just might have a best seller on your hands.
Charlaine Harris is a New York Times chart-topping author whose Southern Gothic vampire series fly off the shelves. And not just because her books are about vampires. Her protagonist, Sookie Stackhouse, is a real scream. Check out the just-released Dead and Gone or start at the beginning with a pack of Sookie Stackhouse and pick up more pointers on writing hauntingly humorous horror.
CROSS-GENRE
You might be wondering why Charlaine Harris' books aren't considered Gothic, or supernatural. Of course, her novels could have been listed in those subgenres. Horror often mixes subgenres. But it can also slip from one genre to the next. When novels cross or slip around like that, it's called "slipstream" or cross-genre horror. Usually, it refers to novels that contain science fiction and horror, or fantasy and horror. Richard Matheson's I Am Legend is classic cross-genre. It really makes shelving these books a challenge!
"If an anthology wants stories about alien brain-eating zombies from New York, then give your zombies a Bronx accent and little green bodies."
AND NOW A WORD ABOUT RESOURCES
Once you sink your teeth into writing horror, you'll want to find somewhere to sell it, and make connections on the horror horizons. You're ready to look for markets and meet-ups.
A great speculative fiction site to bookmark is Ralan's Webstravaganza. Here you'll find up-to-date submission information on anything of a speculative nature, like horror, science fiction, fantasy, end-of-world, and just plain weird stuff. Ralan's includes anthologies, magazines, and book publishers interested in horror.
Give careful attention to guideline details. If an anthology wants stories about alien brain-eating zombies from New York, then give your zombies a Bronx accent and little green bodies. Horror may indeed be hot, but it's also very crowded, so increase your chances of getting published in this genre and write what editors ask for! Duotrope's Digest makes this job a little easier with an excellent search function. Try this online market list when you want speculative fiction specifics as well as response time info.
Another site that's packed with markets, articles and all things wicked is Horror Factor, a part of the Fiction Factor website. Horror Factor offers a bonus with their low-cost six-week writing course for those looking for instruction in this genre.
Horror writers have their own association, aptly called the Horror Writer's Association. Even if you're not ready to join the HWA, you'll find a variety of articles from the voices of experience, as well as links to members' blogs and websites. Check out the benefits of this professional organization; membership often pays for itself in the long run!
Social networking is an easy and free way to get the latest horror buzz. When you join groups on sites like Facebook or Goodreads, you'll soon find authors doing book signings in your area, free online conferences you can attend, and knowledgeable blogs to follow. Hell Notes, for example, is a blog and website devoted to horror fiction, arts and entertainment that provide the who's who in horror. Consider broadening your reach in making horror connections. Look for groups in dark fantasy, suspense, mystery, and paranormal romance. These genres often overlap, sharing agents, publishers, and conferences.
There's yet another way to get insider information about horror. Read the definitive genre book, On Horror Writing. The Horror Writer's Association put together this collection of essays on craft and theory, so you know you're getting the best contemporary authors, like Stephen King. Or read Stephen King's On Writing. Though it's not specifically about horror writing, many writers have found this nonfiction book to be inspirational and invaluable.
Finally, when you're ready to meet people face-to-face, head to the World Horror Con, one of the biggest professional venues available for horror hob-nobbing. Check out the convention website to follow the Shocklines Forum before you go. It's too late for this year's convention, but you'll want to sign up next year to meet the folks who like horror as much as you do, especially those in the business end of horror!
THE LAST WORD
So, what are you waiting for? Try a subgenre that looks like a good horror fit, throw in a couple spooky elements, and craft your page-turning masterpiece. And keep the lights on, will you? I'm scared half to death!
***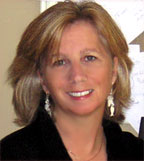 Cathy C. Hall is a freelancer and fiction writer whose work has appeared in magazines, newspapers, webzines, and anthologies. She's been keeping the lights on since the seventies when she started reading and writing horror. You'll find her latest Southern Gothic humor in short stories like "Mary Beth's Prophecy" in Big Pulp and "The Perfect Barbecue," soon to be released in Things Aren't What They Seem, by From the Asylum Press.