ou're going on a retreat to a woodsy cabin in Maine with only three other writers around and a host who provides simple meals. Or perhaps you've signed up for a four- or five-day conference on the grounds of a bucolic college campus or an exotic locale. Maui, La Jolla, and Southampton all beckon with visions of lounging on the beach during recess and arguing points of view over drinks at night. Whatever your reasons to attend a conference—whether it's to bolster your creative juices or tackle the nearest literary agent, you can always squeeze a travel piece out of your trip. What's the best way to begin?
Observe the salient features of the place or people you are covering. Concentrate on physical description. Look for:
Color:

Is the sea blue, azure, gray, turquoise, green, or almost as brown as the sand?

Light:

The neon lights of a downtown city and the morning light on desert sand each give a different sense of the place you are describing.

Texture:

Feel the rough concrete of a college dorm, the cotton caftans in a clothing shop, or the sleek linens at your fancy hotel.

Smell:

Inhale the aroma of fresh bread at the bakery, the salt sea air, or crushed pine needles on your morning walk.

Sound:

Seagulls squabbling over crust left on the beach, the babble of voices at a convention floor: these transport the reader to the scene.

Taste:

Real whipped cream on the homemade blueberry pie in Maine or the sweetness of fresh sliced pineapple in Hawaii recreates a sense of place.
Start with the details of your stay. How was breakfast served? Was there a buffet with pitchers of orange juice, cereal, cold milk, and a bowl of bananas set upon a table where the guests helped themselves? Was breakfast offered cafeteria style with hot sausages, scrambled eggs, and pancakes set out in steam tables? Was it served restaurant style on a shaded patio? Or did you have to hike into town to pick up coffee and bagels for your morning meal?
Did you meet fellow registrants over a family table or was everyone cold and distant and seated at separate tables? Did you show up in neatly pressed slacks and a linen jacket while the standard uniform for everyone else was sweats and flip-flops? These details give the reader a feel for the ambience of the place.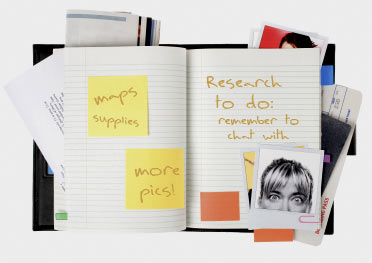 Pick up brochures, maps, and informational sheets wherever you go. You can even write notes on them. (I do.) Talk to fellow travelers, waiters, and cab drivers. Take notes about everything, including the opinion of others. When you get home, you can sort everything.
A personal visit to the place.
Brochures, press releases, and guides written by the Chamber of Commerce and other local organizations.
Travel websites for basic information as well as updates and pictures.
Other Internet resources.
A telephone call or personal interview with the director of the place or the marketing or advertising director.
Anecdotes from other travelers.
Write-ups of the same place in other books, newspapers, magazines, and the Internet (with attributed quotes if you are using verbatim material).
Your own photographs or slides of the place and postcards you bought when you visited.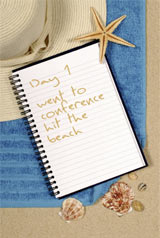 "Take notes about everything, including the opinion of others …"
If you want to whip up a salable travel piece, here are some of the standard types that editors prefer:
The Destination Piece: This can be done from any point of view and within any boundary of place or time, whether it's "36 Hours in Madrid" or "Four Weeks in Costa Rica." The more out-of-the-way your destination, the better chance you have to snag a commission.
The Special Interest Piece: While you're sweating over your nascent novel in the cramped college dorm room, your husband is hitting every golf course in the area and your teenage daughter is riding horses at the nearby outdoor camp. All of these venues could become the kernel for any number of articles targeted to different audiences.
The How-to-Do-It Piece: They lost your luggage at the airport! After two days of phone calls and frustration, you have enough material to write an authoritative piece on how to either get your luggage back or get some compensation from the airline.
Humor: They lost your luggage at the airport! The cabbie took you to the wrong hotel! The literary star speaker at the conference spent her hour on stage asking the audience for ideas for her book on twins. Don't get mad—get even. Write a short humor piece.
Contrast and Compare: The old city with its cobblestone streets and tiny shops versus the magnificent new skyscrapers; the tranquility of a country retreat versus the hectic schedule of a full-blown conference—contrasts are a staple of travel writing. One recent newspaper article compared the restaurants, parks, museums, and pubs in Boston where tourists flock with those frequented by locals. How's that for putting a new twist on a heavily-covered destination?
The Round-Up: Basically, an annotated list. You can list every writer's retreat in the country, but that may be too daunting. How about every writer's, photographer's, and artist's retreat in Michigan? Once you've been to one, you know what they are like. The rest is research.
"In guidebooks, the first paragraph of each chapter is usually a summing up of what is to come."
Magazine and newspaper editors require a hook for the lead paragraph. In guidebooks, the first paragraph of each chapter is usually a summing up of what is to come. Here are some common leads:
The General Statement: "The first thing you learn about Santa Fe is that the difference in 24-hour temperature is the difference between night and day. The sun can beat down mercilessly on an 80-degree day but, by nightfall, you will need a sweater to protect your skin against the sharp chill of Santa Fe's 7000-foot altitude."
The Straight Descriptive Approach: This is a quick way to introduce the pleasures of the place before going into detail. The writer produces a verbal picture that is unique and compelling. Whether it's the ice-cold blue lake outside your summer chalet or the crowded neighborhood bar where everyone congregates at night, you set the scene immediately.
The Anecdotal Approach: A one-paragraph anecdote that moves into a general description is used both in travel articles and anthologies. If you can tell a story about a crusty fisherman you met down by the docks or how you haggled over a wooden sculpture in a beach shop, you have your opening. A historical anecdote about the place also works.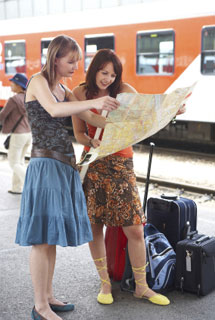 "When you travel, every meeting with a stranger, every little incident, becomes the nucleus of a usable anecdote."
The Middle of the Action Approach: This is one way to get the reader into the pulse of things immediately. It is most often used with the first person voice.
"As the seaplane lurched toward the frozen glacier ahead, I forgot about the salmon buffet that awaited us and simply prayed that we would make a safe landing."
The Explanatory Opening: If you are composing a how-to-do-it piece, your lead will pose the problem and then give a hint of the answer.
"Why pay for first class tickets when with a few simple tricks you can get upgrades from your much cheaper business class ticket?"
A Meaningful Quote:
"My heart's in the Highlands, my heart is not here,
My heart's in the Highlands, a-chasing the deer."
That quote from Robert Burns can position you right in the heart of Scotland to begin your article. Or it could preface a piece on poetry festivals around the world. If quote is in the public domain, you don't have to worry about getting permission.
Once you get home, you can shape the entries in your journal to create an article with a beginning, middle, and end. To give the article depth, most travel writers add the following ingredients:
Statistics: Every year, 300,000 destination weddings take place all over the world. According to a poll, 85% of American travelers now visit at least one historic destination during their vacation. Okay, I'm not sure these statistics are accurate—but if I needed them to fill out a story, I would Google them for accuracy and throw them into the stew.
History: Every place, every event, has a history. Let's say you are staying near Woodstock, New York in a pleasant four-bedroom home along with three other writers. Woodstock had a history as an arty town long before the festival that canonized its name. The festival (which actually took place nearby at Yasgur's Farm) also has a history. And the Catskill Mountains surrounding Woodstock have a history, as do their once vibrant resorts that were the breeding ground for future comedians and musicians. So, within a few miles of your temporary abode, you have a cornucopia of details for the history section of your story. It's easy to pick up local history when you are ensconced in the local scene.
"Every place, every event, has a history…"
Interviews: Not all interviews are of the formal kind. You could interview the director of the conference as to how she chooses her speakers, or whether attendance is up or down this year. Or you could talk to the woman in front of you on the cafeteria line and ask her for her impressions of the conference, the venue, the speakers, and the food. Snippets of the interview can be incorporated into the text.
Anecdotes: The cab driver in Haiti takes you on a wild ride up and down the hills, but when you arrive at his uncle's art gallery, you find the perfect painting, full of color and natural setting, which you buy for a mere forty dollars. The airline agent presents you with a plastic bag that neatly covers the five-foot-long plush dolphin your husband won at Sea World and off it goes to the baggage compartment. (This obviously happened before the airlines started charging for extra baggage.) When you travel, every meeting with a stranger, every little incident, becomes the nucleus of a usable anecdote.
Once you have the bulk of the article finished, you may have to edit it down. Some details will stay in, while others will be thrown out. Go over your descriptions. If your writing is full of clichés like "majestic mountains" or "sinfully decadent chocolate cake," substitute more original phrases.
Some anecdotes may not blend with the thrust of the story. Throw them out! But keep discarded anecdotes for another day. Most travel writers have a pantry full of leftovers.
When it comes to facts, you had better recheck all those brochures and local magazines you picked up. And then search the Internet and make some phone calls. Nothing changes faster than the prices and hours of any given attraction, the boarding procedures for airplanes, or the quality of a favorite restaurant. A few top newspapers and guidebook publishers have fact checkers who go over those details—but most do not.
For certain types of articles, a list of basic facts about airline fares, hotel prices, availability, and relevant websites is sent out on a separate page. The editor uses these facts to create a sidebar.
Whatever else you get out of your sojourn at a writer's retreat or a multi-day conference, creating a travel article and a tax write-off are two pretty good bets.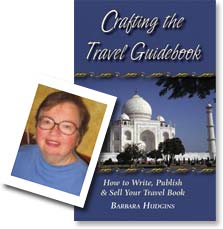 Barbara Hudgins is the author of Crafting the Travel Guidebook a 288-page guide that covers the writing, constructing, editing, publishing, and promotion of travel books of all types. She is best known as the original author and self-publisher of New Jersey Day Trips. This guidebook sold over 110,000 copies in several editions before she sold the rights to Rutgers University Press.
Barbara's travel column, which covers both local and foreign trips, has appeared in The Madison Eagle, the Bernardsville News and other newspapers in northern New Jersey. Her day trip articles have been featured in Garden State Woman and New Jersey, Yesterday, Today & Tomorrow. National magazines such as Signature, Woman's World and Foreword have published her free-lance pieces on a variety of subjects.
Crafting the Travel Guidebook is available at all online stores. It is also available as an e-book from www.Booklocker.com. Visit Barbara's website at www.woodmontpress.com or her blog, www.travelwritingandpublishing@blogspot.com.