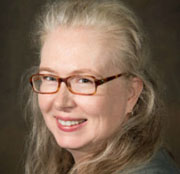 WRITING NONFICTION FOR CHILDREN AND YOUNG ADULTS by Sue Bradford Edwards
START DATE: Monday, November 18, 2019
DURATION: 8 weeks
COURSE DESCRIPTION: Flip through most children's magazines and you'll notice page after page of nonfiction including articles, interviews, and how-tos. Nonfiction is also taking on a more prominent role in the classroom with the push for Common Core Standards. This course will help you develop the skills that you need to provide this nonfiction for the markets that need it. You don't need a completed manuscript to sign up for this class. Students will learn how to research possible markets, evaluate the competition, refine an idea, balance secondary and primary sources, create a polished manuscript, and more.
Sue Bradford Edwards is one of the best writing instructors I've ever had. Sue always took time to write detailed and thought-provoking comments on each and every assignment. Because of her academic background and professional expertise, she often recognized the exact places that needed more work. Besides solid suggestions for how to improve a manuscript, Sue's assignments on how to research potential markets, as well as how to find and use primary sources to strengthen nonfiction, proved invaluable. Without reservation, I highly recommend Sue's course. ~ Felicia Silcox

I took Sue Edwards' online class, Writing Nonfiction for Children, when I was first learning how to write for this audience. Not only did the class cover all the details from story ideas to research to formatting and submitting of the finished article, but also Sue provided great moral support and spot-on critiquing along the way. Her expertise was truly amazing. My "homework" article on an Australian rock formation was soon in print in FACES magazine, an esteemed Carus publication, and I was thrilled. I highly recommend Sue's nonfiction writing course. It will be time and money well spent for any aspiring children's author. ~ Cindy Reeg

I highly recommended Sue Bradford Edwards writing courses. I feel fortunate that I had the opportunity to participate in a non-fiction course early in my writing career. Ms. Edwards' class was well structured, packed with examples and exercises, and provided time to discuss each assignment. Additionally, Ms. Edwards made herself available to answer questions from students. By the end of her course, I had a completed proposal for a non-fiction project and the groundwork for several others. ~ Angela Cerrito
WEEKS AT A GLANCE:
Week One: Which Market Is Which
While there are a large number of markets that buy nonfiction for children and young adults, it is important to learn how to evaluate them. Not every market is suitable for every writer and which one you approach will depend on your interests, your voice and your goals.
Assignment: Review some of the possible children's markets, focusing on either magazines or book publishers. Analyze two of these markets and compare and contrast. Which is more suited to your needs?
Week Two: Choosing and Narrowing a Topic
Once you've learned who is publishing what, you need to start considering possible topics. Fortunately, the possibilities are endless. Narrowing your topic can eliminate competition as well as help you use the same research multiple times for non-competing markets at different age levels.
Assignment: Select and narrow a topic to be used throughout this course. Identify how your work differs from what is already on the market. If it is too similar, how can you re-slant your topic or present your information in a unique way.
Week Three: Evaluating and Selecting Sources
A nonfiction manuscript is only as good as the material that goes into creating it. This week, students will learn the difference between primary and secondary sources and how to evaluate accuracy and source bias.
Assignment: Start researching your topic, splitting your bibliography into secondary and primary sources.
Week Four: Interviewing Sources
Learn to impress editors with your research by going beyond secondary sources and even print primary sources. Get the latest and greatest information by conducting your own interviews. This lesson will include what kinds of questions yield the best results, as well as how to find and approach sources. Information will also be given on other ways to gather your own data.
Assignment: If you want to do an interview, find a possible expert to approach. Write up your interview questions. --OR-- Research graphic sources, artifacts or other data you could gather to enhance your topic.
Week Five: Preparing Your First Draft
Once you've done your research you still need to get everything down in manuscript form. This lesson will cover outlining (or not), age appropriateness of material, using fiction techniques and more.
Assignment: Create a bare-bones outline and a rough draft (you may submit up to 10 manuscript pages for my review).
Week Six: Refining Your Manuscript
No one creates a top-notch manuscript with their first draft. This week students will learn what to look for in a rough draft and how to create the final manuscript that they wanted to create all along.
Assignment: Rewrite your draft (submitting up to 50 pages) and note how it changes. Do you have a new title? A new opening or conclusion? Did you change the order in which you presented information? How much were you able to cut?
Week Seven: The Icing on the Cake
No matter how good your manuscript is, the competition for sales is intense. Learn how to make editors sit up and take notice by providing them with extras to sweeten the deal. These bonus items can include your market research and willingness to hand sell your book, sidebars and activities, photographs and more.
Assignment: Write at least one "extra" to include as part of your manuscript or develop a marketing strategy for your book manuscript.
Week Eight: Completing the Package
Once you know how to find the best market for your work as well as how to create the manuscript, you still need the right tools to approach potential markets. This week will take you through the ins and outs of creating a cover letter, query letter, and proposal.
Assignment: Complete a cover or query letter or proposal.
Materials needed: The instructor will provide the majority of materials but you will need the following: a computer with internet service and a word processing program, a working e-mail account, and ability to sign up for a free Yahoo! group account.
ABOUT THE INSTRUCTOR: Sue Bradford Edwards is a nonfiction author with over 600 sales to her credit including 24 nonfiction books for young readers. Sue has also published numerous crafts, activities and how to pieces of various kinds. Her most recent books for children and teens are The Murders of Tupac and Biggie (Abdo, 2020), The Assassination of John F. Kennedy (Abdo, 2020), The Evolution of Mammals (Abdo, 2019), The Evolution of Reptiles (Abdo, 2019), Labradoodle: Labrador Retrievers Meet Poodles! (Capstone, 2019), Puggle: Pugs Meet Beagles (Capstone, 2019), Stem Cells (North Star Editions, 2019), The Dark Web (Abdo, 2019), and Earning, Saving and Investing (Abdo, 2019). In addition, her children's nonfiction has appeared at Education.com, in Gryphon House anthologies, in Harcourt and Houghton Mifflin testing packages and also in READ and Young Equestrian Magazine. Her nonfiction for adults has been published in Writer's Market, Children's Writer newsletter, WOW! Women on Writing, Writer's Digest, The Children's Writer's and Illustrator's Market, The Writer's Guide, and Magazine Market's for Children's Writers. Sue is also a dedicated blogger, writing for the Muffin as well as her own personal blog, One Writer's Journey.
COST: $175 (Sale! Save $15. Normally $190), which includes access to private Yahoo! group as well as private e-mail discussions with the instructor. Instructor will critique a market research plan, a topic research plan, a query or cover letter, and a manuscript (up to 50 pages), as well as comments and aid as needed on all assignments.
BUY NOW: Writing Nonfiction for Children and Young Adults by Sue Bradford Edwards (8 weeks, starting 11/18/2019) Limit: 10 students. Early registration is recommended.
For Class Session Starting 11/18/2019
----------------
Notes: Upon successful completion of payment, your name, email address, and contact info will be submitted to your instructor. She will contact you and invite you to a private classroom blog.
Questions? Email Marcia & Angela at:
classroom[at]wow-womenonwriting[dot]com