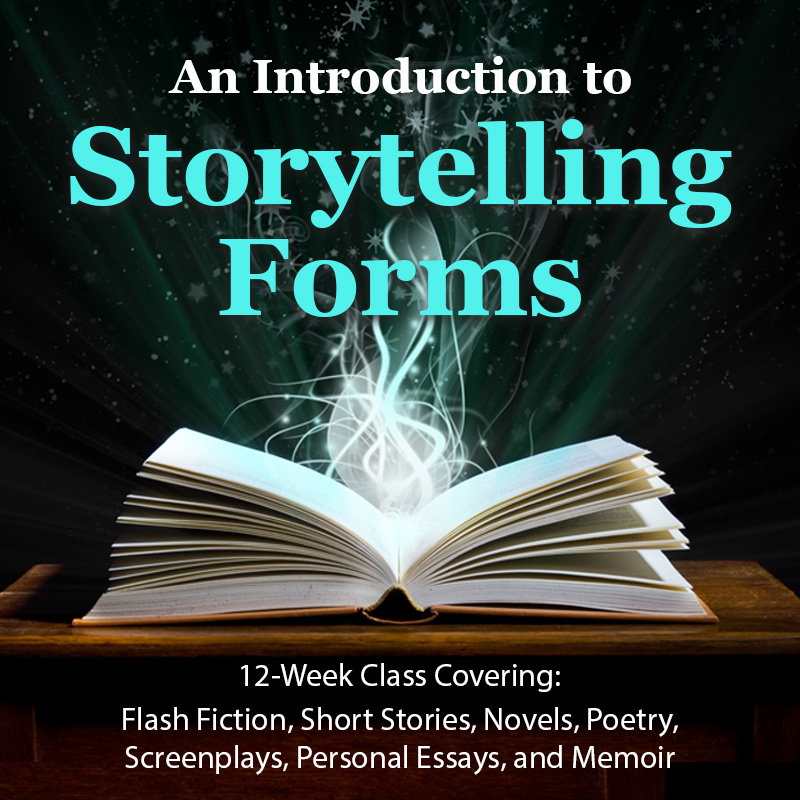 AN INTRODUCTION TO STORYTELLING FORMS: Flash Fiction, Short Stories, Novels, Poetry, Screenplays, Personal Essays, and Memoir (Including Portfolio Creation) by Madeline Dyer
START DATE:
June 6, 2023
DURATION: 12 weeks
LOCATION: Private Facebook Group, email for assignments, Google drive folder, a streaming platform for masterclasses, and 30-min Zoom call.
FEEDBACK: Instructor critique and feedback on all assignments
COURSE DESCRIPTION: This 12-week course introduces students to storytelling in all its forms, examining flash fiction, short stories, novels, poetry, screenplays, personal essays, and memoirs.
Each week includes an assignment, and across the course, students will write in each of these forms. Personalised feedback from the instructor will be provided on every assignment.
We also have a total of three weeks across the course dedicated to learning the universal elements of story and writing craft, and the final week allows students to specialise in a chosen form and further develop a piece of their writing.
At the end of this course, students will have produced a portfolio of various forms. These portfolios exemplify a variety of writing styles and structures and can be used as evidence of a writer's versatility and ability.
This course is aimed at students who are new to professional writing, as well as those who want to step out of their comfort zone and dabble in other forms.
Each student will receive a 30-minute individual zoom call in the last two weeks of the class.
Format:
Lectures and masterclasses will either be provided in text form or as prerecorded or live videos. There will be a private Facebook group for text-based discussions with other students, and email will be used for assignments. Materials will be uploaded to a Google drive folder, and a streaming platform such as StreamYard will be used for interactive masterclasses and live Q&A sessions. Each student will have a 30-min Zoom call toward the end of the course.
M. Dyer's critiquing skills are worth every single penny. She's honest, thorough, professional, and an absolute peach to work with. I will keep coming back as long as she's in business. – Frost Kay, author of Rebel's Blade

Madeline does a great job of tailoring the course to your needs and supporting your creative vision. Her kind, thoughtful and intelligent approach makes for a really wonderful class. Highly recommend! – Jade Small (WOW student)

The comprehensive coursework and Madeline's razor-sharp feedback will meet writers wherever they are and take them to the next level. – Mary Helen Sheriff, author of Boop and Eve's Road Trip (WOW student)

This is going to sound like an idle compliment but I mean it with all my heart— you're the best editor I've ever had. Like seriously everything I'm implementing is making this story so much better. Your notes have encouraged me to go deeper in so many ways. I basically want to hire you for all my future books. – Sarah Anderson, author of the Starstruck Saga and Aix Marks the Spot

I have played with writing like singing in the shower, alone and off pitch. The Narrative Structures Class helped me dry off and truly embrace technique to advance my craft. I feel like a writer now. Madeline pays attention to detail, provides a wealth of resources, and offers the perfect combination of humility and expertise. I could ask her questions without feeling embarrassed. Throughout the duration of the course I was stunned at how much I received for the cost and told Madeline more than once, we should pay you more. Madeline is truly brilliant. Gifted and a gift. I am grateful and can't wait to take another class with her. – Alicia Luna, LMFT (WOW student)

Madeline's YA course (and her three hour thriller course) are hands down the best on-line writing courses I've ever done. Madeline is an excellent tutor. The course content is rich with information, with online workshops, exercises and feedback on homework, as well as support if you have any questions. Madeline also offers detailed critique, which has been invaluable. I had an idea for a YA story and by the end of week 6, I had a full plot, chapter by chapter structure and had several scenes ready to go. One of my favourite parts was the opportunity to talk science and ask questions with an expert, as part of the research week. It's hard to imagine doing all this in six weeks after 4 years of procrastination!

I'm presently on Madeline's Narrative Structures course and I am loving it. If you're looking for a writing course, I totally recommend any of Madeline's courses. They are worth every penny. – Lottie McKnight (WOW student)
WEEKS AT A GLANCE:
Week 1: An Introduction to Storytelling
We will begin by looking at the essential ingredients of any story—plot, character, conflict and pacing—and how these apply to all story forms and genres.
Assignment: Students will complete one of the provided storytelling exercises and submit this to the instructor for personalised feedback.
Week 2: Flash Fiction
The shortest of the fiction forms! This week includes a masterclass on writing flash fiction and information on how to deliver emotional impact in economic writing forms. Step-by-step guides and exercises will help students begin to create their own flash fiction.
Assignment: Students will draft 1-2 pieces of flash fiction.
Week 3: The Short Story
Students will examine typical and atypical story structure, following a lecture on short story writing. Example short stories will be provided, along with guided exercises on writing your own short story.
Assignment: Students will draft an entire 2,500-3,000 word short story.
Week 4: The Novel 1
We will examine the novel as a form and study how it has developed and progressed in the last three hundred years. Close attention will be paid to structure and students will be encouraged to use the three-act framework.
Example outlines of novel structures will be provided for reference.
Assignment: Students will submit an outline for a novel-length story.
Week 5: The Novel 2
This week we will look at writing the opening chapter(s) of our novels. The lecture will provide pointers for hooking your reader and keeping them invested beyond the first couple of pages, and as a group we will analyse the openings to several novels, assessing effectiveness.
Assignment: Students will write the opening 1-2 chapters (up to 5k words). They may choose whether to receive overall feedback on structure and character, or a comprehensive line-edit focusing on writing craft.
Week 6: Scriptwriting
We will now step away from prose and into the world of drama! Students will be introduced to the basics of script writing and formatting and become screenwriters. Guided exercises will encourage students to write multiple scenes using different ideas and characters, any of which can be developed for the assignment.
Assignment: Students will submit 10 pages of a screenplay. This can be a self-contained play or an excerpt from a longer piece.
Week 7: The Poem
Students will be introduced to a variety of poetic forms, from the ode and elegy, to limerick and free-verse. For the structures with more complex rhyming structures, such as the villanelle, step-by-step guides will be provided.
Assignment: Students will submit three poems, using at least two different poetic forms.
Week 8: The Personal Essay
Here begins our work on creative nonfiction! The lecture will introduce students to the personal essay as a writing form, and together we will look at several examples. Exercises will guide students in thinking about ideas they may want to explore in personal essay-form, and we will begin constructing our essays.
Assignment: Students will submit a personal essay, up to 3,000 words.
Week 9: The Memoir
Sometimes, topics are too big to tackle in one personal essay, and thus the memoir steps in. We will examine memoir as a form, paying close attention to how structure and style changes in memoir, the importance of artistic license, and how to shape longer personal stories.
Assignment: Students will submit an outline for their memoir, along with an excerpt from it.
Week 10: Craft Week 1
We will now focus on writing craft and language and look at how to improve our writing. Students will learn how to decide which tense to use, why point-of-view and perspective matter, and how to avoid headhopping. Exercises will encourage the identification of headhopping and changing perspectives.
Assignment: Students will completely rewrite a scene from a different POV, in order to convey new or different information to the reader.
Week 11: Craft Week 2
This week we continue to focus on writing craft and language, looking at how we can improve our writing. We will be focusing on word choice and vocabulary, imagery, sensory language, and showing vs telling.
Assignment: Students will self-edit an earlier piece of their work, paying close attention to language.
Week 12: Specialism
In our final week, students will choose to further develop one of the pieces they've already started on this course. This could be extending the poetry part of their portfolio, writing another chapter or personal essay, or revising previous assignments with a focus on craft.
Assignment: Students will submit their revised and developed pieces, up to a total of 5,000 words, 20 pages of script or poetry, or a combination.
Materials Needed: You will need access to a computer with a webcam and microphone, an email account, an internet connection, and a word processing program. A Facebook account is also needed to participate in some of the group discussions (though these discussions are optional).
Please note: while participating actively in any live-video sessions for Q&A and some of the masterclasses is recommended, there will be an option to join these anonymously and type out questions if students do not want to appear on screen and/or speak.
ABOUT THE INSTRUCTOR: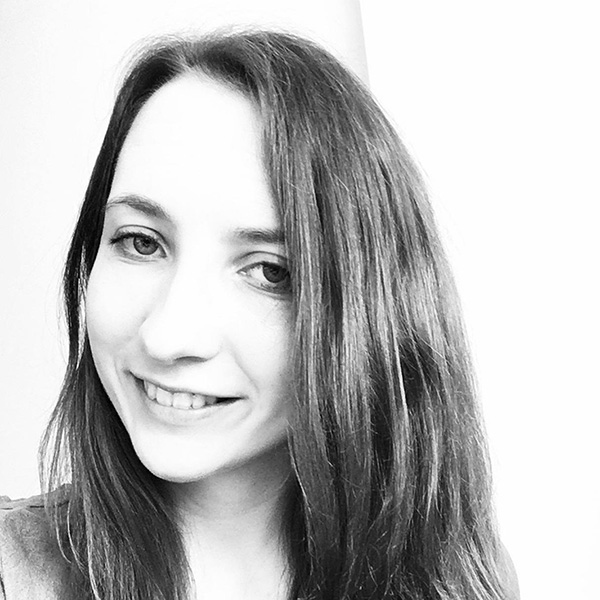 Madeline Dyer lives on a farm in the southwest of England, where she hangs out with her Shetland ponies and writes dark and twisty young adult books.
Madeline has a strong love for anything dystopian or ghostly, and she can frequently be found exploring wild places. At least one notebook is known to follow her wherever she goes. Her books include the Untamed series, the Dangerous Ones series, and Captive: A Poetry Collection on OCD, Psychosis, and Brain Inflammation.
Untamed won the 2017 SIBA award for Best Dystopian Novel and has been a #1 bestseller in its Amazon category in five countries. Madeline's second novel Fragmented was also a runner-up for Best Young Adult novel at the 2017 SIBAs. Her memoir, Captive and her ace romance novel, My Heart to Find (written as Elin Annalise) have both been nominated for 2021 Reader's Choice Awards from TCK publishing, for Best Memoir and Best Romance respectively.
She is represented by Erin Clyburn at Howland Literary. Madeline is also a staff editor at Bolide Books, a publisher based in Scotland, specializing in speculative fiction. www.MadelineDyer.co.uk
COST: $285, which includes a private group for discussions, masterclasses, weekly assignments and feedback from the instructor, and an optional Zoom call.
Bonus! After the course, many of Madeline's students go on to contract her as their editor. Students of this course can get a 20% discount on Madeline's editorial services for a piece they have started in this course. (Limit: one piece of up to 80,000 words or 90 pages of script or poetry.)
BUY NOW: An Introduction to Storytelling Forms with Madeline Dyer (12 weeks, starting 6/6/2023) Limit: 20 students. Early registration is recommended.
For Class Session Starting 6/6/2023
----------------
Notes: Upon successful completion of payment, your name, email address, and contact info will be submitted to your instructor. She will contact you and invite you to a private classroom blog.
Questions? Email Marcia & Angela at:
classroom[at]wow-womenonwriting[dot]com