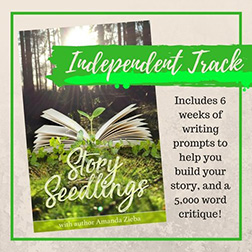 STORY SEEDLINGS
by Amanda Zieba
START DATE: This is an independent, self-paced program. Participants can start at any time. As soon as they download the curriculum they can begin and move through lessons at their own pace. Guidelines are for 6 weeks, but participants can move through the material as fast or slow as they choose.
DURATION: 6 weeks
COURSE DESCRIPTION: Story Seedlings is a digital product that includes 6 weeks of daily prompts (Monday - Thursday). These 24 prompts will help you construct your story, one scene at a time! Specific story elements that are covered include: Characterization, World Building, Conflict (internal/external) and Resolution. There are lots of tips, resources and advice built in along the way as well! Completing the prompts will also help you build an excellent daily writing habit.
As you complete the prompts you will check in with Amanda periodically. At the end of the program, writers will choose 5,000 words to send to Amanda for feedback and critique!
Fiction is a new writing format for me, and Amanda makes it a joy to learn how to do it! She demystifies the process and breaks down the emotional barriers to creativity through a spirit of fun, imagination, and collaboration. She also provides a process that helps you take small but significant steps towards building and refining a story. Amanda puts people at ease and immediately starts building a sense of discovery and community among any group of aspiring writers who are fortunate to come into her friendly and knowledgeable orbit. ~ Jodi Vandenberg-Daves, author of Modern Motherhood, An American History

I signed up for Amanda's Story Seedlings. Although showing up to write every week day for an entire month is a challenge, I wanted to do this for exactly that reason. Amanda's writing prompts are fun, varied, and cover a wide spectrum of possibilities. This was the first time that I had ever attempted to write fiction, and Amanda is very encouraging for first timers. Her prompts are structured to guide you through the awkward first steps, and as a writer, you feel so good at having accomplished the writing objective of the day. Thanks to this 30-day daily grind, I saw my protagonist in the stages of creation, and this character's physical looks, background, passions, missions, personality flaws have been born. It's very exciting to see that happen and I'm in a place now where I never would have been before. ~ Teri Holford Talpe, leader of Luna/Wwink writing group
WEEKS AT A GLANCE:
WEEK 1: Character
This week we will learn how to create clear and compelling characters and ways that we can make these characters feel real on the page.
Assignment: Turn in up to three double spaced, typed pages on the given Character Assignment Prompt.
WEEK 2: Setting
This week we will explore both the time and location aspects of the elements of setting and experiment with ways to communicate and convey these details in subtle ways within our stories.
Assignment: Turn in up to three double spaced, typed pages on the given Setting Assignment Prompt.
WEEK 3: Conflict
This week we will examine both internal and external conflict and learn why we need both in our stories to make our readers want to stick with us. We will work to list many conflict possibilities in the hope of moving past cliché story choices, resulting in unique storylines that will pleasantly surprise our readers.
Assignment: Turn in up to three double spaced, typed pages on the given Conflict Assignment Prompt.
WEEK 4: Dialogue
This week we will dig into the story element of dialogue. We will dissect real world conversations to find clarity and purpose for our character's speech. We will also cover grounding actions and ways to appropriately implement them in our work.
Assignment: Turn in up to three double spaced, typed pages on the given Dialogue Assignment Prompt.
Week 5: Resolution
This week we will tackle resolutions.
Assignment: Turn in up to three double spaced, typed pages on the given Resolution Assignment Prompt.
Week 6: The Extras
This week the instructor will offer up bonus tips, tricks, and techniques that will take your story to the next level.
Assignment: At the end of the session, participants will be invited to revise and turn in up to 5,000 words to the instructor for final feedback. These can be turned in to me up to one month after the class ends. Pages will be returned one month after the instructor receives them.
Materials needed: All materials will be provided by the instructor.
Sample prompts from Story Seedlings:
Character Obsessions
Conflict
The BFF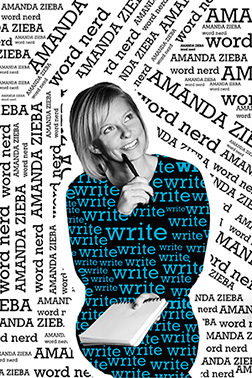 ABOUT THE INSTRUCTOR: Amanda Zieba is a self-proclaimed word nerd and has been so her whole life. In her opinion back to school supply shopping should be a national holiday because she certainly finds fresh notebooks and new pens a reason to celebrate. After a dozen years in public education, she now teaches writing part time at the college level, writes educational materials for a cultural connectivity company and most of all enjoys making up stories for the enjoyment of readers of all ages. She is the author of eleven books, with more on the way. She has visited schools and book clubs and lead writing workshops and retreats in four states across the Midwest.
COST: $125, which includes 6 weeks of daily prompts (Mon – Thurs), weekly assignments, and individual feedback from the instructor weekly. At the end of class, students are encouraged to turn in up to 5,000 words to the instructor for final feedback.
BUY NOW: STORY SEEDLINGS with Amanda Zieba (6 weeks, starts upon ordering and after materials are delivered)
----------------
Notes: Upon successful completion of payment, your name, email address, and contact info will be submitted to your instructor. Just before class begins, she will e-mail you with instructions on how to get started.
Questions? Email Marcia & Angela at:
classroom[at]wow-womenonwriting[dot]com