hen the heavily burdened whine about peace and relaxation, chances are they dream about the outdoors. To "become one with nature" is a desire that few people achieve anymore with the rat race, the job and the family responsibilities of a highly technical age. Writers seek retreats to get away from it all - to find the solitude it takes to gel words into prize stories. Why not consider a locale that surrounds you with birds, water, trees, mountains, beach, desert, or some other piece of Mother Nature? Who wouldn't want to pull a Henry David Thoreau and find one's own Walden? And while you're at it, find an opportunity that doesn't cost a cent?
Now your attention is piqued. Bet you didn't know that retreats, sometimes known as residencies, exist from coast to coast and around the world. Some offer travel, others room and board and a few even pay a stipend - just for you to write. Too good to be true? Let's take a gander at a few and then see what you think.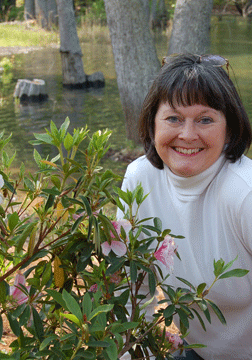 Who wouldn't want to pull a Henry David Thoreau and find one's own Walden?
Start with the government. Yes, the United States government. The National Park Service, to be more specific. Deep down, in an obscure location on their web site, you'll find Artist-in-Residence positions. Note this link, because it's not easily or logically found.
https://www.nps.gov/archive/volunteer/air.htm
Each national park has a different program with residency stays from one week to three months for artists. The parks welcoming writers are listed below. You may be asked to contribute a creation for their archive or for public enjoyment. You might speak to tourists or teach a brief class. Quite a small price to pay for a free stay in their breathtakingly beautiful settings.
- Acadia National Park, Bar Harbor, Maine -
See the highest mountain on the Atlantic Coast. Hike granite peaks, bike along historic roads or just enjoy the forests.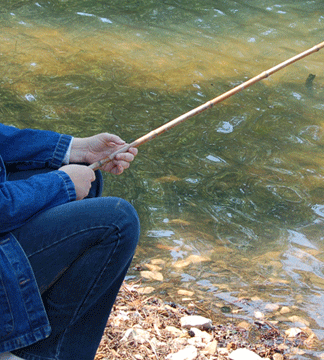 Experience the Rio Grande along the Mexican border, especially the fishing, boating and prehistoric rock art.
- Amistad National Recreation Area, Del Rio, Texas -
Experience the Rio Grande along the Mexican border, especially the fishing, boating and prehistoric rock art.
- Badlands National Park, South Dakota -
Tons of fossils have been found in the buttes, spires and hills that also serve as home to bighorn sheep, endangered black-footed ferrets and fox. Surely a western comes to mind.
- Buffalo National River, Harrison, Arkansas -
The Buffalo River winds through limestone bluffs into the Arkansas Ozarks. Canoeing is very popular. Autumn is gorgeous.
- Cape Cod National Seashore, Wellfleet, Massachusetts
Thoreau spoke of this beach. Stroll past lighthouses, marshes, saltwater landscapes and cranberry bogs.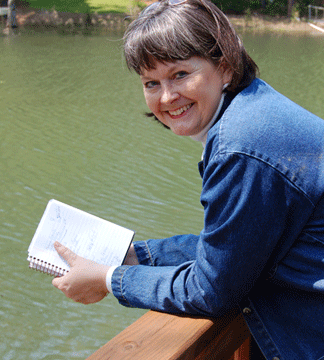 -Cuyahoga Valley National Park, Brecksville, Ohio -
Enjoy the out of doors along the Cuyahoga, the "Crooked River", only minutes from Cleveland.
-Devils Tower National Monument, Devils Tower, Wyoming -
The first declared national monument in the United States. Over 1,300 acres of pine forest for your writing leisure.
-Everglades National Park, Homestead, Florida -
Subtropical and chocked full of wildlife you won't find elsewhere, like the American crocodile, the Florida panther and the West Indian manatee.
- Glacier National Park, West Glacier, Montana -
Roberts and her book Montana Sky come to mind. Huge mountains, alpine meadows, lakes, lodges, and all the solitude you could want.
- Golden Gate National Recreation Area, San Francisco, California -
Culture galore. Surround yourself with the history of Native Americans, the early Spanish, Mexican heritage, and who can forget the great California Gold Rush, not to mention nearby San Francisco.
- Grand Canyon National Park, North Rim, Arizona -
Truly, the canyon carved over centuries by the Colorado River can only be experienced to be appreciated.unless you want to try your hand at penning a description for the readers of your next novel.
- Herbert Hoover National Historic Site, West Branch, Iowa -
Herbert Hoover's birthplace, library, gravesite and acres of grassy prairie.
- Indiana Dunes National Lakeshore, Porter, Indiana -
Beautiful, lazy setting of freshwater beaches, birds, butterflies and dunes.
- Isle Royale National Park, Houghton, Michigan -
An island getaway caused by a glacier and reached only by plane or boat. Talk about seclusion. Hike, canoe, explore, even check out the shipwrecks.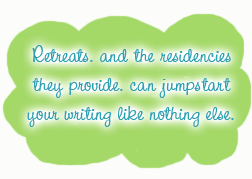 -Joshua Tree National Park, Twentynine Palms, California -
The romance of the desert and the thrill of the wildlife and vegetation one cannot appreciate without some serious quiet time amidst it all.
- North Cascades National Park, Sedro-Woolley, Washington -
Deep rich lakes, hundreds of glaciers and waterfalls galore.
- Rocky Mountain National Park, Estes Park, Colorado -
All the majesty of the Rocky Mountains to ease away your stress. This is how real camping is done.
- Sleeping Bear Dunes National Lakeshore, Empire, Michigan -
Located on Michigan's lower peninsula, the coastline of Lake Michigan offers water relaxation, dunes and the lull of seagulls.
- Voyageurs National Park, International Falls, Minnesota -
French Canadians trapped along these lakes. Lots of water sport activity and fabulous views. It's cool up there, though.
None of those suit you? Picky, aren't we? Then let's wander through some of the nonprofit retreats that incorporate natural settings into their writing residencies.
-Fishtrap
is a nonprofit writing retreat in rural northeast Oregon. You stay in a modern log cabin with other writers about 12 miles from the little town of Imnaha. Rustic yet within a walk of the local tavern / restaurant.
https://www.fishtrap.org/imnaha.shtml


-The Espy Foundation
has residencies at Oysterville, Washington, a quaint, historic setting on the southwest coast of Washington State. This one actually pays a small stipend during your stay. You may be asked to conduct a workshop.
https://www.espyfoundation.org/residents/index.html


-Colorado Arts Ranch
in Salida, Colorado offers one month residencies in a very small town in the Rockies. Participate in a symposium and teach new talent, then spend the rest of the time enjoying the scenery and penning those words.
https://www.coloradoartranch.org/residences.htm


-New York Mills Arts Retreat,
Minnesota houses writers in a bungalow on the edge of a 1,200 population farming community. It is noted for being a "culturally cool" town. The cultural center that you'd assist during your residency, serves as a focal point for the rural area.
https://www.kulcher.org/index.html


-The Mesa Refuge
overlooks Tomales Bay and a dairy ranch outside Oakland, California. The pastoral setting is conducive to beach walking, cycling, kayaking and whatever you can imagine around hummingbirds, daisies and cows.
https://www.commoncounsel.org/pages/mesa.html


-Andrews Forest Writers' Residencies
take place in the H. J. Andrews Experimental Forest in Oregon. This majestic forest serves as a catalyst for many writers during one-week residencies. They prefer writers interested in the natural world.
https://springcreek.oregonstate.edu/residencies.html


-The Platte Clove Residency
occurs in the New York Catskill Mountains. Stay in a cabin in the middle of a 200-acre forest full of ancient trees, waterfalls and hiking trails. It's relaxing just imagining the night sounds.
https://springcreek.oregonstate.edu/residencies.html


-The Ucross Foundation
residency in Clearmont, Wyoming is in the middle of nowhere. A real ranch with a bunkhouse in the middle of 100-year-old cottonwood trees.
https://www.ucrossfoundation.org/index1.html
Fill out the application as if you were selling an agent on a story you've ripped your heart out to write.
As you can imagine, residencies are limited. Cabins are only so big, and in some secluded areas, the weather limits the stay. Add physical limitations to the competition, and you have to make sure you present your best side when applying. Some retreats accept based on need, but most rank residents upon the proposed work they hope to accomplish. Fill out the application as if you were selling an agent on a story you've ripped your heart out to write. Transfer the passion, even if you're only filling out the blanks of a PDF form. The retreat wants to be a part of your creativity. Invite them into your dream with your proposal.
Most of us step out in the yard or visit the city park to see trees and birds. Imagine opening the door to see elk, hear waves or smell wood smoke. Consider stepping outside and only seeing nature.as far as you can see. Write all day and rehash the edits under a starry desert sky. Outline a short story under the watchful eye of a whitetail deer. Canoe out into the middle of a glacial lake and write your memoirs.
If you aren't drooling for the taste of a rural retreat by now, you're senses are dead. Nature not only heals but it nurtures. Why do we send flowers? Why does waterfront property sell for an arm and a leg? Why do we leave the city to vacation in a tent and sleeping bag?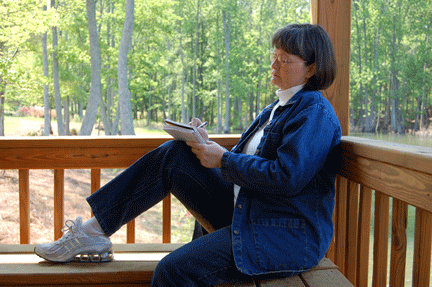 Rural retreats are strong medicine. Contact your state arts commission and inquire about retreats in your state. They don't yell about their existence. You have to research where they quietly reside.
-------------
BIO:
C. Hope Clark provides retreats and residency information each week in her FundsforWriters newsletters. Her web site is a Writer's Digest award winner - six years in a row. www.fundsforwriters.com