onie Nelson is a warm, sincere and gracious woman whose certainty about the film business shines. She has 20 years of experience in the entertainment industry, where she held executive positions with feature film, television, and cable companies. Her career highlights include six years as story editor with the MGM Film Company, five years as a creative executive with several independent film and television production companies based at Paramount Pictures, Twentieth-Century Fox, and MGM-Television.


She offers career and marketing consulting to writers and producers, both novices and established. "In an increasingly competitive industry writers need a mentor or access to an insider expert to interpret how the information they've obtained from seminars, workshops, books or newsletters apply specifically to their own unique talents and goals."


I caught up with Donie at a seminar for screenwriters where she offered invaluable advice on how to market my screenplay, BITE THE HAND. We got into a discussion about writing and setting goals as a writer, and Donie agreed to a one-on-one interview.
KENNA: Why did you decide to become a consultant?
DONIE: I never imagined I would ever work in the movie business. That seemed too remote a possibility. I aspired to be a journalism teacher or a social worker, but then while in college I got a job at MGM and I was in the biz. Later after years of working for production companies and MGM, I was in between jobs and Linda Seger suggested what I knew about the business work might be helpful to screenwriters.
KENNA: Linda Seger was right.
DONIE: That's an important lesson, pay attention to what other people see in you. You may be too "close" and not recognize a talent or opportunity. Linda was literally "the godmother" of my career as a consultant. She not only encouraged me, but she sent me my first clients (and continues to make referrals. I've discovered that helping writers achieve their dreams is the best "job" I've ever had. I love my work.

KENNA: It shows! While you love helping writers, I happen to know that you're not a big fan of writers' critique groups.
DONIE: Don't get me wrong, I love writers' groups. However, because of the feedback I've had from my screenwriter clients I've learned that some writers' groups may create more problems for individual writers than solutions. This is especially true if the primary goal of the group is to read and critique each other's scripts. For instance, my idea of creative hell would be to have someone less experienced and less talented telling me what is wrong with my script. Even experienced development executives can give poor or misleading notes--imagine if you are getting notes from someone who knows less than you do? And what if you are relatively new and inexperienced? You might follow their advice! What happens to your script? It becomes a script "by committee" instead of a script with your unique vision. Another problem is the more experienced and talented writers often become the de facto script doctor of the group. Everyone is dependent on direction from one person. Who can that person learn from? Eventually the best writer drops out so he can be challenged elsewhere.
KENNA: Excellent points, though not all writers' groups are critiquing committees.
DONIE: True. I think that most writers' groups do well when they help their members network, provide speakers with an area of expertise, and offer information and resources about how the industry works, which might include a lending library of scripts, books and so on. But if you are a writer who chooses to get feedback on your script from members of a writers group, I recommend that you only submit a script that is in very good shape. Not a work in progress and not an early draft when the most damage can be done with well-meaning comments.

KENNA: That's sound advice. So after a writer perfects her script, how can she get the most out of attending a Hollywood conference?
DONIE: You should really know yourself before attending. You should routinely assess yourself to know what is the information missing from your "portfolio" in the areas of craftsmanship and knowledge of the industry. Then analyze what each conference is offering to determine if you are going to learn something new that you need to know, or are you going to just review information you already know. Be sure you are going to get something out of at least 50% of the conference before making the commitment of time and money. And talk to other writers to find out what they think of the conference. Sometimes the conferences with the "biggest names" offer the least in the form of real information.
KENNA: You mentioned talking with other writers; how important do you believe networking is to a screenwriter's career?
DONIE: I think networking is invaluable. Networking should not be viewed as an esoteric skill or insincere task separate from your writing. Good networking requires a person who genuinely likes people, is curious about their lives and interests (you know, the skills good writers already have). You should be able to initiate conversation, ask questions, and make friends with those you share a common interest. The entertainment industry is so collaborative that a writer without the confidence and respect of others will have difficulty establishing and sustaining a viable career.

KENNA: In that case, what groups would you recommend a screenwriter to join in order to network?
DONIE: In general I believe a screenwriter should track down and research every writers group they hear about. Then determine what it is they need and where is the best place they can get it. Remember, being good at networking doesn't mean being a "vacuum cleaner." You know the type: they join a group, suck up all the information, zone in on those they think important enough to meet, and then leave without ever giving anything back! You should always give something back...especially when you aren't expecting anything in return. None of us get anywhere alone. We need each other.
KENNA: Besides being a "vacuum cleaner," what is the primary mistake beginning screenwriters make?
DONIE: Not asking for advice. No one knows everything, but if you get advice from people who are "on your team" you are ahead of the game and better prepared. Too often creative people do not view the pursuit of their goal as a career change, and they fail to do the necessary background research to discover how the business works and where they fit in. Instead they rely too much on the possibility that their talent will be recognized and that somehow others will make it happen for them. Establishing yourself in the entertainment industry is as difficult as having a career in politics, medicine, or law. So find out what you are getting into, so that you are ready when opportunities present themselves.
KENNA: If you were a fledging screenwriter and had two completed screenplays, what would you do?
DONIE: Never go into the market unless you are absolutely sure that your "product" or screenplay is ready to compete. It takes just as much energy to open Hollywood 's doors for a poorly written script as for a terrific script.

KENNA: Do you feel that anyone can write a great script and sell it if he/she has a complete commitment to do so—bar none?
DONIE: No. It takes talent, craft, and knowledge of the industry to get a script to the screen. Not all great scripts get produced. A lot of mediocre ones do. You can't teach "talent". It is either there or not. I can't carry a tune. I could probably take singing lessons and learn the "craft" of singing, but probably no one will ever pay me to sing.
KENNA: Great analogy. But let's say that an established writer makes a living at her writing but hasn't grabbed the brass ring yet. What would you suggest she do to break in as a screenwriter?
DONIE: Get a professional evaluation of her work. Learn as much about how the industry works. Create a strategy. Break it down into components and set some goals. Then work at her marketing strategy, and continue to write more screenplays. Keep getting better at her craft and attract fans for her work. Among her fans she should find agents and producers, who can then recommend her to other agents and producers. If she has talent, perseverance, and a plan, she has a good chance of reaching her goal.

KENNA: Donie, I admire you for reaching your goals and for helping others reach theirs. As a consultant, do you have a favorite experience you can share with our readers?
DONIE: My favorite experiences as a consultant are when a client calls to tell me that their talent has been recognized, whether it is in a screenwriting contest, or they are signing with an agent or the script has sold or been optioned. It is especially gratifying when the client indicates that I played some small part in their success. Life is the journey, and I try to enjoy each step of the road. Writers are unique, fascinating and I am endlessly curious about their writing. And, with many of my clients I have a strong sense that our relationship is more than consultant/client, that it has evolved into true friendship and that they know I care about them and they can count on me.
KENNA: That is a great comfort for any writer. Thank you Donie for sharing your wisdom and success with WOW ! readers. I know you've inspired me to network, seek advice from others, and never give up.
If you are interested in contacting Donie Nelson, or hiring her as a consultant, e-mail her at: Wrtrconsult@earthlink.net
---------------------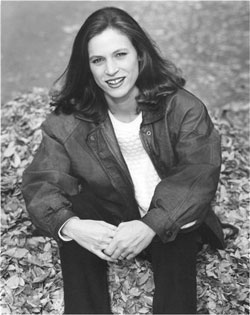 About the Writer:
Kenna McHugh is an established freelance writer living in California. Her writing credits include the published book, BREAKING INTO FILM, three screenplays, seven produced plays and numerous articles on indoor plant care, government technology, health and fitness and alternative medicine.
Her play, SHE'LL GET HERS, was read at University of Texas at San Antonio where it received much praise and admiration. SHE'LL GET HERS was performed in Philadelphia, Sacramento and other cities.
"I love the challenge of writing because the end does satisfy the means. The writer is a valuable being. If the words aren't there the message isn't received. It is as simple as that. Give me a circumstance, a theme and away I go at my keyboard."
That is just what Kenna McHugh is doing. She is writing daily and can be reached by email.
"I love deadlines and working as a team player."—Kenna McHugh
Visit Kenna's website: home.earthlink.net/~kennamc/