ate White may not sport an S on her favorite blue shirt or wear a red cape. She may not leap tall buildings in a single bound either.
But this modern-day Superwoman who juggles the world's most famous magazine brand discovered a way to avoid kryptonite early in her career, and that magic formula has allowed her to diversify. While White oversees duties at Cosmopolitan as its editor-in-chief, she finds balance as a critically acclaimed author of both nonfiction and fiction.
Her latest saga in the Bailey Weggins series, So Pretty It Hurts, was released this month. This fall, Sweet Success, a nonfiction follow-up to Why Good Girls Don't Get Ahead . . . But Gutsy Girls Do: Nine Secrets Every Career Woman Must Know will be out.
Kate shares her views on Cosmopolitan magazine, discusses her writing routine, and shares her vision of what women really want.
"When you go beyond, push the envelope; that's when you get noticed."
WOW: Kate, welcome to WOW! Thank you for sharing your views on writing and life at Cosmopolitan with our readership. After perusing sections of two of your nonfiction works, You on Top: Smart, Sexy Skills Every Woman Needs to set the World on Fire and 9 Secrets of Women Who Get Everything They Want, I'm wondering, what do women really ?
Kate: It depends on the woman. Today, most women, from studies I've seen, want a combination of fulfilling personal and work lives at the same time and are hoping for ways to manage those areas without crazy time. Through the years, women who have responsibilities with reasonable hours make that balancing act so much more doable. Currently, we live in a culture where people show off by how late they work. My managing editor called together the moms who work at Cosmopolitan for a meeting and said don't stay late because others stay late. A lot of women work in fields where there are show-offs. If you have kids, it's so important to spend time with them.
WOW: I agree! I formerly worked as a teacher, and it seemed like if I would stay late to grade papers or coach my assigned activities, I'd be ahead in the long run. Luckily, my kids were at school with me, but it wasn't an ideal situation. I'm sure a lot of women struggle to find balance in their lives. Many of us grew up with a vision of Superwoman—the mom with an amazing career—as a model. I'm wondering, how do you find balance in all of your roles—editor, writer, wife, and mother?
Kate: Even when I was single and didn't have kids, I always felt my personal life was really important. I didn't feel I had to be the last one to leave at night. In one way, that attitude let me focus on things that gave me the most pleasure and to make sure they happened in part because I had identified them. For example, adventure travel was huge for me. Whether I was tagging penguins or on an archeological dig in South America, I looked forward, and it gave me something to look forward to. It's important in life and work to step back and assess. "Where am I now? Am I feeling happy?" Do I look up one day and say, "Where did the time go?" A good exercise is to sit with a notebook and ask yourself these questions: "What do I want to do with my life? Am I building enough time for pleasure and family as I want to?" If you don't step back, you don't realize just how crazy life has gotten.
WOW: Wonderful questions worth asking. It's important to set goals and reevaluate where you're headed. Once women have established objectives, what steps can they take to reach those goals? Is it best to take baby steps or hit their stride and go for it?
Kate: I think it depends on the goal. If you're first starting out at work, be cautious and get a lay of the land. Soon, it becomes clear which individuals don't just do what they're told. For instance, if a boss told me to take a look and see if there's a pattern emerging, why not just include a note to her that says here's the pattern, and here's what else I see, blah, blah blah...? When you go beyond, push the envelope; that's when you get noticed. When you're in a position that's higher up, you go about it in a different way. Ask yourself, "What's tolerable here?" Make sure you're not doing something that will bite you in the butt; but sometimes, it's okay to break the rules. Go big or go home. It's the way you make goals happen.
WOW: I've found success by taking chances, and it's paid off. You took a chance early in your career, and it set your career path in motion. Let's talk about your early work in the magazine industry and how it prepared you to be the head of Cosmo.
Kate: I won the Top Ten College Women contest and appeared on the cover of Glamour magazine. My first job at Glamour let me get my feet wet. I discovered the business of working—how doing more than told gets you noticed. One thing that I think was pivotal, Glamour only did reporting pieces; but I wrote a piece that was not assigned—about being single—handed it in, and the editor loved it. They had never really done essays like that. It helped me see that's one way to get ahead. Every magazine is like a step up, and it helps you. The next step, I became a senior editor. Then I was the executive editor at Mademoiselle. My first editor-in-chief job was at Child magazine with a circulation of ninety thousand. Next, I moved to Redbook, which had a circulation of eight hundred thousand. Over one million subscribers receive Cosmopolitan. It's been great. It doesn't always work out this way, but each job should build skills you can put to use. It increases your learning curve.
"Sometimes a character just starts taking form. In this case, it started with a name."
WOW: The learning curve continues to grow daily, doesn't it? I'm wondering what a typical day for you is like at the magazine?
Kate: There really isn't a typical day. There used to be when it was just the magazine, when I'd cover everything from time in the art department looking at photographs, layouts, and fashion; narrowing it down; and then maybe talk to the entertainment director on the West Coast. We'd brainstorm who we were pitching. Late in the day or at night, I'd edit copy. Now with so many expansions, nothing is typical. Like today, I blogged, just met someone from Lion's Gate about a TV project, and I might listen to a new talent for Cosmo radio. And it's all changed because of the brand.
WOW: The magazine industry seems to be in constant motion, always evolving into something bigger and improved. I'm curious, what do you see as your biggest success since you've been at the helm of Cosmopolitan?
Kate: Taking a brand that was a power brand in the 1960s and making it thrive in a different century.
WOW: You've done an excellent job of promoting the magazine! Still, you must have encountered a few obstacles through the years. What challenges do you face as an editor?
Kate: One of the biggest is keeping people motivated since the workplace is changing. Yes, keeping people motivated and excited, along with juggling everything you have to do. It's trickier to focus on content and keep thinking about the future. If you get caught up in day-to-day matters, you're not thinking about what the magazine should be two years from now.
WOW: Forward-focus thinking is necessary in maintaining success. Speaking of success, you have two books coming out in 2012. This month, the sixth installment in the Bailey Weggins series, So Pretty It Hurts, was released. How did Bailey evolve from imagination to page?
Kate: Oh, that's hard to answer. Sometimes a character just starts taking form. In this case, it started with a name. I heard it once and thought Bailey was an interesting name for a woman. I knew I wanted to write about an amateur sleuth, but Bailey wasn't going to be a girly girl. She's sportier. Irreverent. Eventually, you layer and think what else could be going on. Does she have a troubled past? Things like that. Being a detective, did she miss one who would haunt her? When you're developing characters and plots, it's a little like plastering a wall.
"It feels so good that I didn't have to give up the dream of being a mystery writer, even if it meant burning the candle at both ends."
WOW: Lots of layers that can be difficult to break through. You've also written a number of nonfiction books geared toward career women. Sweet Success is scheduled to be released this fall. If a novice (or seasoned) writer asked for advice, what recommendations would you make?
Kate: One thing I recommend is to think about the writer's cocktail. For a long time in my twenties, I tried to write fiction and would sometimes go to a lecture or hear a writer speak at the local Barnes & Noble or another bookstore. I remember hearing a writer say that a sign of being a writer is to write. I was really worried. I wanted to be a writer, but I wasn't writing much. Eventually, you figure out the different elements of the cocktail that make it work for you. One discovery I made is that I write much better in the morning, which is surprising since I'm a night owl; yet, I write better at 7:00 a.m. Finding that out really helped. Another discovery that writers may find useful is to find a certain type of work space and surface. It worked for me. Beyond the cocktail, try time management tricks. Don't bite off more than you can. I started writing only fifteen minutes a day. It made a difference.
WOW: Solid writing advice. I started with a timer set to fifteen minutes. Now I can write for hours. It takes time and practice. Kate, since you've worked with various magazines as well as book publishing, which wins? Or have you had an opportunity to experience the best of both worlds?
Kate: Probably best of both words, I would say, as much as I have managed to juggle it. People have asked, "How do you do both?" which leads me to understand that a lot of women have that back pocket dream. How did they make it happen? Today, with how crazy my job has become, book writing is a little more difficult. I used to have more free time on weekends; now I'm attending events for Cosmopolitan. But I write when I have the best of both worlds. It feels so good that I didn't have to give up the dream of being a mystery writer, even if it meant burning the candle at both ends.
WOW: Never give up on a dream. There's always a way to make dreams become reality. You've been a role model to so many people, whether your employees or your faithful readership. When you received the Woodhull Award for ethical leadership, what significance did that honor hold for you?
Kate: One thing I've tried to do is be a good boss and be aware of situations. Nurture people who work for you, be fair, understand the needs of working moms. It was an honor to be recognized.
WOW: Congratulations. Your dedication to those who work with you shines through. What do you see as your legacy, either to the magazine industry or publishing world?
Kate: I never think that way. My company would say I came to a power brand and made it stronger; and to me, that's a good thing. It really makes you happy when you have a big brand in your care and that you've done the right thing.
WOW: Kate, you've continued to build a megabrand with Cosmopolitan, and your fiction and nonfiction works have delighted readers. While you may not wear a Superwoman costume or consider yourself a superhero, you are a superb woman who understands what women want and need. Thank you, Kate, for your insights on writing.
Find out more about Kate by visiting www.katewhite.com.
***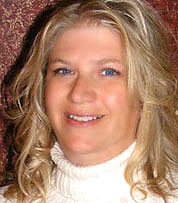 LuAnn Schindler is a full-time freelance journalist living on the eastern slope of the Nebraska Sandhills on a dairy farm with 200+ Holsteins. She currently blogs for The Muffin, the WOW! Women On Writing daily blog. Her work has appeared in the Pregnancy, 2: The Couples Magazine, Denver Post, Rural Electric Nebraskan, Absolute Write, in addition to other publications. LuAnn is a member of the International Food, Wine, and Travel Writers Association. She won a 2010 Nebraska Press Award for feature writing. Visit her website at www.luannschindler.com.