s a writer, you are not alone in your struggle with the business side of marketing a freelance business or promoting yourself as an author. Whether you are just starting out as a writer or one that has not yet achieved the financial status to hire a marketing professional, it is imperative to learn how to get a marketing plan in shape and how to sustain its health for the long haul. As you go through the process of creating a marketing plan for your business, keep in mind that marketing is not a one time activity, but rather an ongoing process similar to maintaining a fitness routine. The goal of marketing your freelance writing services or your next book debut is the same—to get the attention of your potential customers or audience. After all, you may be the best writer the world has yet to read; but if nobody knows your business or work exists, then it may all be for naught.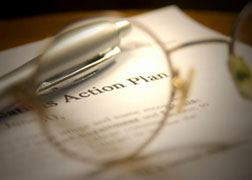 "Harvard study shows that you are 80 percent more likely to achieve your goals if you write them down."
Marketing Plan Best Practices
As you may dread getting up early and heading off to the gym at 5 a.m. each morning, when you hear the term "marketing plan," you tend to think of this long and complicated document that ends up in your top desk drawer or on your desk collecting dust. A marketing plan does not have to be this if you put some muscle into it and turn it into a working document that you understand and can implement.
Write it down. This may sound like a basic step to creating a marketing plan, but a Harvard study shows that you are 80 percent more likely to achieve your goals if you write them down. Need I say more?
Take a look back and a look forward. You may have been marketing your business for years and continue to do the same things without really taking the time to determine how well your efforts are working out for you. Take a look at what you have been doing to market your business and measure the results of each effort. Grade yourself hard on each effort because it counts in the long run. Decide if there are ways you can mimic the positive results your marketing efforts have brought or if there are some minor (or even major) tweaks you can make to produce better results.
Take a look around. Use your existing connections with writers and even other small business owners to find out what they are doing to market their businesses that's working for them. Obviously, you don't want to copy anything that someone else is doing, but you can certainly create a version that fits your business. If you don't have a writers' group or community of business owners to turn to, then start following the big dogs on social media outlets such as Twitter, LinkedIn, and Facebook. Become their fans, become an active member in their online groups, and really get to know their businesses. See how they share information on these networks, the type of information they share, and when they share it.
Work Out the Plan
Whether you're writing your first marketing plan or you are updating your existing plan, start with only the outline of the information your plan should contain. This is a down and dirty outline that really only covers the information you need. You see, there are formal marketing plan templates that you can use to create your marketing plan; but since you are the one that has to implement the plan, you're better off constructing a plan you understand and can use than one that follows a template.
The marketing plan information you really need includes:
Description of your ideal client or audience member
Marketing objectives
Online marketing strategies
Offline marketing strategies
Calendar/checklist
The bottom line is you have to know whom you are trying to attract, what you want to accomplish with your marketing efforts, and how you're going to reach your audience online and offline, so you can achieve your marketing objectives. Round out your plan with the steps you must take for it all to happen. According to Carol White, the marketing maven from Carol White Marketing, authors and writers need to have a written marketing plan. Remember, the Harvard study seconds Carol's advice.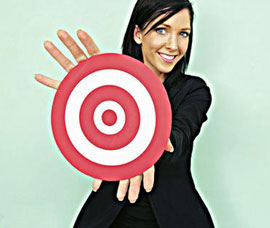 "If you don't know whom you are trying to attract with your writing business or book, then you're also not going to know where to find them to market to them in the first place."
Adding the Muscle with the Details
Once your outline is down on paper with some room in between for the details, it's time to go back through the outline and add in the muscle. Just as you work out one body part at a time, take on one section of the marketing plan at a time.
Ideal client description. Write out in paragraph form a description of your ideal clients or the type of groups you are trying to attract. Get inside the heads of these people because you want to know what they are thinking, what they do for a living, what they do in their spare time, and what they avoid doing at all costs. If you don't know whom you are trying to attract with your writing business or book, then you're also not going to know where to find them to market to them in the first place. While this first step may seem like one you can skip, take the time to really get to know your clients, even if you think you already know them. It is amazing what information you may be able to uncover that opens up a whole new world of business for you.
Marketing objectives. Your objectives for marketing are what you plan to accomplish by carrying out the marketing strategies. When setting your marketing objectives, get specific and include measurable goals and include a deadline. For example, if the marketing objective is to build an online automatic lead collection system to grow your subscriber list, then state the objective: "To build an online automatic lead collection system to grow my subscriber list to three thousand subscribers in six months." When you include specific and measurable objectives with a deadline, you can measure your progress of meeting your objective. Another marketing objective may relate to your sales goals for the month, so it may read as: "To create specific, targeted programs and campaigns that leverage service offerings to generate qualified referrals and convert the leads into revenue—generating at least $5,000 per month."
Overall marketing strategies. While specific marketing strategies may vary slightly by the business, there are three overall marketing strategies that all businesses share. These are (1) to gather the leads and followers needed to continue to grow the subscriber list or audience, (2) nurture the leads or followers by consistently getting in front of them, in various ways, with information about you and your business, (3) nurture and convert the leads into clients and generate revenue by introducing them to products and/or services. Keep these overall strategies in mind as you work through setting marketing strategies for the individual objectives you have established in your own marketing plan.
Online marketing strategies. For each objective you set for your marketing plan, you have to describe the specific marketing strategies you intend to use to meet and exceed the objectives. Start with the online marketing efforts that can get you to meet your marketing objective. For example, to grow your subscriber list, think of all of the online methods you can use to accomplish this. It may include focused online networking—finding groups online that are full of the audience you are trying to reach and becoming an active member of the online community. To get specific, you may list a strategy such as: "Visit the online forum for groups X, Y, and Z. Post a question or leave a comment for at least five threads per day."
Another way to grow your subscriber list may be to add your free offer and subscription information to all of your social media profiles, so it is easy for the audience following you on these sites to opt in to your list. Another strategy could be to post to your blog at least two to three times per week, so the fresh content on a constant basis keeps your visitors coming back for more.
According to Philippa Gams—web and social media strategy consultant, speaker, and author—writers have to "proactively leverage everything they do." Philippa suggests that writers integrate their blogs into the overall marketing strategy and leverage the traffic that the blog brings (which can often be higher than the main website since it is by default content and keyword rich). This means clear navigational links to the home page and in-text links within the posts to allow visitors to find out more about you as the writer, how to contact you, and what services, books, and other items you offer. Without these elements, almost all visitors leave immediately after reading the post. They may never know that you are the writer they need.
Offline marketing strategies. Similar to how you set online marketing strategies, you want to set the same strategies for your offline marketing efforts. You may use a public relations campaign to increase awareness of your book that is being published or a special teleseminar class you're holding on how to write a fiction novel. In this case, you may set a strategy to send out a monthly press release. To get started with your public relations campaign, you need to (1) compile your media contact list, (2) stay abreast of editorial calendars for these publications, (3) register to receive media leads from sources such as Help a Reporter Out, (4) prepare a media pitch, and (5) pitch to the media on your list and follow up monthly.
Carol White speaks highly of the power of publicity. Money Magazine interviewed Carol on a topic that was unrelated to her book; but to capitalize on her interview, she had her webmaster add the name of the magazine, the name of the book, and the name of the article to the keywords for her website. She also put a picture of the cover of the magazine on the home page, so people would know they had reached the right website. Book sales for the month doubled. Carol says what you should take away from this story is that all publicity is good; you should never pass up an opportunity for a mention. Get creative on how you land your publicity or use it; and always look for a way to obtain a mention of your book, article, or business.
Lesley Morrissey from LESLEYWRITER says she started Inside News in January 2000 and had big contracts for internal newsletters from Ford Motor Company in three locations. In 2003, the company decided to tighten its belt and stopped producing these, so she lost about 90 percent of her income! After a stint in the corporate world, Lesley decided to get Inside News out of cold storage in 2005. Lesley used networking to help; and as a member of Ecademy, she went to work on getting to know people online, which proved very successful and established a flow of business from all around the UK, Australia, Europe, and the U.S. Lesley also joined a breakfast networking group and noticed that without networking, her business dropped off.
Lesley uses online marketing to raise the business profile and generate interest. Sites, such as Hootsuite, Ping, and Onlywire, put her blog on the radar screen of over forty social networking, social bookmarking, and microblogging sites (such as Twitter). Lesley also spends some time using Facebook, Ecademy, and LinkedIn to generate interest.
Author Lisa Spahr learned to treat her book as a business venture and not simply a piece of work. Two marketing efforts that have yielded significant results include press releases and e-mails to local media outlets for print articles and television features. The second one is direct mailing to her target market. A great response for a direct mail piece is 2 percent (meaning 2 percent of your targeted audience responds to your piece); but Lisa's direct mail response rate is 18 percent, which generated several thousand dollars in business.
Author, speaker, and business consultant Lauri Flaquer follows two primary rules when marketing her articles or books. First, she aggressively builds her contact database. She says, "The more people I have in my 'herd,' the more visible I and my article or book becomes." Second, she works tirelessly to be recognized as an expert in her field by becoming a resource of information and references regarding the same topic she is writing about. She freely shares what she knows, and this drives her target audience directly to her. (This is public relations at work here, people!)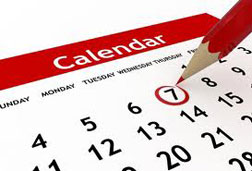 "...transfer the steps that you have to take (the online and offline marketing strategies) and turn each one into an action item on your checklist or calendar."
Calendar or checklist. After you write out your plan, then it is time to organize the information into a checklist or calendar, so you can go about implementing the plan. Use the method that works best for you, but essentially you want to transfer the steps that you have to take (the online and offline marketing strategies) and turn each one into an action item on your checklist or calendar. This organizes the plan into action steps you can then use as a guide to work on the implementation of the marketing plan.
Literary agent Diane S. Nine, Esq., warns her authors not to put all of their marketing eggs into one basket. Diane says that in many ways marketing is harder than getting a book published! The three categories all authors should look into include traditional media, in-person book signings, and all things Internet. Diane urges authors to have a website, social media sites, and organized blog campaigns. Publishers' studies have shown that the effectiveness of each area is in the order listed.
The One Penny Millionaire Tom Wright says the most critical aspect of any marketing plan for freelance writers is to do something to further your career right now and every day. While writing is what you love to do, the writing alone is not enough to market your business. Tom says to commit to conducting at least one marketing activity a day, and "you will further your career light years." For example, Tom responds to queries for areas of his expertise every single time he sees one that applies. For Tom, it's produced great results for publicity and marketing. Tom says, "Remember, all your great work won't matter a bit if no one ever sees it!"
Implementing the Plan
After you put all of your hard work into creating a marketing plan, do not make the mistake of putting it in a drawer or in a bin on your desk and never looking at it again. At least pull out the marketing checklist or calendar that you have created as your guide. For daily tasks, make sure you go through the guide and complete each step. Do the same for weekly, monthly, quarterly, and annual tasks. As you complete the item for the day, week, or whatever the frequency is, check it off your list or somehow mark it, so you know it is done.
While the planning phase of creating the marketing plan is the key to getting your marketing in motion, implementing it is paramount. If you just let the plan sit and collect dust, then you've simply wasted your time, and you are certainly not going to see the results that constant and consistent marketing brings.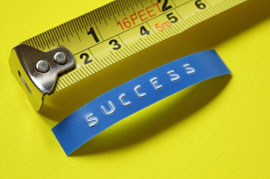 "Tracking marketing responses allows you to evaluate which of your strategies was a hit and which ones may need some tweaking."
Measure the Effectiveness of the Marketing Strategies
One of the primary reasons to set specific and measurable marketing objectives with deadlines is so that you can measure how well you're doing in accomplishing these objectives. Tracking marketing responses also allows you to evaluate which of your strategies was a hit and which ones may need some tweaking. For example, if you track where your subscribers come from and you notice that the majority of people who opted in to your list came from your social media networks, then you may want to ramp up your interaction on these networks.
If, on the other hand, you notice that the number of visitors to your blog has decreased, try to determine why this occurred. Was it because you weren't posting regularly? Did the quality of your blog posts change? Whatever you think may be causing the drop, make minor tweaks to see if this changes the number of visitors.
Then, there may be some strategies that simply bombed. That's fine. You can scrap those strategies that simply are not working for your business. It happens, and what works for one may not be as effective for another.
You should, however, implement your marketing strategies consistently and constantly for at least nine months to a year to truly test the effectiveness of each one. Remember that marketing is a process and not a one time step. Doing something once and deciding it does not work does not count, so don't treat your marketing this way.
Visit your marketing plan at least once a quarter. Read through it and remind yourself the direction you planned on taking your business. Also, before you decide to implement a new marketing strategy, write a new information product, or rollout a new campaign, visit your marketing plan to make sure what you're thinking of doing is in accordance with the marketing plan you created for your business. Ask yourself, "Does what I want to do help me to achieve the marketing objectives I've set for my business?" If you answer yes, then do it. If you answer no, then reconsider.
***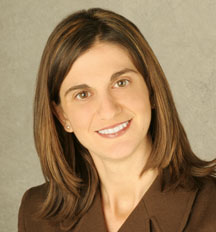 Kristie Lorette works with small business owners and entrepreneurs who struggle to market their business effectively to attract the right clients on a consistent basis. What separates her service from other marketing professionals is that she only works with small businesses and only specializes in creating marketing content and copy. Because of this, her clients receive PROVEN, EFFECTIVE and extremely SPECIFIC step-by-step information on exactly what they need to do to attract clients with their marketing. As a result, those who work with Kristie attract more clients and make more money than that would have on their own.
-----
Enjoyed this article? Check out these related articles on WOW!:
Marketing Your Book: Interview with Penny Sansevieri
Getting Your Brand On: Interview with Shelli Johannes-Wells
Blogs, Twitter, Websites & More: Connecting with Young Readers through Social Media
Time to Twitter: Using Social Media to Further Your Career
Real Stories of Authors on a Budget: Promotional Gimmicks
How to Create Quizzes that Sell Your Book
How to Promote Yourself through Teaching
How to Get Your Book Reviewed Online