very author feels a sense of euphoria and accomplishment once they type "The End" on a manuscript and finally see the book in print. Then reality hits: it's time for promotion.
With dwindling promotional dollars—and nonexistent budgets for small press writers or those whose names aren't Roberts or Evanovich—what's a "poor" author to do?
In one word—anything!
Today's author has to be almost a Jill-of-all-trades, reinventing herself as blogger, public speaker, publicist, lecturer, reading specialist, and more.
It's no easy feat for those with less gumption than Scarlett O'Hara; but when it comes to promoting their own work, that's when most authors shine. After all, who better to talk about a book than the author?
With self-promotion a must, authors often find the most ingenious ways to accomplish their task—whether it be multi-city "drive-by" bookstore signings as done by J.A. Konrath, author of Cherry Bomb, the latest in the Jack Daniels series, to online book blog tours, such as the recent 24-stop tour done by Beth Groundwater, author of the mystery, To Hell in a Handbasket.
Then there are the more, er, "creative" approaches.
Whether it's a "smaller scale" approach (pardon the pun)—like my sharing a palm-sized replica oil painting of Van Gogh's famous Starry Night to promote my kid's book, Searching For A Starry Night, A Miniature Art Mystery, or something maybe more attention getting (and stomach pleasing) like the homemade cookies shared at book signings by Diane Mott Davidson, author of the caterer Goldy Schulz mysteries (Fatally Flaky)—self-promotion means doing what it takes to get a book noticed. Don't forget creating goodwill and some fun for both readers and booksellers.
But while some things are successful; others, as some authors have found, don't work quite as expected. But I'll let them tell you about that.
Q:What is the most unique thing you've done to promote your book? What made it work and why? Also please share about a promotional gimmick that didn't work.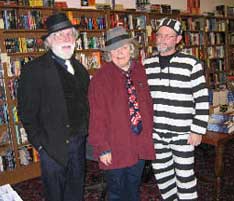 The Minnesota Crime Wave, authors Ellen Hart (Sweet Poison, A Jane Lawless Mystery), William Kent Krueger (Heavens Keep, Cork O'Connor series) and Carl Brookins (Bloody Halls, Case of the Deceiving Don), have been dressing in old-fashioned crime costumes for nearly a decade. Brookins, who has a theater background, suggested the idea, which he admits didn't fly right away with the others. Brookins said:
We started because we were all encountering each other and complaining about the state of marketing. A light came on, and we looked at each other and said, "We've informally paired up from time to time for events. Let's make it more formal and share the load. At least if we do an event and nobody shows, we'll have each other to blame."

We've done events in which nobody came. We paraded through a large convention in costume and were told we were hurting the reputation of the mystery genre by some people who will remain unnamed. Jealous, I guess. The Crime Wave has done three national tours and easily over 250 events. We have produced two crime fiction anthologies with Resort to Murder also available as an audio CD package.
Does it still work? Apparently. We get requests for appearances from all over the country. Why does it work? Because we are veteran performers as well as good writers. We engage the audience from the beginning, encouraging questions and comments right away. It is important to note that while we don't take ourselves seriously, we are all very serious about our writing and our careers as crime fiction authors. That plays in our teaching as well. Yes, we conduct writing workshops at colleges in addition to all else!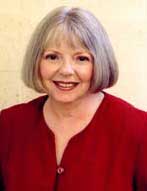 Betty Webb—author of Desert Cut (Poisoned Pen Press), the latest in the darker Lena Jones mysteries—is known for writing about the tough issues like polygamy and genital mutilation. But she's also a volunteer at the Phoenix Zoo and decided to exercise her funny bone with her new, humorous zoo-based mystery, The Anteater of Death, (Poisoned Pen Press). She wrote an article about the switch from noir to cozy mysteries in the "New Books" section of Mystery Scene magazine and of course, toured; but she also believes in taking advantage of her circumstances. Webb said:
The Lena Jones series already had tens of thousands of loyal readers; but with Anteater, I was breaking new ground. Fortunately, I was already a member of several zoo docent and zoo keeper organizations, and I let it be known through their grapevines that a mystery based in a zoo would be coming out in the fall of 2008.
The Phoenix Zoo holds a Holiday ZooTique in November; and I was able to snag a table right in front of the entrance where thousands of people passing by saw my big The Anteater of Death poster. And as a result, many of them bought the book. I also put a small ad in Wildlife Conservation magazine, which wasn't cheap but apparently worked, because several readers subsequently told me they'd seen the ad and ordered the book from there.
One thing to remember: my publisher, Poisoned Pen Press, is wonderful at promotion. Besides their other effort on their authors' behalf, they blanket the media with ARCs (advance review copies); and as a result, Anteater had reviews in all the majors. Thankfully, the reviews were excellent.
I tour on each one of my books. Yes, touring is expensive, but it's pretty hard to form a relationship with booksellers while you're sitting at home. As they say, "No pain, no gain."
What do I think DOESN'T work? 1) Staying at home and expecting the world to come to you. 2) Expecting the Internet to do all your selling for you. 3) Not getting your manuscript professionally edited in the first place.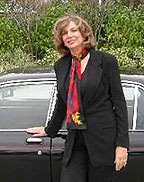 Elaine Viets launched her sixth book in the Dead-End Job series, Murder with Reservations (NAL hardcover 2007) with a contest asking readers to share their funniest experience as a hotel guest or employee. In the book, protagonist Helen Hawthorne works as a maid at a Florida hotel. Winners in each category won a $250 bookstore gift certificate in "The Great $500 Book Giveaway." She considers it money well spent. Viets said:
I paid the $500. The readers liked it and sent in some hilarious stories about their adventures in hotels, which I published in my blog for the Lipstick Chronicles. The bookstores liked it, too. The winner ordered her books from Mystery Lovers Bookshop, Oakmont, PA. They now have a new customer.
How did I get the idea? I'd worked as a hotel maid for Murder with Reservations. I tried to find a hotel maid's union or charity to donate to but couldn't come up with one. However, the maid I cleaned rooms with (we worked in pairs) loved books. I met her on her day off, taking her daughter to a bookstore to buy books. Another maid told me, "If everyone tipped me a dollar a day, it would make a big difference in my life. I'm trying to stay off welfare, so my children can be proud of me." They were the bookstore inspiration.
Murder Unleashed, the fifth book and first hardcover in the series, was set at a dog boutique. I had a launch party at Bone Appetit in Fort Lauderdale, the store where I did my research. The store gave prizes for the best-dressed dog. On tour, many stores donated a portion of the proceeds to the dog charity of their choice. My favorite signing was at Murder by the Book in Houston, where the dogs for Caring Critters came with their owners. The dogs licked off half my makeup. I loved it. We also had a signing at Three Dog Bakery in St. Louis. Again, there were prizes for the best-dressed dogs. One came as Scarlett O'Hara, complete with a picture hat and ruffles.

Nancy Martin—author of Murder Melts In Your Mouth, the latest in The Blackbird Sisters Mystery Series—may have one of the more unique promo events, which came with a quite unexpected twist. She explains:
For a mystery entitled Cross Your Heart and Hope to Die (a Blackbird Sisters mystery that featured a miracle bra), I had a launch party in a quaint little lingerie shop called The Pussy Cat. My guests were highly entertained by the trucker who came (we were told) every Thursday night to buy seven pairs of thong panties. Apparently, for himself.
Yes, the promo worked. We sold lots of books, had a great launch party. (I can't imagine why Publisher's Weekly declined to run the photos from The Pussy Cat with all those brassieres hanging around us, but they did.) The preliminary advertising for the location caused a lot of readers to call the bookstore and order in advance, which I think is one of the advantages of advertising; and afterward, the story became a part of my "bookstore talk" when I did other events. Always gets a laugh. The book was my first hardcover, and it sold very well nationwide; but the lingerie shop promo kicked things off nicely.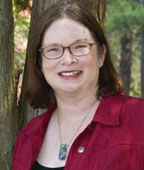 Sheila Connolly learned that using an actual location can have its benefits as she did with her glassblowing mystery, Through a Glass, Deadly (written as Sarah Atwell). The book was an Agatha nominee for the first best novel category. She said:
When Through a Glass, Deadly (Berkley Prime Crime) came out, I had included a chapter in which the characters met in the Tucson Truck Terminal, which is a famous local landmark with a lot of traffic. I chose it because it was easy for out-of-towners to find since the neon TTT sign is visible for miles from the highway.
I visited the place to check it out, and they do have a gift shop, which caters mainly to truckers. I tracked down the head of the company and told him I had used his place in my book (favorably!) and sent him a book—and he ended up stocking it in the gift shop, which had few, if any, other books.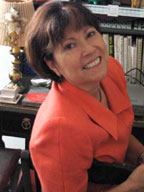 Luisa Buehler, author of the Grace Marsden mystery series, uses an eye-catching, Barbie-doll-sized skeleton dressed in a wedding gown to promote her first book, The Rosary Bride (Echelon Press). She also likes to use props to accent the other books in her series. She said:
The newest is The Inn Keeper: An Unregistered Death. I use a handmade quilt with some of the symbols used in the Underground Railroad to help slaves reach freedom. I think anything that gets people talking with you about a common interest or curiosity makes you seem more human, and people want to feel that they have connected with the person and not the sales pitch.
Other authors admit that their attempts haven't always achieved the hoped-for results, but they know the mantra: if at first you don't succeed…and yes, they do keep trying.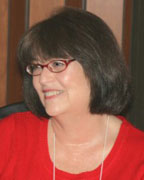 Sunny Frazier—author of Where Angels Fear, the latest in the Christy Bristol Astrology mystery series—is active online, involved in various book groups and a member of several writers' and mystery organizations. She likes to try small gimmicks tied to her books. Do they work? Her answer:
1. I put miniature boxes of raisins on miniatures of my book cover. They represented the area I write about—Fresno County, CA is the Raisin Capital of the World. People loved to eat them, but nobody bought books.
2. Ordered fortune cookies with the name of my book, my name, and ordering info. A fortune cookie was a clue in the book. People ate the cookies, no sales. The leftover cookies got stale.
3. I filled amber medicine bottles with candy hearts. Stuck a label with my book cover, name, and ordering info. No sales.
4. I offered a discount horoscope in the back of my book because it deals with astrology. I do the charts. Very few takers.
5. Right now, I'm offering a lottery of sorts to various websites. The 12th person to order my book gets a horoscope; the first 11 get a tidbit about their future. Free. One taker so far.
Environmental engineer Karen Hall writes thrillers that are set in mostly male-dominated fields such as oil refinery work and mining. She thought she had a good idea to promote interest in her first book but decided to take another approach with her second book. She tells why:
My first book, Unreasonable Risk (ArcheBooks Publishing), is about sabotage in an oil refinery—not a common subject, for sure. (I'm an environmental engineer and worked in refineries for nearly ten years.) I did lots of the usual stuff but also sent marketing letters directly to all the refineries in the country, asking that they post the information on the bulletin board closest to their cafeteria—that's always the one that gets read. My sales jumped a little, but less than I expected.
I finally realized that since my book also included a romance and wasn't just a straight Tom Clancy-ish thriller and since most of the people who work in refineries are men, I might not have targeted the correct audience. I should have asked that my fliers be sent home to the workers' wives!
My next book, Through Dark Spaces, is set in the mining industry. Same problem—95% men—though this one doesn't have much for romance. I'm thinking I'll market to mines and mining trade magazines this time. I wonder if there's a women-in-mining magazine? There's one for women in construction...
The best, or worst, self-promotion event (depends on your viewpoint) definitely gives meaning to the phrase "phone first." Elaine Viets at least still gets a chuckle out of it:
For my Francesa Vierling series (now out of print), I wrote Rubout, a biker mystery. The manager of a large chain store asked me to wear biker leather and said he'd have a "Dress as a Biker" contest. The store was in a very white-bread area, and I had my doubts; but he was enthusiastic. I showed up for the signing in leather and boots. The manager had quit. The store had done no promotion. All I had was a small stack of books on a table by the children's department. Mothers were grabbing their children and pulling them away from me. I think I sold six books.
The moral of the story: with tons of new books being published every month and competition growing fiercer for consumers' tightly-held dollars, no promotion attempt is ever a waste of time. Authors shouldn't be afraid to try something new or even a little different. You never know what'll work, or who's paying attention. And even if the effort fails, it gives people something to talk about—namely you and your book, which is what it's all about, right?
***
Christine Verstraete, https://cverstraete.com, is an award-winning journalist and fiction writer. Her middle grade novel, Searching for a Starry Night, A Miniature Art Mystery (Quake/Echelon Press), was a 2009 Eppie Award finalist for the e-book version in the YA/children's category. Her short fiction has appeared in the Dragons Composed and The Heat of the Moment anthologies, online at Mouth Full of Bullets and Orchard Press Mysteries, and it's coming soon in Cat Cries magazine.