inding an undisturbed block of time to write is one of the biggest challenges most writers face. That, and having the money to take care of the bills while doing so. Many of us know this song and dance intimately; we limp along with a dream, carving out time where we can to craft our novels, memoirs, poetry, and plays. Non-writers seldom "get it," but Darlene Chandler Bassett, founder of A Room Of Her Own: A Foundation For Women Writers & Artists, understands our struggles.
Shortly after her mother's death in July 2000, Darlene arrived at the Ghost Ranch in New Mexico for a women's retreat—a box of Kleenex and a copy of Virginia Woolf's A Room of One's Own in her backpack. It'd been almost five years since she'd left her job of 20 years as a corporate executive for entrepreneur Eli Broad, and ever since, she had been seeking new passion and direction.
At an evening session focused on midlife possibilities, Darlene met Mary Johnson, a former nun who had spent 20 years working with Mother Teresa. Mary spoke of her desire to write her story, and asked the universe for "a room of my own and the opportunity to write." At that moment, Darlene Chandler Bassett found her passion, and Mary Johnson found a benefactor.
Recognizing her new calling, Darlene offered to fund Mary's pursuit of a fine arts degree if Mary would help her create a template for an organization that would offer other women the privacy, finances, and creative support to pursue their work. And just like that, A Room of Her Own Foundation was born.
"I decided I would finance Mary's art, and if I could do it for her, we could do it for other women," Darlene said.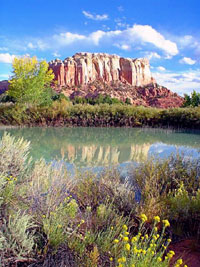 "There are no accidents."
(Photo by Bob Smith. Courtesy of Ghost Ranch.)
In 2000, Darlene Chandler Bassett founded A Room Of Her Own (AROHO), a 501(c)(3) charitable foundation that provides innovative arts patronage for women writers and artists. Bringing her unique combination of corporate and non-profit management experience to the arts, Bassett is committed to building a public foundation, which uses performance standards typically reserved for the for-profit world of business.
AROHO's Gift of Freedom Award grants $50,000 to one woman writer or artist every other year, and bolsters the financial gift with practical help from mentors who work through the grantee's "business plan."
Darlene hopes the foundation will help "women of genius, just beyond sight and hearing, who don't have the time, privacy, or money to devote to their art."
We are delighted to chat with Darlene today about the AROHO foundation and all the wonderful opportunities it provides for women writers. Darlene is a true inspiration and a testament to Virginia Woolf's vision, as you'll see in this interview.
***
WOW: Welcome to WOW!, Darlene, we love that you've created a foundation for women writers and artists! What inspired you to start the A Room Of Her Own Foundation?
Darlene: It's a pleasure, Angela. We're grateful for the work that WOW! Women on Writing does for our world, too!
What inspired me? An open heart and mind after my mother's death. I had been retired for five years and the timing was perfect.
WOW: Darlene, we share something in common. My mother's death opened my heart and mind to a creative path as well. I love the name of your foundation...as writers and readers, many of us know about the powerful words of Virginia Woolf, who said, "a woman must have money and a room of her own if she is to write." Do you remember the exact moment when those words sparked an epiphany for you?
Darlene: Absolutely. It was when I met Mary Johnson at Ghost Ranch and she asked the universe for a room and the time to write. I immediately knew that I could do that for her, and that together we would do it for other creative women. I had a copy of Woolf's A Room of One's Own under my chair. There are no accidents.
WOW: Yes, I agree, and that story is amazing. So, after you decided to start the A Room Of Her Own Foundation, what were the first steps you took to make your dream become a reality? It's such a monumental project!
Darlene: I can see now how blessed Mary and I were in this project. We kept moving, found a fantastic attorney, and were approved by the IRS after only one filing for exempt status. That's almost unheard of. I counsel women now—I give a lecture that's kind of "Philanthropy 101 for Women"—to find an existing 501(c)(3) that works for the cause they are passionate about and offer to partner with them. It makes so much sense for us to stop competing with each other!
WOW: Very true. Working together is much more productive! Had you been involved in any nonprofit work previously?
Darlene: When I was in the corporate world in L.A., I was chair of the California Abortion Action League South. My boss was famed entrepreneur and arts patron Eli Broad, and I watched and learned from how he approached the non-profit world.
"Any woman with the courage to apply for our one-of-a-kind, $50,000 Gift of Freedom award is encouraged to do so."
WOW: Darlene, you've created a wonderful foundation for women, and offer a generous grant—the annual Gift of Freedom, which awards a female writer or visual artist up to $50,000 to pursue a creative work. Please tell our readers how they can apply, and what you are looking for in an applicant.
Darlene: This year's competition closes October 31, 2008. It is the $50,000 Literary Gift of Freedom Award in the genres of fiction, creative nonfiction, playwriting and poetry. The application is on our website, which can be found here.
WOW: The selection process must be very intensive. What is the process like, and how long does it take to come to a decision?
Darlene: Integrity in the selection process is critical. Women share so much with us. They submit all original work as well as financial histories. It must be treated with respect. Only the board, staff, and a world-class judging panel (which remains anonymous until the winner is announced) review the applications.
WOW: So, how is the A Room Of Her Own Foundation different from other foundations?
Darlene: First and foremost, A Room of Her Own is not separate from the women it seeks to help, but rather made up of them; in our case, the institution is the community. Any woman with the courage to apply for our one-of-a-kind, $50,000 Gift of Freedom award is encouraged to do so. We do not accept nominations or references.
Secondly, while AROHO is best known for the Gift of Freedom grant, we do give an unlimited number of gifts to countless creative women in the form of the award's application and our Writers' Retreats. Our grant application allows every creative woman to be a winner by providing a model for an integrated creative life. The application's Creative Project Plan is a template for "getting real" about creative output and reconciling that desire with the reality of our financial/everyday lives. On a collaborative level, the Writers' Retreat offers women the chance to steep themselves in the writing life, live it on a daily basis, and form bonds with other writers within the AROHO community.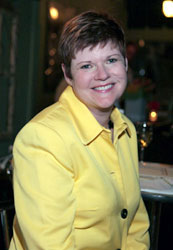 "...the statistics on women and writing grants are still depressing. Women win many more writing awards than men and win far less prize money."
WOW: You mentioned the writer's retreat, which is held at the Ghost Ranch in Abiquiu, New Mexico—a place that Georgia O'Keeffe once made her summer home. It's been said that the desert landscape has powerful healing properties. How has the retreat helped you to heal, or inspired you?
Darlene: I was on personal retreat at Ghost Ranch when I met Mary Johnson (the inspiration for AROHO) and my personal renaissance began with the inception of AROHO. Since then, Mary and I have returned to Ghost Ranch every other summer with the AROHO women writers and we have been able to "drink from the well" and reaffirm the power of the AROHO community of women. It's at once amazingly energizing and healing.
WOW: The retreat looks absolutely gorgeous. What are some of your favorite natural landmarks?
Darlene: Pedernal. So centering. And of course, walking the labyrinth.
WOW: AROHO also awards scholarships to the retreat. How can a woman writer apply for a scholarship? Or is that part of the Gift Of Freedom Award?
Darlene: We offer several scholarship opportunities to assist women wanting to attend our biennial Writers' Retreat. There will be an electronic application and scholarship forms for the 2009 Retreat available on the website by Fall of 2008. The Gift of Freedom Award is a separate program altogether.
WOW: Got it. So what can writers hope to achieve from attending the AROHO retreat? Do you offer any workshops or activities?
Darlene: I love to quote a scholarship attendee at last year's Retreat, "I came to AROHO to inspire my writing. What I got has nourished my soul. I had forgotten those are the same." For me, that's as good as it gets!
Women can choose to attend intense workshops to improve their craft, or they can attend as "free agents," devoting time to in-progress work, or daily sightseeing excursions, while maintaining full access to classes and nightly readings (which by the way are incredible).
Our workshops and classes are delivered by an internationally respected faculty. Our guest writer in 2009 will be Pulitzer Prize winner, and former Poet Laureate, Rita Dove. We've showcased Leslie Marmon Silko, Joy Harjo, and Denise Chavez in prior years.
WOW: That sounds fantastic! I'd love to visit the retreat sometime. Are you a writer yourself?
Darlene: I take seriously the profession of writing. I am NOT a writer. I'm a communicator. The writing that I do is the work of translating AROHO to our audience and donors.
WOW: You founded AROHO in 2000, and I'm sure it's been a remarkable journey. What has being a patron of the arts taught you over the years?
Darlene: Humility in the face of the courage shown by creative women. It shakes me deeply.
WOW: Now, that's a quote. So in your opinion, why is it important to finance women in the arts in today's society?
Darlene: It's important to include a philosophical note here: AROHO is not advocating that creative women model their lives on winning awards and prizes. Rather, we view grants/awards/residencies as a means to building commitment and talent so that you may live independently without them.
That being said, the statistics on women and writing grants are still depressing. Women win many more writing awards than men and win far less prize money. That's why AROHO is adamantly committed to the principle of a $50,000 grant every other year—it changes the trajectory of the winner's life. If you give the writer/artist substantially less than that, before she knows it, she's right back where she started.
WOW: Very true. Darlene, you are such an inspiration to women writers and artists everywhere. Thank you so much for taking the time to chat with us today. Do you have any parting words of advice to share with our women writers/readers?
Darlene: Please trust me on this. Just do this—go to our website, (www.aroomofherownfoundation.org), state your intention to apply for the Literary Gift of Freedom, (https://www.aroomofherownfoundation.org/intent_to_apply.php), download the application, and challenge yourself to answer those questions. I promise you, you'll never view your writing life the same way again—you will "win" clarity and, I hope, courage.
***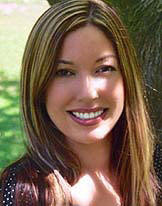 BIO:
Angela Miyuki Mackintosh is founder and CEO of WOW! Women On Writing. Her work has been published in Maxim, Transworld Surf and Skate, Transworld Biz, Vice Magazine, Thrasher, Automatic, Concussion, Footwear News, SGB, ASR LineUp, and numerous trade publications for the action-sports industry. Her short fiction has been published in Amazing Authors, and various zines in the SoCal area. She is an award-winning artist whose works have been commissioned by the city of Long Beach, and has received grants from Funds for Women, and the LB Arts Association. Angela lives in Placentia, CA with her husband Mike and her cat Noodle.