hen the opportunity arose to interview Rue McClanahan for our humor-writing issue, we jumped at the chance. But when we found out Rue was in Hollywood filming a Lifetime movie with Ed Asner—well, my heart sank—I thought we'd missed our chance at the interview. But Rue was a trooper; she graciously took time out from her busy film schedule to answer our questions by hotel fax. Thank you, Rue, for going out of your way to bring our readers a joyous and inspirational interview. You WOW! ladies are in for a treat!
Rue McClanahan has always been one of my favorite actors, ever since she played the sexy Southern vixen, Blanche Devereaux, in the Emmy-award winning series The Golden Girls. With her breezy sex appeal and sharp comedic timing, Rue infused her character with a sassy joie de vivre that captured the hearts of women everywhere. She also played the character of "Aunt Fran" Crowley in Mama's Family, another show that I was curiously addicted to growing up.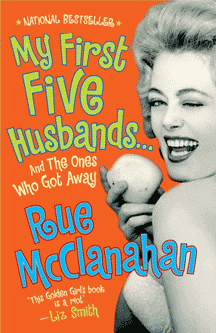 From her roles on Broadway opposite Dustin Hoffman and Brad Davis, to her role as Madame Horrible in the Broadway musical Wicked, and her multiple movies, Rue continues to amaze and WOW us. In her latest book, the actress behind the magic reveals her life in and out of the spotlight in a laugh-out-loud funny memoir about love, marriage, men, and getting older that is every bit as colorful as the characters she plays. Rue's bestseller, My First Five Husbands..And the Ones Who Got Away, released in April 2007 as a hardback, is available for pre-order in paperback on the Random House Website, and will be out September 9, 2008.
Raised in small-town Oklahoma in a house "thirteen telephone poles past the standpipe north of town," Rue developed her two great passions—theater and men—at an early age. She arrived in New York City in 1957 with two-weeks-worth of money in her pocket, hustled her way into a class with the legendary Uta Hagen, and began working her way up in the acting world against the vibrant, free-spirited backdrop of the sixties. That's when she met and married Husband #1—a handsome rogue of an aspiring actor who quickly left her with a young son. Still, she was determined to make it on the stage and screen—and in the years that followed, rose to the top of the entertainment world with a host of adventures (and husbands) along the way.
My First Five Husbands is the irresistible story of one woman's quest to find herself. Now, happily married to her soul mate, Husband #6, Rue is proof that many things can and do get better with age—and that, even a small-town girl can make it big.
In this inspiring interview, Rue McClanahan talks about all aspects of her life, her battle with breast cancer, and her love of animal rights. She's truly an all around role model—one with VaVoom!
***
WOW: Rue, we all know and love you from the theater and television, and as an author of your fascinating autobiography, My First Five Husbands. At the 1987 Emmys, you said, "I'd like to thank everyone who helped make this award possible. The rest of you will be in the book." From that quote, it seems like you've been thinking about it for a long time. What was the "Ah-ha!" moment that compelled you to sit down and actually share your story?
Rue: There was not one, "Ah-ha!" moment. The plan gradually grew. I jotted ideas down on airplanes, in hotel rooms, etc.—there were notes everywhere to finally gather together and put in order. One day—I think it was in 2006—I actually began writing the prologue. Everything flowed quite spontaneously. Then I organized and edited with the help of Joni Rodgers when I finished in the spring of 2006.
WOW: That seems very organic. As writers, we know that finishing a book is a huge accomplishment! How long did it take you from start to finish?
Rue: I don't recall when I started jotting ideas down. Perhaps in 2005. The book was released April 10, 2007.
"Writing about how I hurt Norman Hartweg, my second husband and subsequent life-long friend, was almost unbearable."
WOW: Rue, writing is such a spiritual journey—we learn so much about ourselves along the way—and your book is an amazing voyage of trials and tribulations. Was there anything you discovered or rediscovered about yourself during the writing process?
Rue: Yes. Writing about how I hurt Norman Hartweg, my second husband and subsequent life-long friend, was almost unbearable. I also learned to take time to think things over before rushing into a marriage.
WOW: That's an important lesson we can all learn from. So, as you were crafting your book, what writing habits did you adopt, and did they surprise you?
Rue: From my gifted editor, Joni Rodgers, I learned to shift some information to a chapter ahead—in other words, not to write in a strictly chronological way. Also to introduce chapters with an overall, generic first paragraph.
"I had to soften and sometimes delete,
whole anecdotes."
WOW: That's great advice from Joni. Readers relate to the generic, but also the specific. Considering you mention so many high profile people, what was the hardest part about writing My First Five Husbands?
Rue: Obeying the publishers in NOT telling all! I had to soften and sometimes delete, whole anecdotes.
WOW: You are truly honest, Rue, and that's what we love about you. I read that you still get "jitters" for opening nights. Did you have any jitters as this book came out?
Rue: No. I also no longer get jitters—well, almost never! Certainly not in shooting movies. "Wicked" gave me jitters on opening night, and for a few more performances. There was so little to hold onto, the way the character was so under-written, as is usual in musicals. I prefer meaty "straight" plays—both comedies and dramas.
WOW: I can admire that...you definitely are straightforward. So, what have the other Golden Girls said about My First Five Husbands?
Rue: Not word one have I heard.
WOW: I'm a huge fan of The Golden Girls, like so many of our readers. And Blanche Devereaux was my fave! After playing Blanche for so many years, what would you say you two have in common?
Rue: Very little in common, actually. I simply knew how to get inside her. Acting can be very mysterious.
WOW: Yes, very. Speaking of commonalities, or lack thereof, my father's family grew up in Tulsa, Oklahoma, and my aunt attended the University of Oklahoma around the same time you did, or a couple years after. She actually majored in theater as well. I know you are an icon at OU. How did your small-town upbringing influence your acting and now your writing?
Rue: My family upbringing gave me a solid base to build on, and my parents' support of my aspirations encouraged me.
WOW: It's always great to have your parent's support. But what do you attribute your tenacity in making it from small town Oklahoma to Broadway and television?
Rue: It was do-or-die for me. Life or death. I had to win the respect of actors and directors I admired.
WOW: And that you did. Your motivation and persistence is amazing. In fact, you are a breast cancer survivor! You also speak about the extremely important topic of breast cancer awareness. What are some lessons you've learned in your own battle that you can share with our readers?
Rue: As Winston Churchill said, "I'm an optimist. Nothing else makes any sense." We can empower ourselves with our thoughts and meditations, our imagination exercises.
WOW: That's a great saying. And with knowledge comes responsibility, as the saying goes, but in the beginning it's more of an "OMG" terrifying moment. Do you remember how you felt when you first found out you were diagnosed with breast cancer?
Rue: I was sitting up on the examination table when my doctor said, "It's breast cancer." I got very dizzy instantly and had to grab the table to keep from falling. I guess that's called "fainting," or "getting the vapors," as my friend, Lette, used to say.
WOW: (laughs) "The vapors," I've heard that before... how were you able to take your initial feelings and put them into a positive perspective?
Rue: I went to therapy sessions where I learned to draw pictures of my immune cells fighting the dumb cancer cells, and winning. Then I lay down and visualized it.
"You are more powerful than those
stupid cancer cells."
WOW: I also heard your sixth husband and soul mate, Morrow Wilson, was a support during your battle with breast cancer. In what ways has the experience strengthened your marriage?
Rue: Our marriage has gradually grown stronger and stronger over these ten years, with great personal effort from each of us. It has been a hell-of-a-hard journey, and we are more in love than ever.
WOW: Aw... I'm a true believer in working on relationships, and working on life. Now, some of our readers are in the same battleground that you survived. What would you like to tell them?
Rue: Draw pictures. Then re-visualize. Talk about it openly with friends and family. Determine to win. You are more powerful than those stupid cancer cells.
WOW: Great advice. Rue, we also share another thing in common. I'm a huge lover of animals, and so far, have only one baby—my cat, Noodle. I know you got started in animal rights at nearly the very beginning of the movement. Where did your passion for animal rights first stem from?
Rue: My love for animals has been with me from my earliest memories, before I was talking.
WOW: That's wonderful... so what are some ways our readers can become involved in supporting animal rights?
Rue: Join PETA. Join local rescue groups. Support spaying and neutering programs. Donate money. Give your time to rallies and shelters. Adopt only from shelters. Never see a stray that you don't befriend and find a home for. I never do!
"My love for animals has been with me from my earliest memories, before I was talking."
WOW: Rue, you've given us insight into your life, as well as so many important topics today, and we truly appreciate it. So, what's next on your plate?
Rue: "Sordid Lives" premieres on Logo Cable, Wednesday, July 23rd at 10 pm. It's a hilarious new series.
"Generation Gap" will be on the Hallmark channel this fall. It's a family movie with Ed Asner. I'm the love interest.
WOW: I can't wait for that, thank you. And since this is our humor writing issue, we have to ask, where did you learn that perfect comedic timing?
Rue: First, a natural gift. Then practice, practice, practice.
WOW: We love that! Did you have any favorite comediennes that inspired you?
Rue: Dame Edith Evans. Bea Arthur. Uta Hagen.
WOW: If you were to give one quote or piece of advice to the women climbing the ladder up behind you, what would it be?
Rue: Don't give up, unless you can do something else that brings you joy. Follow your bliss.
WOW: Thank you Rue, that is a perfect quote to live by.


***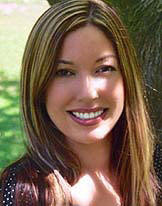 BIO:
Angela Miyuki Mackintosh is founder and CEO of WOW! Women On Writing. Her work has been published in Transworld Surf and Skate, Transworld Biz, Vice Magazine, Thrasher, Automatic, Concussion, Footwear News, SGB, ASR LineUp, and numerous trade publications for the action-sports industry. She is an award-winning artist whose works have been commissioned by the city of Long Beach, and has received grants from Funds for Women, and the LB Arts Association. Angela lives in Placentia, CA with her husband Mike and her cat Noodle.