an you imagine landing your first book deal at the age of twenty-six? That's a writer's dream come true! And just what Whitney Lyles did with her highly acclaimed novel, Always the Bridesmaid. Now at the age of thirty-one, Whitney is the proud author of a novella and five novels, including her latest romantic comedy for teens—Party Games. It's not surprising if you've ever read her work. Whitney's style is flawless, a light-hearted and quick read, full of characters that ring so true, you forget you're reading fiction.
As a publisher, many books are sent to me for review, and most of the time it takes me a while to carve out the time to read them all. So when we set out to do the romance issue, I remembered that Whitney's agent, Elise Capron, had sent me Whitney's latest book, First Comes Love, a while back. Yikes! I'd practically forgotten about it (sorry ladies!). I opened the book with plans of skimming through it, maybe reading a couple of chapters to get the feel of her writing, but instead found myself glued to each page, until the last one was turned.
You're going to love this interview. Whitney Lyles is just like the characters she creates on the page—fun, warm, and very real.
***
WOW: Whitney, I'm thrilled that your agent, Elise Capron, introduced me to your books. I heard you did a workshop called "The Author/Agent Journey" at the Southern California Writers' Conference. That topic is something our readers are very interested in. Can you tell us what you covered in the workshop?
Whitney: Elise joined me for our talk, which was great. I discussed the author/agent relationship from an author's standpoint and Elise talked about the relationship from an agent's perspective. I think it was really beneficial for the audience to see both angles. One of the key points we made was that finding the right agent is really important. Writers should look for someone who has the author's best interests in mind, meaning the agent shares the same vision for the book as the author. There are lots of agents out there, but not all of them are going to be right for a particular book. Elise and I both agreed that most things that happen in the publishing industry occur through unexpected mediums. Writing is not a career that anyone can plan, and no one ever knows what kind of opportunities will arise.
WOW: I agree with that—you and Elise seem like a great fit. When did you first sign on with Elise and the Sandra Dijkstra Literary Agency? And how has the agency helped your growth as a writer?
Whitney: I signed on with the agency right before I sold Always the Bridesmaid in 2003. Elise wasn't working there at the time; she came several months later. It wasn't until 2007 when Sandy Dijkstra told me Elise was going to be handling her own clients at the agency, and she asked if I would be interested in being part of her list. I had worked with Elise a lot, so it was a very easy decision. I've always felt really comfortable with Elise, and I have a lot of respect for her.
The agency has helped me tremendously. The great thing about SDLA, and Elise in particular, is that she always stays with me through the entire process of publishing a book. SDLA is not just there for the quick sale. Promoting the book is mostly the responsibility of the author and the publisher, but the Dijkstra team has always offered great suggestions and guidance throughout the process.
I recently had an issue with the title of my teen book, Party Games. The original title of the book needed to be changed and it was sort of late in the process. I knew from experience that the closer the book is to publication the harder it is to change things. One phone call to Elise and the ball was rolling for a new title. The agency is always in my corner.
"Writing is not a career that anyone can plan, and no one ever knows what kind of opportunities will arise."
WOW: That's the best support an author can have. Yes, I remember reading on your blog that they were thinking about coming out with a different title for Party Games. Originally, it had been titled Party Girl, if I'm correct. So, how much say does an author have in her book title, and book cover?
Whitney: I think I was the only one calling it Party Girl. My publisher shot down the title and then suggested Party Favor, which I agreed to and later learned it was slang for all kinds of bad stuff. Elise and I requested a new title and thankfully Simon Pulse was on board. How much say I have in titles in cover art just depends on the publisher and the book. With Party Games, I was more involved with ideas for the cover art than any other book. Most of my titles are all mine, and the publisher has chosen a couple.
WOW: You landed your first book deal for Always the Bridesmaid at the age of twenty-six. That's a huge accomplishment for someone so young. Do you remember what you were doing when you first heard the good news?
Whitney: I do. The book went to auction. There are different kinds of auctions, but in this particular auction, three publishers wanted to purchase the book. I was advised by the agency that it could be a lengthy process as all the publishers came in with their best offers. Then there would be some going back and forth to see who could do the best. So, I waited by the phone. I was with my parents and it was the day our country invaded Iraq. We were actually glued to the television. I remember thinking how sad and crazy it was that our country had gone to war, and wondering if my cousins were going to be deployed. The news about Always the Bridesmaid came late in the day and it was very welcome escape!
…having a child has helped me accomplish more. I have to use every second of my "writing time."
WOW: That's an amazing story! Both parts...the three publishers and the break of good news at a much-needed time. And since your first book was published, you've put out nearly a book a year—that's quite prolific! Please fill us in on your secret to maintaining a successful writing schedule.
Whitney: I wish I had a better schedule. Basically, I'm on the "write whenever my eyes aren't burning from fatigue plan." I have a young child, and as most toddlers are, she's full of energy. I spend a lot of weekends writing, and I have childcare one day a week so, I really have to utilize my time well. It's funny, because I had only about five months to write Party Games, which seemed so daunting. I made my deadline, and everything has gone according to schedule. In some ways, having a child has helped me accomplish more. I have to use every second of my "writing time." That means no farting around on the Internet. No online shopping and e-mailing friends.
WOW: I know that one! I think we subscribe to the same plan. I'm sure my hubby will love your suggestion of having a child to help with my writing schedule! Now, it's always hard to gauge the dates of when the novel gets written, as opposed to when it actually comes out. When you wrote First Comes Love, were you pregnant at the time?
Whitney: Was I ever? Yes, the book was due just a couple months after I delivered my baby and I had such a hard time writing when I was pregnant. I had to ask for a major deadline extension. Fortunately, my editor at Berkley was wonderful and granted me the extension while managing to save my summer pub date.
I wrote a good chunk of the book after my daughter arrived. I was so sick with pregnancy nausea and overall yuckiness for three months during my pregnancy. Then I had all kinds of other very persistent pregnancy ailments. It was impossible to write. Writing was hard with a newborn, but having my baby with me gave me such a different perspective on motherhood. I loved it.
The hardest part was that I was also promoting Here Comes the Bride when she was just a month old. Juggling my deadline and promotions for a new book with a brand new baby was challenging. I had to go to interviews and photo shoots, and all these fatty pictures of me were turning up left and right. I was still carrying around so much pregnancy weight. Though, I was so in love with my daughter that I didn't mind.
WOW: Aw... So, how old is your daughter now? And do you think entering the new chapter of motherhood has caused a change in your writing?
Whitney: My daughter will be two in a few months. And I'm still fat! As far as writing changes go, like I mentioned earlier, I just have to make very constructive use of my time.
WOW: Tell me about it. At least you have an excuse! I just sit in front of the computer all day getting fatter. LOL. But I think that being pregnant while writing First Comes Love, certainly enhanced the story. I just finished reading it and I absolutely fell in love with your writing. Your prose seems effortless, fluid, and completely real. I know your work is fiction, but how much of your real-life experiences get incorporated into your writing?
Whitney: Thank you! Those are really nice compliments. I so appreciate hearing that.
Well, I think just about everyone in my family believes they've turned up in one of my books, even if they were the farthest things from my mind when I was writing. The truth is I never write about one particular person or tell a story exactly as it happened to me. I like to think I draw from a well of inspiration. Something funny will happen to me or someone I know will behave badly and I take those scenarios and make them my own. But just because one person behaved badly doesn't mean I run off and put them in my book. I just take the behavior and juice it up in a character that I have created from my imagination. I hope that makes sense. Some people totally get the "well of inspiration" process or they just don't understand how authors can discern from personal life to fiction.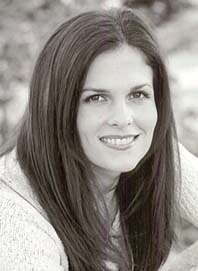 "You don't have to tell everything at once. Let your readers eavesdrop on good conversations, and you can reveal juicy tidbits that will advance the story."
WOW: I think we all draw from our real life experiences in some way to create our characters. In your opinion, what makes for a believable hero and heroine?
Whitney: Characters should always be flawed in some way. They should have insecurities and real life fears that we all experience. The more perfect the character, the less readers will be able to relate. Cate Padgett from the Always the Bridesmaid trilogy was no Cinderella, and Ethan (her hero) had his own set of lovable flaws also.
WOW: That's one thing that definitely impressed me. Whitney, you have a great way of building up the intimate relationships with your characters. I think a lot of this is done through writing in the third person, and being able to shift between your characters thoughts and dialogue. If I wasn't a writer, I would never have been able to detect your ultra-smooth transitions! You're a master (Diva)! Can you share some tips with our aspiring authors that need to know how to switch from one character's thoughts to the next?
Whitney: Wow! Thanks again! I always think that if something is hard to write or you feel stuck writing it, then it probably shouldn't be in the book. It has to feel natural and it has to flow. Ask yourself when you're writing if it feels tedious. And if it does feel tedious, then it's probably going to feel wrong for the reader as well. If it doesn't flow naturally, then you're probably not setting the stage for smooth transitions.
WOW: In creating smooth transitions, when do you know that a certain scene requires dialogue to further the plot?
Whitney: Think of yourself as telling a story. Do you come right out with every juicy detail at once? Or can you reveal it gradually through good dialogue? Just minutes ago, my husband told me a story that could've been interesting, but had fallen flat with the humor. He repeated his conversation with someone and he saved the most critical piece of info through sharing their dialogue. I was laughing hysterically. You don't have to tell everything at once. Let your readers eavesdrop on good conversations, and you can reveal juicy tidbits that will advance the story.
WOW: That's good advice. Do you have any craft of writing books, websites, or other references that you'd like to recommend to our aspiring authors?
Whitney: My biggest suggestion is to read, read, and read novels. I have a lot of my favorites, which can be found on my MySpace page www.myspace.com/whitney_lyles. Read novels as if you're studying them. Look at what the authors are doing to make the writing great. And if the book is terrible, then ask yourself what they failed to do.
WOW: I'm very excited to hear that you're breaking into the Young Adult genre with your forthcoming book, Party Games. You've gone from Chick-lit, to Mommy-lit, and now, YA. It's like your readers are watching you grow throughout each stage of your writing. Can you tell us a bit about the differences in genres, and how the journey has been for you?
Whitney: It feels like it's been such a natural progression. I've really enjoyed all genres and have never worried about being categorized into any particular one. YA came as a surprise and I love writing for teens. I think I'll stick with it for as long as I can.
WOW: What are you doing differently to tailor your marketing platform to this genre?
Whitney: Reaching out to websites like myspace. I think the Internet is a big tool.
WOW: Okay, it's time for some crazy-fun questions! What do you and Alex Trebek have in common?
Whitney: HA! HA! Well, I can tell you what we don't have in common. I absolutely loathe being in the spotlight so; I would never be able to appear as any kind of game show host, or on television every night. What do we have in common? It seems like he loves his job as I do mine, and we both seem to be pretty amused by some of the interesting contestants.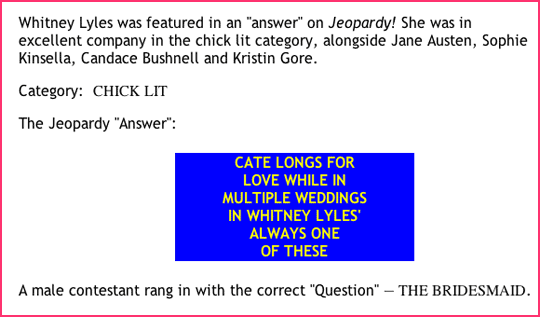 I learned that I was on Jeopardy from two different friends on the east coast who had watched the show. They were so excited when they told me that my book had been a subject on Jeopardy. I couldn't believe it. It was actually the evening I was celebrating my 30th birthday with my mom, since she was going to be out of town. So, we went to dinner and then raced home to watch it.
WOW: That's so fun! I'm sure your mom loved that. Also, your hubby sounds like a great guy. A contractor (lucky you!), and a rock star! Tell us a bit about him, and how his music, and support, inspires your writing.
Whitney: I know, I love being married to a contractor. I've been very spoiled with the home makeovers! He's not playing music professionally anymore, though his guitar solos were recorded on Louis XIV's (his old band) latest album for the song "Air Traffic Control." The life of a rocker is really hard, and he wanted to get married and settle down and he loves building homes. I'm so glad he made the switch. We've known each other for many, many years. We were both born at the same hospital just a couple months apart actually. We were always great friends, but didn't start dating until we were twenty-four. We had so much in common because we were both creative and trying to achieve in industries that have extremely difficult odds for success. Even though he left the band, we still have that dynamic in our relationship. A contractor's life is more stable than a rock star, but he still relies on creativity.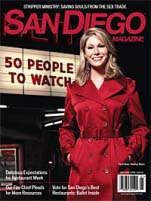 WOW: That's amazing. So, I guess you're both San Diego natives then. I recently heard that you were selected as one of the, "50 People to Watch in 2008," in San Diego Magazine. Congratulations! As a Southern California native myself, I know that is fabulous to be honored in your (huge) hometown. Have you received any benefits?
Whitney: It is such an honor! My husband and I just attended the "50 People to Watch Party" and it was an absolute blast. The party was super swanky, and we met all kinds of neat people. One of the great people we met was Steve Wampler, founder of a non-profit wilderness camp (Wheelchair Adventure Mountain Programs) for wheelchair bound kids. Steve has cerebral palsy and is also in a wheelchair. His story was so inspiring. He and his wife were two of the nicest people I've ever met. We also met Norv Turner, head coach of The Chargers. We're huge Chargers fans in this house so I was beyond excited about that. And then San Diego magazine gave out very classy awards at the end of the night.
WOW: Congrats again—it sounds like a blast! You're also leading a workshop at the San Diego Writer's Conference, February 15-17, 2008. I'm sure our local readers would love to know more about the workshop you're hosting and how they can attend.
Whitney: I will be discussing how to put new twists on old ideas, and basically answering any questions my class has. I really like to focus on the conference attendees and what they want to know. I like to make sure that everyone gets the most out of their experience at the conference. Head on over to www.writersconference.com for more info.
WOW: I'll be sure to check that out. So, Whitney, what can we expect from you in the near future?
Whitney: Party Games will be released in June 2008.
The San Diego Writer's Conference will be in Feb 2008.
I will be speaking at some local libraries and other such events. So, please check my website (https://www.whitneylyles.com) for updates. I'm also working on another YA book for Simon Pulse, which will most likely be published summer 2009.
WOW: Thank you Whitney for taking time to chat with us today, it's been fun! Do you have any parting words that you'd like to share with our women writers?
Whitney: If you love writing, be persistent. I suffered many rejections, and wrote two full-length novels before Always the Bridesmaid sold. I learn more about writing all the time so, my advice is not to give up.
WOW: That's my favorite piece of advice, and a mantra of WOW!'s. Thanks Whitney—you're definitely a kindred spirit of WOW! Women On Writing. We'll be looking for many great things from your corner.
To find more about Whitney Lyles, visit:
https://www.whitneylyles.com
https://www.cotilliondropout.blogspot.com/
https://www.myspace.com/whitney_lyles