Highlights for Children is one of my favorite childhood reading memories and I'm sure many of yours. Even now I still browse through the latest issue when my kids aren't looking. It's a nice way to relax and unwind for a few minutes.
When I first started writing, it was silly stories for my kids. And when I first pondered submitting those stories, Highlights immediately came to mind. Naturally, those silly stories weren't quite right and I earned my first rejection letters.
This month, with our focus on writing for children, Highlights had to be included. It took about 8 phone calls and numerous emails but I believe it worth all the effort. I hope you enjoy.
1.Kim, thanks so very much for taking time from your busy schedule and chatting with us. Let's start with you, how did you become involved with Highlights?
Like many Americans, I first became involved with Highlights as a young reader. Although we had no magazine subscriptions in my home, I read Highlights at school and in doctors' and dentists' offices. Also like many young readers, I first enjoyed Highlights by becoming engrossed in finding the objects in Hidden Pictures® puzzles. (My kids turned out to be much better at this than I was!)
As an adult, I became involved with Highlights by contacting then editor-in-chief, Kent L. Brown, Jr., about potential job openings. I had been a writer, editor, and university instructor specializing in creative writing and children's literature, and was eager to find out what it would take to contribute in some way to the nation's most popular children's magazine.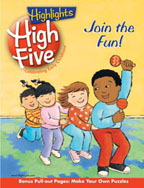 2.I read many copies of Highlights in the dentist office too. Do you have children who read Highlights?
Yes. My children were Highlights readers when they were young, and I now have grandchildren who read both Highlights and High Five—our new magazine for early childhood.
3.I really love being able to share Highlights with my own children. How did Highlights for Children come into being? When was it first published?
Highlights was the brainchild of Dr. Garry Cleveland Myers and Caroline Clark Myers. Highlights for Children, Inc. was founded in 1946 by Dr. Garry and Caroline Myers on the basic premise that learning should be fun. Both Garry and Caroline had successful careers as educators and mentors but always dreamed of creating a magazine for children that exercised the imagination and developed critical reading and reasoning skills. When they reached their golden years, the couple put whatever money they had set aside for retirement toward making that dream come true. Dr. Garry and Caroline put out calls to writers for material for the first issue of the magazine, as well as creating content themselves. They put together the first issue in the living room of Caroline's family home in Boyds Mills, Pennsylvania, to which they had recently retired.
4.Does Highlights have a "mission" statement or a goal for every issue?
Yes. Our mission statement is published on page 4 of every issue.
It states
This magazine of wholesome fun is dedicated to helping children grow in basic skills and knowledge, in creativeness, in ability to think and reason, in sensitivity to others, in high ideals and worthy ways of living—for children are the world's most important people.
5.How has Highlights changed over the years or has it? (For example, readers reading at a younger age or older readers reading more advanced pieces.)
Highlights has always been a mission-driven magazine. Throughout its more than sixty-year history, the magazine has included a wide range of material that the editors feel relates to and advances the mission established early in the magazine's history. The Highlights editors have always kept in touch with kids' interests, and the content of the magazine continues to reflect those interests. Highlights has also always worked to help expand the knowledge and experience of its readership through the stories and articles presented. Over the past few years, a redesign team has worked to make sure that the magazine's look is up-to-date so that it will appeal to today's very visual young readers.
6.How do you balance education and entertainment without the learning overpowering the fun?
Our tagline has always been Fun With a Purpose®. It was no accident that Highlights founders Dr. Garry Cleveland Myers and Caroline Clark Myers put the word "fun" first. According to Dr. Myers "Every youngster needs to have a lot of fun."
The Myers also knew that kids are naturally curious and love to learn new things. Having backgrounds in education and child psychology (and being parents themselves), they recognized that children are far more capable than many others thought at the time of Highlights founding (1946). As Dr. Myers once said "Highlights for Children assumes that every person two years of age or older is a reasoning creature with considerable intelligence." The theme "Fun With a Purpose" assumes that thinking, reasoning, and creating with the mind provide abiding satisfaction.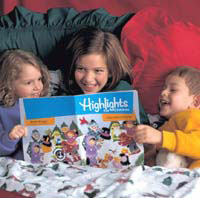 "Every youngster needs to have a lot of fun."
7.A published piece in Highlights is the goal of most children's writers. What do you think about being such a "feather in the cap" for an author?
We are honored that authors (and illustrators) continue to share their work with us, and thereby with our readers. All of us who work for Highlights are very proud of the long tradition of which we are a part, and we are more than pleased that our writers and illustrators want to become part of that tradition, too.
8.Being such a popular magazine, how many queries or submissions do you get each month and what is your procedure for dealing with them?
We receive roughly a thousand submissions per month. Queries are screened by individual editors or by an editorial intern. For fiction manuscripts, we have an outside reader who has been screening manuscripts for Highlights for more than thirty years. Her expertise as a children's media specialist and her long experience with the magazine enable her to spot the stories that will have the strongest appeal to the editors. For nonfiction manuscripts, each editor screens articles for her or his areas of responsibility.
For both fiction and nonfiction, if an editor is interested in an article, it must be evaluated by three other editors before a purchase decision is made. The process usually takes between four and six weeks, although manuscripts that are sent around for evaluation may take a bit longer at times.
9.With so many submissions to consider,what do you look for in a keeper?
First of all, kid-appeal—a Highlights writer needs a strong sense of what will interest our readers. I also look for a fresh idea—some evidence that the writer has read the magazine recently (and often) and has a good sense not only of what we've already published, but what we're likely to want to cover in the future. Next, I look for strong writing. Has the writer taken time to perfect his or her craft before beginning to submit? Is the writing clear and easy to follow? For nonfiction, we look for an interesting focus; for fiction, we look for well-constructed plots and stories that connect in some way to kids' lives and interests.
10.So many submissions a month just amazes me. As a writer though, what is the best way to get an editor's attention with our submissions?
The best way to get an editor's attention is to write well about a fresh kid-appealing topic. If you do that, you'll catch an editor's eye. Also, always present your material in a professional way. If you're writing nonfiction, be sure to include a bibliography and photocopies of backup to verify any facts you've included in your article. Including publishable-quality photos or photo sources is also helpful with nonfiction.
11.Are Highlight issues "themed" or holiday based?
No. Each issue of Highlights includes a range of material for readers ages 6 to 12, across a wide range of topics that include science, history, world cultures, art, and sports, among many other topics. We include both fiction and nonfiction in each issue, as well as many activities for kids to do and fun things for them to enjoy, such as Jokes and Riddles. We do, however, try to include seasonal and holiday features throughout the year, making sure that we touch as often as possible on the traditional holidays celebrated by our diverse readership.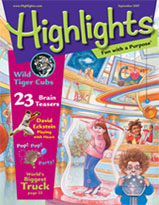 "Highlights is over 99 percent freelance written. That means we need you…"
12.There are so many authors out there just waiting to send Highlights a submission. Do you work with new authors or do you prefer working with those you've used before?
We enjoy working with both unpublished and published authors—but either way, we want them to be seasoned writers.
13.What advice would you give an author who wants to query Highlights?
Highlights is over 99 percent freelance written. That means we need you, so don't be discouraged should your initial efforts not garner an acceptance. Keep perfecting your craft, getting to know the market, and submitting until you find success. Highlights offers some of the best opportunities for writers trying to break into the children's market. Before you try to break in, get to know the magazine as well as you can. Read at least a year's worth of current issues. If you can, attend workshops or conferences at which Highlights editors are speaking. Take a look at our writers' guidelines. The more you learn about what we're looking for and how to present your material, the better will be your chance for an acceptance.
14.Checking writer's guidelines is so important! Where will our readers find guidelines for Highlights?
Go to www.highlights.com and look for About Us, then Contributor Guidelines.
15.Each issue of Highlights has such varied content. Is there a special area of interest you are looking for? Science, environment, history or a general mix of things?
We are open to manuscripts in any of the areas regularly covered in Highlights. For nonfiction, that includes science, nature, careers, history, world cultures, sports, the arts, economics, and adventure. For fiction, we look for contemporary, sports, historical, fantasy, sci-fi, folktales and fairytales. We are always pleased to receive stories and articles from cultures and places around the world, especially those written by authors with direct experience of those cultures or places.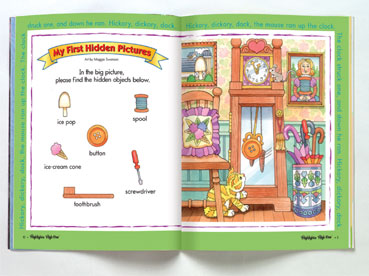 From High Five magazine
16.Highlights is such a visual magazine. Do you accept art submissions or have many artists on staff?
Highlights has an art director who works with many freelancers illustrators. We don't accept art submissions—as in finished art that would then be put into the magazine. All illustration is done on assignment. Our art director, Cynthia Faber Smith, assigns illustrations based on prior experience with artists' work or because an artist has sent in samples of work or a postcard directing her toward a website. If she's interested, she'll then contact the artist with an assignment.
17.With so many features in each issue, is there an area of Highlights that isn't open to submissions?
Regular features such as Goofus and Gallant®, The Timbertoes®, and Ask Arizona are not open for freelancers.
18.Since this is a children's magazine, what are some things you don't want to see in your queries or submissions?
Queries for articles that we've done recently. We hope that writers will be reading the magazine—that's really the only way to know what we've already done and what we like to publish.
We're not interested in didactic stories. Although every story must have a purpose and that purpose might be to show kids how to be their best selves, the story must come first.
Also, we don't publish material that glorifies crime, violence, or war. For example, if a mystery includes a crime it's not for Highlights. Keep in mind that our readership is from age six up to age twelve. Everything we publish must be appropriate across that broad range.
Other than that, it's best to focus on what we do want to see—well written queries and submissions that indicate that a writer knows our publication in its current form (not just from childhood) and can write a fresh story or article that will interest our readers.
19.I know we have many readers who write for adults that might like to give writing for children a try. What do you see as the biggest differences in writing for children and the young adult market?
Those who write for children must have retained a childlike sense of wonder; they must have the same sense of excitement about the world that kids have. Children's writers must be extremely skillful. To write for children, one must be able to say what needs to be said in the fewest words. They need a sense of the rhythm and sound of language, even if they don't write poetry. Stories must be well-plotted and easy to follow. Characters must have personality. Articles must be focused, clear, and interesting. There's no room for lazy writing in the world of children's literature.
20.With so much to take kids attention away from reading, (tv, video games, sports) what does it take to get them reading and turn them into life long readers?
Often, it takes a caring adult to introduce a child to good books and magazines. Parents who subscribe to magazines and who make sure that their children have library cards and take them to the library often are helping to show their children that reading matters. If those parents also model reading, they will likely create more life-long readers.
Jean: Kim, thanks again for taking time out to give us such great answers. I've really enjoyed getting to know the other side of Highlights. And now that I'm better acquainted with Highlights, I just might dig out that troll story from long ago!