etting published is hard enough in one region, not to mention across a whole country, continent, or even the world. Many writers, frustrated with the delays in publication and the small audiences pulled in by some assignments; begin to despair that they will ever attract a wide and varied readership. Surely there must be something else that they can do to get their name out there and reach more readers? There is!
By taking advantage of free and easy blogging software, any writer – be they novice or maestro – can further their writing with a blog.
"Blogs... no coding or design skills needed."
The Blogging Basics
When the Internet first became available serious "techies" had personal websites. At the beginning not only was knowledge of coding important for keeping up this online presence, but web design skills were also necessary to ensure that these sites were user friendly and possibly interactive. Now that the 'Net is so widespread, the general public has come to delight in keeping a corner of it for themselves via blogs.
Blogs, short for web logs, have become popular as personalized web pages that can be easily procured and administered with a variety of free programs – no coding or design skills needed.
These pages are written chronologically but are presented in reverse chronological order so that the latest posts (entries) are always at the start of the page. The posts themselves each have their own Permalinks (individual web addresses) so that in the future others can specifically access them as desired.
Blogs also host a variety of features such as the ability to load photos, generate links to other blogs and sites, allow readers to make comments, allow writers to publish or reject these comments and encourage writers to create a profile that includes pertinent information about themselves and ways in which to contact them. Most blogs also offer tags, or a facility for classifying the subject/topic of each post.
"Many writers follow the guideline of writing something every day to keep their creative juices flowing."
Blogs have become powerful tools for a wide variety of people. Activists, politicians, celebrities, entrepreneurs and many more now use this technology to reach out to great numbers of readers. In fact, some estimates place the number of blogs published today as high as 70 million and still growing at a rate of over 100,000 new blogs per day (or 1.4 new blogs every second!). Of these blogs, the greatest number is written in Japanese with the next greatest number written in English.
Today blogs have been widely embraced by the writing community. From novelists to journalists to a new breed of professional bloggers, writers use blogs in a variety of ways to further their writing. While blogs can be used in almost any way imaginable, most writers use their blogs for three main purposes:
To prime the pump for professional writing.
To promote their professional writing.
To join the wider writing community.
Priming the Pump
Many writers follow the guideline of writing something every day to keep their creative juices flowing. Writers who blog often find that their posts afford them this exact opportunity.
"…writers can also use their blogs to promote their online presence and make their name familiar to those in the industry."
Jenny Rough, Washington D.C.-based author of the blog Roughly Speaking and a freelance writer with pieces published by The Washington Post, Self, Mothering.com, and Writer's Digest, finds that blogging gives her a daily writing practice that sometimes spirals into sellable articles. "It generates ideas," explains Rough. "Sometimes I'll start a blog post and realize, hey, I could write an entire article on this topic."
Blogging has led to more than just articles for Rough, however, it has also led to professional blogging gigs with companies such as WASA (the crisp bread brand) for which she writes a yoga blog.
Susan Johnston, a copywriter and freelance writer from Boston, MA began writing her blog, The Urban Muse, in late 2006. Among other benefits Johnston believes that her blog has been a creative outlet.
"Blogging has helped me get into the habit of writing even when I'm busy with a million other things," she confirms, "It's also helped hone my voice. My voice for the Urban Muse is young, spunky and a little sarcastic, but of course, I would approach a press release or news article a bit differently."
Another writer who enjoys the freedom of blogging is New Jerseyian Deborah Ng, freelance writer and author of wildly popular blog Freelance Writing Jobs as well as writer for About.com's Guide to Weblogs, b5 Media's Simply Thrifty, Know More Media's Work from Home Momma and Oxygen Media's new social networking site, Oomph.Net.
Like Rough, Ng's paying blog jobs came after she began her own personal blogs and came to relish the independence of writing without the constraint of specific editorial guidelines or word counts.
Promoting Professional Writing
Obviously if writers have the freedom to post about whatever they want, many choose to use their blogs to promote their professional writing.
Londoner Kate Harrison, author of blog Brit Chick Lit Diary as well as four novels – Old School Ties, The Starter Marriage, Brown Owl's Guide to Life and The Self Preservation Society – says that the her decision to begin blogging "was part promotional and part motivational – I wanted to record my progress writing my novels, and also provide an easy way of updating readers on what I am up to and how I approach my writing."
Jenny Rough's blog serves as similar purpose: "My blog is a good way to keep others notified of when one of my articles is published."
In addition to posting about their publications, writers can also use their blogs to promote their online presence and make their name familiar to those in the industry. Deborah Ng has found that her blog has made her name so well known that "even now, I'll apply for jobs and receive an email back saying Hey…I know who you are!"
"Leaving comments is another great way to find the wider writing community."
Susan Johnston has found that maintaining an online presence also helped her make the move into full-time copywriter. "…my blog set me apart because it showed that I can generate copy on a frequent basis and that I understand online marketing. Copywriting positions usually require 3-5 years of agency experience, which I didn't have because I'd been working for non-profits, but the interviewer liked my blog and was willing to take a chance on me because of my creativity." In fact, Johnston recently won a Jibber Jobber award for her personal branding via The Urban Muse.
Amy Guth, a Chicagoan and author of blog Big Mouth Indeed Strikes Again and new novel Three Fallen Women, took promoting her writing one step further. In 2006, Guth organized a virtual book tour.
"It was the best!" Guth remembers, "I gathered bloggers, and had them all do a little Q&A with me by email and then post it on their blogs on designated days, so that every few days, I had a new post popping up. Because each blogger had selected his/her own date to post, I was able to write a post that morning on Bigmouth Indeed Strikes Again directing all of my traffic over there that day. It was so great because it let me introduce my blog readers to an entirely new blog (and) helped me promote my novel Three Fallen Women…"
With just a little creativity, blogs clearly offer a lot of bang for the promotional buck!
Joining the Wider Writing Community
Tips For Monetizing
Your Blog
Experienced bloggers will no doubt be delighted to find out that there are money making opportunities attached to blogging. You may not make your first million this way - but then again you just might! Many bloggers generate income from:
Writing is a solitary occupation, and often writers in remote areas or working on unique projects can feel isolated from a wider writing community. Blogging, with its ability to converse with readers from around the world, offers a quick and easy remedy for this loneliness. Rough, Johnston, Ng, Harrison and Guth all agree that a large part of the fun that they derive from blogging is "meeting" new people and making new friends.
For Harrison, the ease of establishing a support group of online writers via her blog has helped her with her latest novel. In January 2007, while working on a new manuscript, Harrison and fellow writer Lucy Diamond used blogs to generate a "Novel Race" so that they could race each other to the end of their books.
"We now have lots of fellow racers and it does spur me on," says Harrison. "Writing is such a solitary occupation, for obvious reasons, so blogging, and the web in general, is a good way to make one feel less isolated."
Don't be misled: This is not a problem only for writers of tragic, problem-based memoirs. Your group can just as easily be distracted by and lose valuable time to details of show dogs, grandchildren, elections, and the planning of English summer gardens.
For even more camaraderie, Harrison has even instituted a Friday "coffee break" for fellow racers. "As part of the Race, we all meet for a virtual 'coffee break' on a Friday to let everyone know how we're getting on, if there are any particular problems or issues individuals would like advice on," explains Harrison. "We also celebrate when someone has reached a milestone. I tend to post a question – Who is the first person to read your work? Who would play your hero or heroine in the movie of your book? – just to get people talking. I think what's good about the Race is that it brings together a real range of writers, from people embarking on their first ever book, to old hands like me. It demystifies the creative process, I reckon, and I get lots of messages saying fellow racers find it encouraging and motivating."
Leaving comments is another great way to find the wider writing community. For Johnston, leaving comments on other writer's blogs and creating reciprocal links between blogs is a great way to get in contact and begin to establish friendships with other writers. Guth finds that also listing her blog in a number of blog directories helps others get in touch.
Creating a Blog
If you've been sold on the benefits of blogging to further your professional writing, don't waste any time – set up a personal blog today! Three quick, easy, and (most excitingly) free blog sites are Blogger, LiveJournal and MSN Spaces. Just remember that the combination of free sites and free speech can be heady, so take care to keep your posts as professional as possible. Edit for grammar and spelling, refrain from using vulgar language and certainly don't write or upload anything that you wouldn't want a future editor to read.
Good luck.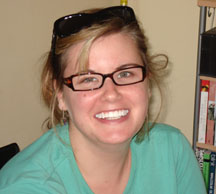 Beth Morrissey has written well over 200 articles on various subjects, in publications around the world. She's been a Freelance Writer for 3 years, with experience in print and electronic publications. Beth is an editor of various educational materials including essays, reports and brochures, two organizational newsletters and children's books. She's also experienced in American and British English copy-editing, proofreading, as well as content editing.