hat's what I told myself when I decided to venture out and start up my at-home freelance writing business a year and a half ago. But I knew from the get-go I was in for a challenge.
In addition to having only one writing credit at that point, I had some stiff competition: I didn't go to journalism school, I didn't use a lot of lengthy, eloquent words and I had little experience with the publishing world. Still, I was armed with a passion for writing, a gift for piecing words together to elicit strong emotions and an insane drive to succeed. These, to me, were the essential tools every freelance writer should have.
With these personal tools in hand, questions swirled in my head like a tornado: How can a stay-at-home mom of three kids under five, who's also a University student, start up her own freelance business? What supplies did I need? Do I have room/space for it? Did I have the time to spare? Would it be expensive?
Allow me to share what I've learned with you:

Find your own space: You only need a small area where you can set up a desk to call your personal "creative corner". But it'simportant for your workspace to be quiet. High traffic areas like the kitchen or living room, for example, may not be the best places to help get those creative writing juices bubbling.
Tip: Do you have a large closet with not much stuff in it or a walk-in closet with some extra room? As odd as it sounds, this can be a great writing space. In fact, that's what I used as my study area when I first started at the university. A student-sized desk and a small bookshelf fit nicely in the big closets (without taking up too much of that valuable shoe space).

Tools for the Trade: I was once advised by an old-school writer that, "all a writer needs is a pad of paper and a pen." True. After all, Shakespeare didn't have a computer in his day, right? But nowadays it's better for the writer and the editor to at least have access to a computer (think of the editor having to decipher some people's handwriting). But a good computer, if you get it already built and loaded up from a store, can be anywhere from $500 to several thousands of dollars, depending on which bells and whistles you want. What other options does a writer with a small budget have?
The least expensive option is to access a friend or relative's computer. But even the best of friends or closest relative may tire of seeing the back of your head while you work at their computer when you come to visit. An alternative is the public library. Most libraries have computers for public use and will also let you print or copy your work for a small fee. Finally, you can go to your local Employment Center. They also have computers for public use, usually without a fee.

"As for the other office supplies like pens, white out, paper, envelopes, etc. wait for sales like Back To School."
Another option is to get a simple word processor like a Neo Alphasmart (https://www.alphasmart.com/Retail/). It's a laptop-sized keyboard with a small screen. You can input your work into the Neo then download it either to a computer for editing and proper formatting or right to a printer. They're light, portable and run on rechargeable batteries so you don't have to worry about losing work to a virus or power failure. And it's relatively inexpensive (about $200 to $500 depending on the model).
For faxing, scanning or photocopying, you can go to a print store (which can get expensive) or invest in a small all-in-one. I kept my eyes open for office sales and refurbished models until I found a bargain one for about $69.
As for the other office supplies like pens, white out, paper, envelopes, etc. wait for sales like Back To School. Things are much less expensive at that time.
Chynna's Advice: Reach Out to Other Writers
Writing, like other careers, can be both financially and personally rewarding. But it can also be isolating so it's important to keep in contact with other people. Be sure to call or do coffee or lunch with family and/or friends.
Most importantly reach out to other writers. Supportive friends and family are wonderful but nobody understands what writers go through the way other writers do. One thing to do is join a writing group. Can't find one? Start one up!
You can also check out a writers' message board like Absolute Write. (There are many different (and strong) opinions on there but everyone is there to help their fellow writers.
Another excellent place for writers to get together is in Long Ridge Writer's Group Chat Room, which is run by author extraordinaire Mary Rosenblum. Long Ridge offers a comfortable, warm place to chat with other writers. Mary has chats Monday, Wednesday and Friday evenings as well as a lunch chats on Tuesdays (see site for correct times in your time zone). Writers can join in a chat in session any lunch hour and on Sunday evenings.
Story Crafters is a wonderful new place to get support, cyber hugs, applause and support from fellow writers. There are a variety of writers representing many different genres and it's hosted by WOW's own Jean Lauzier (who I know for a fact gives wonderful cyber hugs).
Even I, a self-proclaimed fiercely independent woman, have found these sites a welcome way to ease "writer's loneliness". I've also made wonderful friends and connections I would never have gotten otherwise. Why not give them a try?
An expensive part of freelancing, especially when you're first starting out, is postage. If you're querying full-time, you'll find yourself going through several packs of stamps a week. And when you consider just sending a letter-sized envelope (query only with SASE) within the States is about $.41 ($.69 from U.S. to Canada and $.94 from Canada to U.S.), it can get costly.
Thankfully, there are many publications that accept e-queries these days. It may be a good idea to select such places in the beginning. Once your business picks up, you can create a small "postage slush fund" to use for the publications you really want to try but who only accept snail mail queries.
Tip: A couple of things to keep in mind when purchasing office equipment (especially refurbished equipment):
(a) Ask if stores have extended warranties on refurbished models. Nothing is more irritating than to get the machine home and find it doesn't work but the warranty ran out. Then you're stuck with a hunk of useless metal.
(b) Ask if you bring it back to the store for repairs or if you have to send it back to the manufacturer for refund if it breaks down.
(c) Ask how refunds are handled. If something goes wrong with mine, I can take it back to the store I bought it at to be repaired or, if I choose to, I can get credit towards a new machine;
(d) Ask how much and what kind of ink it takes. If the ink costs more than the machine, you may want to reconsider buying the machine. There are places that refill empty in cartridges so keep that in mind when making your decision.

Get Organized: This is essential to any business. Get a small filing box and file folders to keep receipts, letters (both rejection and acceptance), bank statements, cheque stubs, etc. You'll need these things for tax time so keep them organized and handy. It's not a good idea to miss paying on owed taxes!
Consult the IRS site (https://www.irs.gov/), or Revenue Canada for Canadians (https://www.cra-arc.gc.ca/menu-e.html), to see what's required for taxes or write-off items. At first you may not have much to write off but as time goes on and your business flourishes, you'll need to have that information handy so you remit everything you need to.
Finally, it's also a good idea to have a planner or date book to use as a "tickler system". This is just a calendar book to record deadlines, interviews and other important dates. If your computer has a calendar, that's a great option because you can set it to "tickle" you a few days or weeks before an important deadline to help keep you on track.
Tips: A veteran writer friend of mine advised me to set up my writing business with its own registered name and bank account. This way it's easier at tax time to see what income and expenses are personal and which are business-related. A registered business name isn't a corporation (that's a whole other kettle of fish) it's a trade name you conduct business under. Consult your local Registries Office to obtain information on how to set it up in your own state or province.
Here in Alberta, I simply took the name I wanted to the Registries Office, they looked my name up in a database for availability and I paid about $55 to hold the name for my business. Once you've have your business name, you can get the bank account. It's really a personal choice to set it up this way. I just felt better having everything separate.
"The best thing to do is evaluate what you have to do in a day and work writing around your life."

Write around life: Believe me, I know how difficult it can be to find a solid hour to sit and write. Especially when you're trying to work around crying, diaper changes, and, "Mom? Mom? MOOOM!"
Even if you're only able to freelance part-time, you'll still need to try to set aside some time for writing. Some writers put in time each day; others I know save writing for the weekends. The best thing to do is evaluate what you have to do in a day and work writing around your life. It can be half an hour or a couple of hours. Whatever length of time you have, slot yourself in.
(Photo: Jaimie, Jordhan and new baby boy, Xander)
For me, it can be a challenge to find writing time some days with three children under five and my schoolwork. But I squeeze writing in around nap times or I get up early or stay up later. Don't wear yourself too thin though. Work when you have time and feel creative. Focus on good quality work output not the quantity of time.

Start a website: Show off your work! The site doesn't have to be anything fancy – just a place you can put a few samples (if you aren't published) and/or clips (if you have some to offer). Not all editors want to take the time to peruse a website and actually prefer to have the clips faxed, emailed or mailed to them. But I've found a few who prefer to be referred to a website and I've actually made sales after they've seen the other work I've done.
Your site should offer the range of work you can do so editors can get a feel for what you can do for them. A personal site isn't necessary but a great idea once things take off.

Find ways to stay motivated: We've all sat at the keyboard as the blinking cursor mocks us from a blank screen. It happens to the best of us. To stay motivated you need to keep things fresh and that means to walk away from the computer for awhile.
Tap in on what motivates you – you know, the things that get you excited and happy to be alive. Go for a long walk and watch people; play tag or roll down a spongy grass hill with your kids; close your eyes and listen to a rain storm; read a Maya Angelou book or give your writing mentor a call.
Yes, we're doing what we love but it can still be difficult coming up with new ideas to write about, sitting on our hands waiting for replies to queries and, most difficult, getting stacks of rejection letters. Just like with personal relationships, we need a break from our writing to remind us why we fell in love with it in the first place.
Remember: You just need the basics then build on them as you earn more and your business grows. The most important things are to stay informed, keep your eyes open for sales and never be afraid to accept a helping hand from a generous person.
And, even if you have to start off with the old pen and paper route, don't pack it in too soon. Keep those essential freelance writing tools close and watch the trickles of acceptance letters turn into waterfalls.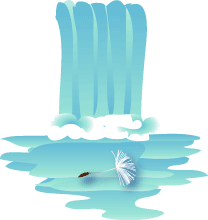 CHYNNA TAMARA LAIRD – lives in Edmonton, Alberta with partner, Steve, and three children [Jaimie (4), Jordhan (2) and new baby boy, Xander (8 months)]. She's a freelance writer and completing a B.A. in Psychology. She wants to specialize in Developmental Neuropsychology to help children with special needs. Some of Chynna's work can be found in Mothering, Angels On Earth, Pure Inspirations and Chicken Soup for the Soul (For Special Needs). She also has work published in various online publications. Please visit Chynna's website at www.lilywolfwords.ca to get a feel for her work and what inspires her. Chynna's advice: "Write what your heart tells you to."